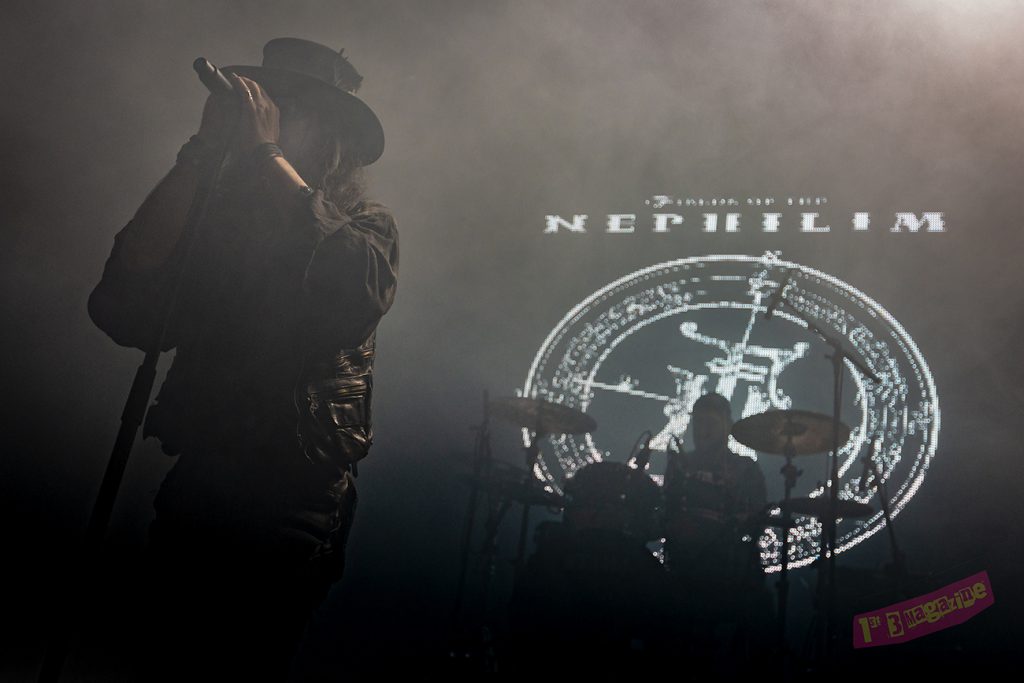 The Real McCoy – HRH GOTH
Perhaps ironically, of all the genres originating in the late 1970s, goth is the one that has refused to die.
These days there are as many types of goth as there are of bats – trad goths, cyber goths, doom metal goths, gothic lolitas, and so on. Selecting the line-up for a gothic weekender is no easy task with so many different types of music now coming under the gothic umbrella, but somehow HRH Goth managed to enlist stand out bands from every subgenre, with two big name headliners.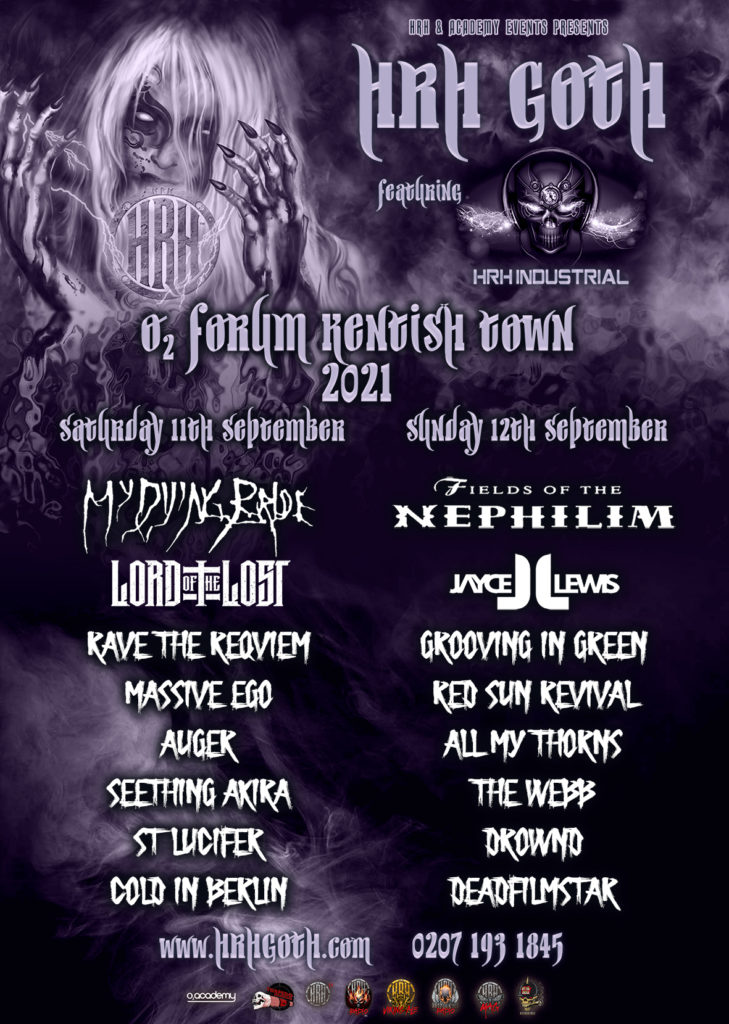 In addition, whereas the likes of Reading Festival still feature predominantly male only bands, this weekend showed that diversity adds not detracts to a line-up, with a high percentage of the bands having at least one female member.
Opening up proceedings were PVC clad female-fronted Novus, with a dancy vibe combining psychedelia and distortion pedals. Keeping it in the family, the vocalist's son later took the stage with both Auger and Massive Ego.
Rock band Fyresky experienced no end of challenges – their drummer had only had two rehearsals with them, their singer had to prepare for his wedding the following Monday, and their pink haired guitarist was plagued with technical issues. No matter, their energy, humour and personality ensured that they were one of the most memorable acts of the weekend.
While many have covered Chris Isaak's Wicked Game, none have been able to do it better than the man himself. Fyresky adopted the sensible move of doing it their own way, rather than playing a pale imitation, and that surely paid off. A few songs later, they were getting those on their feet to dance along to The Time Warp  from The Rocky Horror Picture Show. The set culminated with their hard rocking bass player getting down with the crowd to share their sheer joy of being on a big stage.
Synth popsters, St Lucifer came close to not making it, with two of them having just recovered from Covid, although it didn't stop the singer from sneaking out for a post-gig ciggy by the stage doors. With pounding electro beats accompanied by mantra-style repetitious lyrics, this was arty new wave with a dash of Sheep on Drugs and a sprinkling of Chumbawamba.
Seething Akira were a sight to behold with one of their vocalists looking like he'd emerged from a punk squat and the other bouncing around in a yellow jersey and novelty socks like Bill Bailey after a shot of adrenaline to the heart and a sack of Prozac. Their high octane metal dance fusion really got the crowd going, with Lucid Dream taking it to the next level with its brooding melodies and stunning guest vocals.
Wth aspects of Depeche Mode but vocals in a lower register and more dance orientated, Auger rocked the bearded man in a skirt look. Their set of gothic rock electronic fusion knitted the decades together proving, front man and producer, Kyle J. Wilson to be a master of his dark craft.
Wilson also showed off his considerable talent by playing keyboard with the following electro band, Massive Ego, fronted by former Boy George backing dancer Marc Massive. With the set featuring a song penned by George himself, the Eighties influences were apparent throughout, including elements of Marc Almond, and the set just got better as it went on with I Idolize You being a highlight.
As night descended and the room filled up, stylishly sinister German industrial band, Lord of the Lost enchanted, possibly hypnotized, the audience with their dark, anthemic tracks. They included a cover of Duran Duran's Ordinary Day, which was perhaps a curious choice but certainly better than the original as they turned a lightweight pop song into an emotionally charged epic filled with grit and passion.
Saturday night's headliners, seminal doom metallers My Dying Bride took the stage with a couple of new members. These veterans of the death-doom subgenre are no stranger to line-up changes. With their trademark look of Stainthorpe in white shirt and the rest of the band clad in black, this was a suitably blood curdlingly intense performance to close the evening.
As any Northerner knows, Saturday night is always followed by Sunday morning, and any cobwebs were surely cleared away by Witch of the East. With an evil ethereal goddess who could have stepped from a Seventies happening on guitar and vocals, and a fierce agitpunk switching between singing angelic soprano and shouting lines from a Satanic bible, this creepy folk blended with psychedelic rock was deliciously disturbing.
Deadfilmstar were next up with plenty of attitude – the singer sneered, 'Get up, you've had two years of sitting on your arses' to the early-comers. Now, I Wanna Be Your God was a brave and inspired reworking of The Stooges' classic. Less successful was a Suede cover, but the self-penned tracks had a vitality of their own, with elements of industrial, some good old fashioned rock 'n' roll riffs with a gothic twist, and even the odd bit of fraggle rock befitting of their Midlands home. Their keyboardist had hair that a psychobilly would kill for, and the whole band played with the verve and vigour of Sisters of Mercy on amphetamines.
Even more intense were Drownd, with vocalist Joe pleading, 'Save yourself from me'. Fast, furious and relentless ardent, these are ones to watch.
Two piece punks The Webb decorated the stage with Halloween inflatables and combined Toyah-esque vocals with DIY keyboard sounds.
All My Thorns appeared to have sacrificed a small mammal before coming onstage, what else could explain the lead singer's headgear. With lashings of reverb, their sweeping melodies combined old school gothic rock with elements of trance-like doom and growling vocals.
Absolutely on top of the world, Jayce Lewis changed the tempo with a powerful blast of industrial. With unbounded energy and gravity defying exploits, he tore up the stage as he sang and drummed his way through one of the standout sets of the weekend.
For those wanting a dose of the type of traditional alternative rock with chiming chords that could have come from the soundtrack of an Eighties teen movie, Red Sun Revival scratched the itch. The violin is a criminally underused instrument in the gothic genre, and Christina's classical playing intensified the dreamy sound.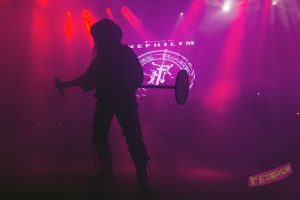 The weekend closed with goth stalwarts, Fields of the Nephilim. Never the most visible on stage due to the combination of smoke, flour dousing and dim lighting, this time the smoke machine got totally out of hand with Carl McCoy appearing as a mystical apparition (twas it ever thus).
Although we desperately tried to tease him out to the front of the stage to verify his identity by waving snakebite and black in his direction, he stayed firmly in the shadows. Frankly, the real McCoy could have been at home eating crisps and watching Netflix with his flour stained boots resting up while a backing track played and some random goth in a hat faked it with all the trademark poses, who could tell?
No matter, these things are an occupational hazard of being a Nephs fan, and the music was, of course,  predictably great, with them being most suitable headliners.
Best band of the weekend: Fields of the Nephilim
Most fun band of the weekend: Fyresky
Most intense band of the weekend: Drownd
Coolest band: Lord of the Lost
Best performance: Jayce Lewis
Best newcomers: Witch of the East
Check what's coming next year
A big thank you to the whole HRH team, what a great weekend, and a special shout out to the SHOWSEC staff who do a top notch job.
Images and words
copyright of 1st 3 Magazine.
Not to be reproduced in any form without written permission