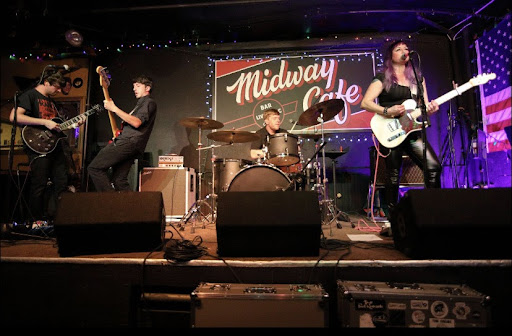 A Blast Of Exasperation – Gretchen Shae & the Middle Eight
The great '80s poet and philosopher Ferris Bueller once said, "Life moves pretty fast. If you don't stop and look around once in a while, you could miss it." Gretchen Shae & the Middle Eight, however, are taking a different approach. This October 1, the explosive Boston alt-rock band are set to release their third single of 2021 in "The Business of Broken Dreams," a driving look at the world around the music community that displays no interest in slowing down. 
The self-released single follows July's "UnNatural Love" and August's "Red Light/Green Light," which combined with "The Business of Broken Dreams" and new music will help share the quartet's forthcoming EP. But this new ripper of a tune shows off what Gretchen Shae & the Middle Eight — formerly known simply as M8 — do and do best: Craft hard-charging alternative rock bangers with a punk rock edge and razor sharp songwriting smarts.   
Gretchen Shae & the Middle Eight are:
Gretchen Shae – Songwriting, guitar, vocals
Al Francis – Drums and vocals
Justin Fyfe – Lead guitar and vocals
Quincy Lord – Bass
That frustration shines through over four relentless minutes, "The Business of Broken Dreams" showcasing the band's dual vocal attack and frenetic pacing, illustrating a struggle we're all facing in 2021. As Shae and guitarist Justin Fyfe belt out their respective lyrics, the ache and exasperation blast out of the speakers. The track was recorded at The Noise Floor in Dover, NH, by Ryan Stack, and mastered by Anthony Cimino at Mojo Studios in Franconia, NH.
Gretchen Shae & The Middle Eight showcases a sonic departure from Shae's other Boston band, The Knock-Ups, and finds the Berklee College of Music professor — who has performed on stage with U2, the Smithereens, and The Runaways' Cherie Currie — branching out musically into some uncharted territory.