Two singles 'Itch' and 'Can't Smile' preceded the international release of their debut album 'Start With A Strong And Persistent Desire'
The album achieved critical success and the band intensively toured globally for over two years establishing their unique and mighty sound. Playing alongside the likes of Bush, Biffy Clyro, Glassjaw and Staind as well as successful festival appearances at Reading/Leeds, Glastonbury, Roskilde, Summer Sonic and the Vans Warped Tour, VEX RED's live performances garnered glowing reviews.
After a hiatus, VEX RED regrouped with a hunger to create new music. With work in progress on a much anticipated new album the band have been teasing audiences with new material during recent UK tours. The late 2016 released single 'Burn This Place' was play-listed on Spotify and the band were one of a select group of artists personally invited to perform at Robert Smith's 2018 Meltdown Festival at London's Southbank Centre.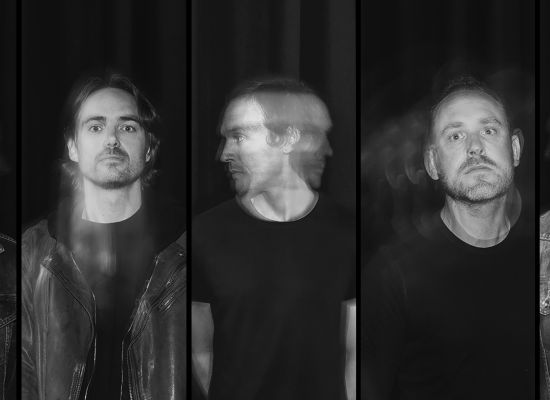 Described in The Independent as "throbbing bass, squealing guitars, trippy samples and spectral vocals collide to make a varied smorgasbord of sound. By not fitting in with the status quo in 2002, Vex Red seem far more relevant now than the majority of guitar music that ushered in the 21st century. "
New single, Air outlines the band's commentary on the climate emergency with them saying, "Like many people, we too feel very uneasy about current political institutions and their apparent ineptness to tackle climate change with urgency. 'Air' is our reaction to climate change deniers."
The new video also gives a taste of what to expect from the band as they will be heading out on a UK headline tour throughout February 2020 and tying in to the band's strong feelings about the Climate, they are pledging to plant more than 500 trees with the proceeds from their tour and merchandise sales in 2020.
The new single is taken from the band's recent EP Give Me The Dark (listen here), which is out now via Say Something Recordings. It's the first collection of new music that the band have released since their debut record Start With A Strong And Persistent Desire back in 2002. Seventeen years is a long time but they've picked up exactly where they left off, blending atmospheric electronics with gritty and expansive guitars to deliver their signature punch.
Vex Red will be playing O2 Islington on Saturday 29th February.