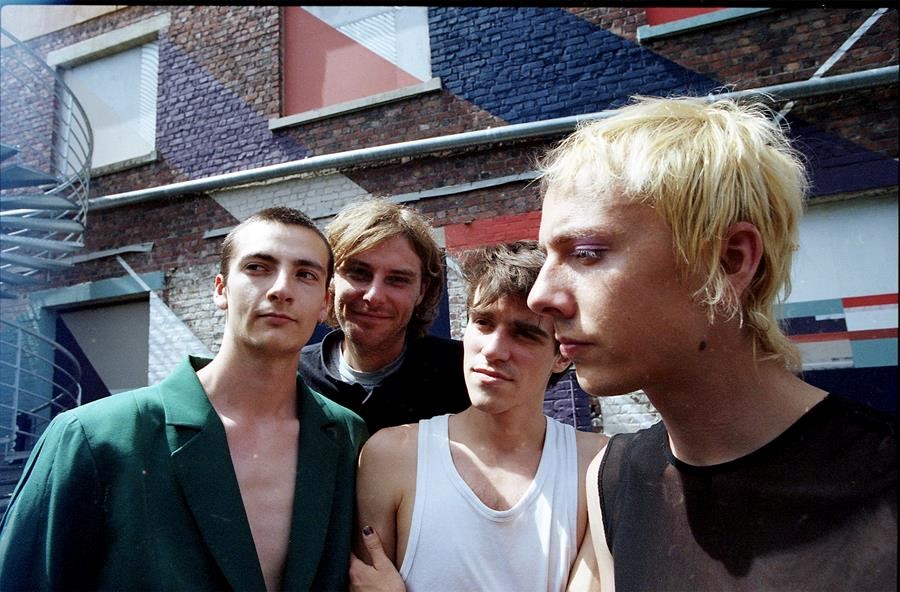 THE PSYCHOTIC MONKS – A Hypnotic Trip
The Psychotic Monks share new single 'All That Fall' with live video.
'All That Fall' came from a "cut-up" inspired technique, forcing together different materials and the lyrics in a random way. Its video was filmed at Cirque d'Hiver during Culturebox Festival 2022.
The band explain, "We wanted to invite the listeners to consciously or unconsciously produce their own interpretation, leaving a minimalistic moment in the middle of the song where they are left to themselves, entirely free, where there's enough space to let them fill it."
"At each new listen, a new set of new random objects appears. Roles merge, reality and fiction merges, bringing a sense of live performance. Sometimes we can feel our own lives like a total theatrical performance in which we'd perform our own roles, where we can be both spectating and performing. And this can generate a whole complexity of, sometimes contradictory, feelings. Both anxiety-provoking and liberating.", they add.
Yet radical, Pink Colour Surgery's work is truly accessible to those who immerse themselves in it in depth. One is unceasingly hypnotised, shaken, because its soul flirts dangerously with a furious and oppressive trance. How then the journey becomes addictive, letting yourself slide from one track to another, sometimes struck, sometimes set ablaze with an unexpected epiphany, because its light irradiates us. Live their music is an intimate, sensory experience, whose deflagration is still received long after.
Pink Colour Surgery is produced by Daniel Fox of Gilla Band – composed in part by improvisations, it arrives as an act of resistance to the ambient violence. Disconcerting at first sight, this new opus operates in the dark a surgery of ethics which is fleshed out of pink for a staggering metamorphosis. Its very structure embarks us entirely on an initiatory trip full of secret corners, provided that we accept to dive into it, to plunge into it.
Already releasing two fiery albums, Silence Slowly And Madly Shines in 2017 (Alter K) and Private Meaning First in 2019 (Vicious Circle / Fatcat Records), The Psychotic Monks have never ceased to impress us with their maturity and determination to offer a singular stage and discographic presence.
Tour Dates:
Tickets on-sale now HERE
03/12/2022 • METZ (FR), Les Trinitaires
09/12/2022 • SAVIGNY-LE-TEMPLE (FR), L'Empreinte
16/12/2022 • TOURS (FR), Le Temps Machine
07/03/2023 • CAEN (FR), Le BBC
08/03/2023 • POITIERS (FR), Le Confort Moderne
09/03/2023 • BORDEAUX (FR), Le Krakatoa
10/03/2023 • NANTES (FR), Le Stereolux
11/03/2023 • RENNES (FR), L'Ubu
18/03/2023 • TOURCOING (FR), Le Grand Mix
20/03/2023 • BRUXELLES (B), Le Botanique
22/03/2023 • PARIS (FR), La Maroquinerie
23/03/2023 • CLERMONT-FERRAND (FR), La Coopérative de Mai
24/03/2023 • LYON (FR), Le Marché Gare
25/03/2023 • AUDINCOURT (FR), Le Moloco
28/04/2023 • ANNEMASSE (FR), Le Château Rouge
29/04/2023 • AIX-EN-PROVENCE (FR), Le 6MIC
Pink Colour Surgery
Tracklist:
 1.(PreEnter)
2. Post-Post-
3. Gamble and Dangle
4. (Bird's Part)
5. Crash
6. Imagerie
7. (88)
8. Décors
9. (Gestures)
10. All That Fall
11. location.memory
12. (traP s'driB)