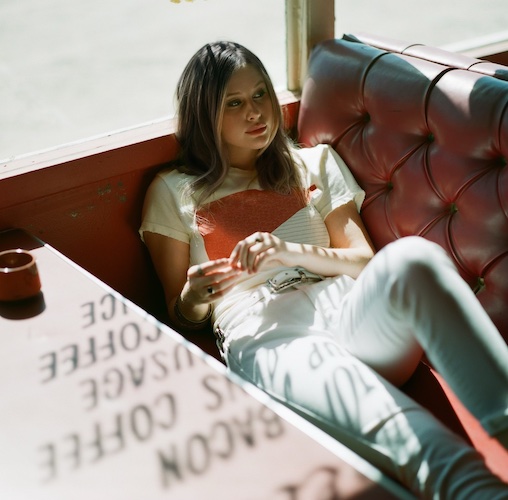 Sykamore – Making You Feel
Sykamore (Jordan Ostrom) is Nashville's breakout newcomer, having released her full-length debut album, Pinto, in August 2022.
After being discovered by songwriting heavyweight, Rhett Akins, Sykamore made the move to Nashville in 2018 from her hometown of Calgary, Alberta where she signed with Home Team Publishing (founded by Akins along with his son, country star Thomas Rhett, and Roc Nation/Warner Chappell).
In 2018, Skyamore released her first EP, Self + Medicine, which has garnered two million on-demand streams worldwide to date and helped land her both a record deal and a spot in CMT's coveted "Next Women of Country" class for 2020. 
Sykamore will be travelling to the UK at the end of January 2023, to play 2 headline shows – The Cavern Club in Liverpool with Laura Oakes and Jeff Cohen on 24 Jan and The Camden Club in London with Jeff Cohen on 29 Jan. Tickets are available here.
Speaking on the album, Sykamore says, "there's this unspoken rule that women can't let their guard down, but that's just not realistic. I let my guard down all the time, and I wanted this record to show that vulnerability, to show that it's okay to be yourself and share that with the world. I took Sykamore as my stage name because it's a tree that's tenacious and strong and has roots that ground it in any weather, and that's how I want my music to make people feel."
SYKAMORE'S UK TOUR DATES:
Tues., 24 Jan – Liverpool, UK, The Cavern Club (with Laura Oakes & Jeff Cohen)
Sun., 29 Jan – London, UK, The Camden Club (with Jeff Cohen)
Pinto marks more than just a chapter. Recorded in Nashville with producer Michael Knox (Jason Aldean, Kelly Clarkson), the album represents both a beginning and an end, the culmination of a remarkable journey and the start of an even more promising one. The songs are equal parts country and pop, mixing intimate reflection and empathetic storytelling with instantly memorable hooks and sing-along choruses that capture the emotional rollercoaster of youth and young love. The arrangements are eclectic and infectious to match, drawing on everything from George Strait to George Michael as they practically reach out and beg you to hit the highway with the volume up and the windows down. The result is a record all about honesty and vulnerability, about the strength and freedom we can unlock by embracing our truest selves, delivered by an artist who's learned everything she knows from a lifetime of listening.