STEPPENDOOM – Something Wonderful Is Afoot
Marc Urselli's exciting project STEPPENDOOM which blends indigenous throat singers from around the globe with the cream of doom metal have released a first track, 'Etugen Eke & Od Ana'.
Featuring legendary axeman Matt Pike (HIGH ON FIRE, SLEEP) and Tuvan vocal legend Batzorig Vaanchigfirst "Zorigoo". The single is taken from the album "SteppenDoom" that will rise and soar over grasslands, seas, and cities on November 18, 2022.
The track 'Etugen Eke & Od Ana', which tells of the Mongolian Earth Goddess and the Goddess of Fire as incarnated by the two main artists performing this song, is now available.
MARC URSELLI comments: "The first single 'Etugen Eke & Od Ana' is a song of many firsts: Matt Pike of Sleep and High on Fire was one of the first guitar players that I reached out to, it was the first time that he and I collaborated, and also the first time he ever did something with a throat singer", the project's mastermind explains. "Furthermore, it was one of the first songs I'd written for the project, and therefore it is only fitting that it is the opening track of the SteppenDoom album. Batzorig Vaanchig of Khusugtun is one the greatest throat singers alive today. Throat singing, or overtone singing, is the ancient folk singing technique from Mongolia, Tuva, and Siberia. Mongolians often sing around the campfire with lyrics about Mother Earth, animals and the elements in nature. 'Etugen Eke & Od Ana' bridges the gap between the spiritual aspects of the Mongolian tradition and the wrath brought on by a creative powerhouse like Pike, which is exactly the kind of maelstrom that I wanted to bring to life. Even the title reflects this: Etugen Eke is the Mongolian earth goddess, while Od Ana is the Mongolian goddess of fire. It makes perfect sense that Batzorig Vaanchig brought the spirit of the earth and Matt Pike set it all on fire!"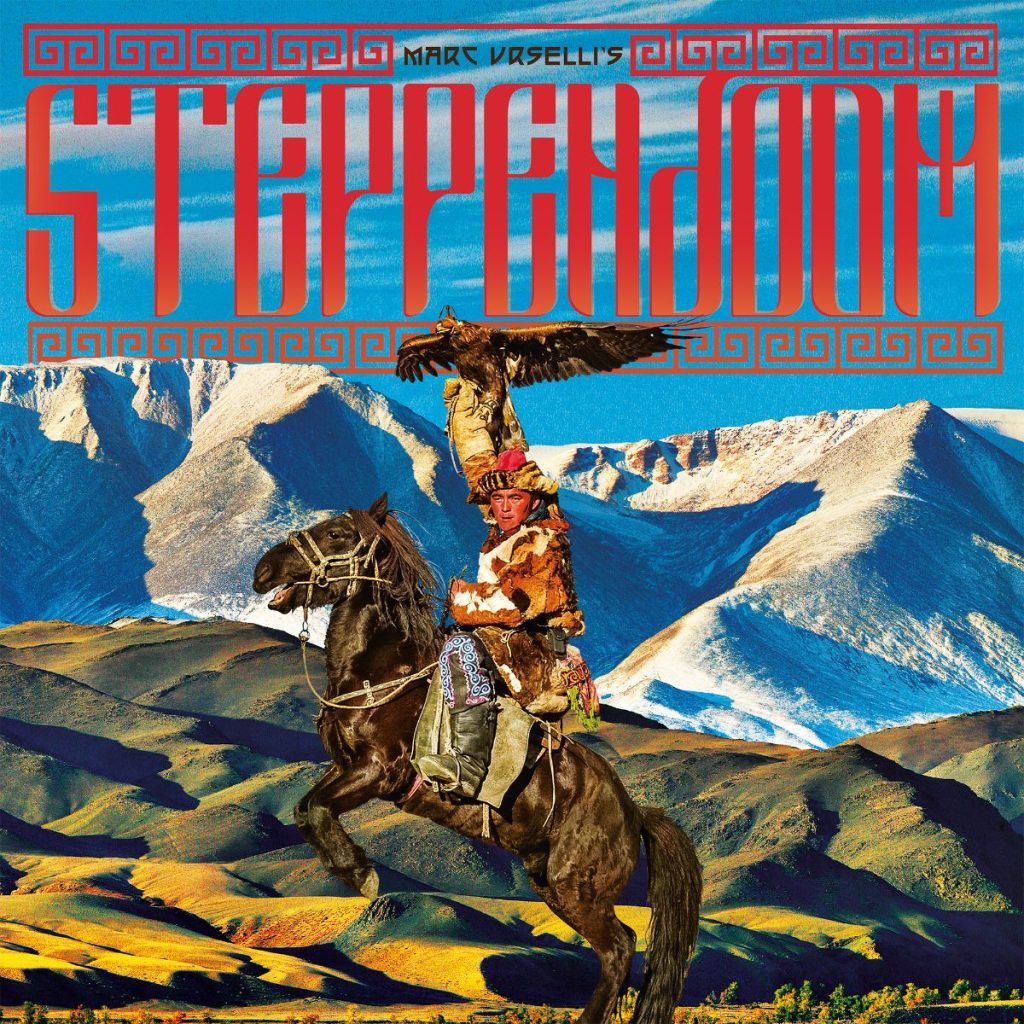 Tracklist
1. Etugen Eke & Od Ana (6:30)
2. Garuda Khuresh (5:38)
3. Agloolik Igaluk (8:24)
4. Tamag & Ocmah (8:48)
5. Imdugud in Shambhala (7:12)
6. Peri to Ela Guren (5:22)
7. Sedna & Eliduc (4:23) (bonus)
8. A-dkar Theg Pa (33:00) (bonus)
Something wonderful is afoot when wolves howl, wild horses neigh, and seals bark through human spirit and voices. The exciting new STEPPENDOOM project from New York City and London-based Italian-Swiss audio engineer, sound designer, composer, and multi-instrumentalist Marc Urselli sees the producer inviting and uniting eminent musicians from across the doom metal genre and legendary indigenous singers employing ancient throat signing traditions from around the globe.
 
Among many others, the renowned artists who answered three-time Grammy Award winner Marc Urselli's call include Matt Pike (SLEEP, HIGH ON FIRE), Aaron Aedy (PARADISE LOST), Steve Von Till (NEUROSIS), Christopher Juul (HEILUNG), Dave Chandler (SAINT VITUS), Lori S. (ACID KING), and Scott "Wino" Weinrich (THE OBSESSED) from the metal side, as well as masters of throat signing such as Alash Ensemble, Batzorig Vaanchig "Zorigoo", HUUN-HUUR-TU, Tanya Tagaq, Albert Kuvezin (YAT-KHA), and Alexey Tegin.
 
The ancient art of throat singing carries on in the grasslands, tundras, and hearts of the people living in and with nature. Heavy metal was born in England's industrial heartlands to the pounding of steel hammers and the mechanised mining of coal. Yet both share a deep desire for freedom and human dignity.

STEPPENDOOM witnesses artists from each joining forces, enriching and enhancing each other to create new sounds that are rooted deeply in local environments, nature, and the last wild regions of this planet as well as in one of the most global industrialised urban musical styles possible.
 
While the throat signing communities are guardians of their ancestral  lands against mining, drilling, pipelines, nuclear waste deposits, and many other ills endangering their cultures, environments, and (in reality) all of us, heavy metal has become an expression of empowerment, emancipation, and resistance for many peoples. Whether Northern American native youths finding an outlet for their anger and spirit in 'rez metal,' women in Botswana asserting their independence, orphans from Asian ghettos shouting out their pain, or defiant young Middle Eastern musicians risking their lives playing underground metal in religious theocracies – all share a common love and passion for a musical style they find liberating.

The common literary trope to describe a fusion of music from seemingly quite different genres and different peoples under headlines announcing 'a clash of styles' or 'when worlds collide' obviously does not apply to Marc Urselli's STEPPENDOOM. This celebration of artistic unity also defies such lazy denunciation as 'cultural appropriation'. Indigenous musicians form an integral part of each track on this album, which rather leans itself to be summarised by the phrase 'when worlds unite".
Marc Urselli's STEPPENDOOM demands to be listened to with non-prejudiced ears and an open mind. While the album and its songs may require some time to properly absorb, they ultimately reveal a stunning beauty that sees eagles soar over cities, winds from the steppes awakening hearts and minds, ice turning to arctic animals, and many other miracles. Ancient magic is joined to modern forces here, creating something revolutionary and new that contains one of the oldest forms of human expressions: the cry for freedom!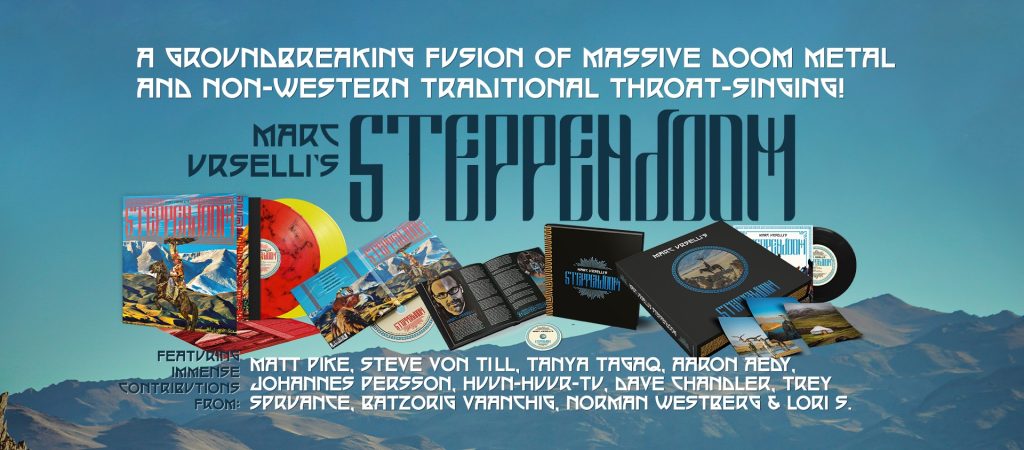 Participating musicians
Matt Pike (Sleep, High on Fire) – guitars on 'Etugen Eke & Od Ana'
Batzorig Vaanchig "Zorigoo" – vocals on 'Etugen Eke & Od Ana'
Aaron Aedy (Paradise Lost) – guitars on 'Garuda Khuresh'
Huun-Huur-Tu – vocals on 'Garuda Khuresh'
Johannes Persson (Cult of Luna) – guitars on 'Agloolik Igaluk'
Tanya Tagaq – vocals on 'Agloolik Igaluk'
Steve Von Till (Neurosis) – guitars on 'Tamag & Ocmah'
Albert Kuvezin (Yat-Kha) – vocals on 'Tamag & Ocmah'
Massimo Pupillo (Zu) – synths on 'Imdugud in Shambhala'
Christopher Juul (Heilung) – percussion on 'Imdugud in Shambhala'
Alash Ensemble – vocals on 'Imdugud in Shambhala'
Trey Spruance (Secret Chiefs 3, Mr. Bungle) – synths on 'Peri to Ela Guren'
Erdenebat Baatar (Erka) – vocals on 'Peri to Ela Guren'
Lori S. (Acid King) – guitars on 'Sedna & Eliduc'
Utelo – vocals on 'Sedna & Eliduc
Karen Panigoniak & Maria Illungiayok – vocals on 'Sedna & Eliduc
Dave Chandler (Saint Vitus) – guitars on 'A-dkar Theg Pa'
Anders Møller (Ulver) – percussion, drums, plate gong on 'A-dkar Theg Pa'
Norman Westberg (Swans) – guitar drone on 'A-dkar Theg Pa'
Scott "Wino" Weinrich (The Obsessed) – guitars on 'A-dkar Theg Pa'
Alexey Tegin (Phurpa) – vocals on 'A-dkar Theg Pa'
Vegard Kleftaas Sleipnes – water bubbles, mortar and stones on 'A-dkar Theg Pa'
Tor Harald – Degerstrøm metal plate on 'A-dkar Theg Pa'
Marc Urselli – 12-string electric bass, guitars, keys, drums, percussion on all tracks

Produced, recorded, mixed by Marc Urselli at EastSide Sound New York City, US
Mastered by Maor Applebaum

Cover artwork and layout by Joshua Wilkinson (The Company)
Layout assistance by Łukasz Jaszak