Multi-Platinum entertainer Jason Aldean has learned a thing or two about the music he has made over the past 16 years, but as far as he's come, Aldean always looks back home to Macon, Georgia. Both where he is from and how far he has taken his signature sound is reflected throughout his upcoming 10th studio album MACON, GEORGIA.
In addition to the new project's US Top 5 smash debut single "If I Didn't Love You" with Carrie Underwood, on Nov. 12 fans will have access to nine more new tracks and five live tracks. Over the course of the following months, Aldean will continue to deliver new songs leading into the full release of all 30 tracks – 20 new and at least one live hit off each of his previous albums – on April 22, 2022. The full release will also be marked by a commemorative 3-disc vinyl set.
Working alongside longtime producer Michael Knox, the expansive release's first batch, MACON, runs the gamut from straight-up stadium rockers to bluesy barstool ballads, peppered with modern embellishments and all the chest thumping small-town pride his fans have come to crave. Aldean pushes his patented muscle Country sound to the limit with his hard rock, woozy barroom ballads, experimentation with hip hop and R&B, but stays centered in country lifestyle.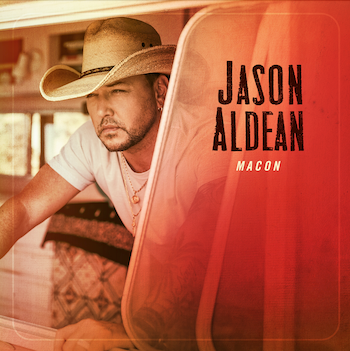 MACON Track List:
1. "After You"
2. "Over You Again"
3. "That's What Tequila Does"
4. "Small Town Small"
5. "If I Didn't Love You"
6. "Story For Another Glass" 
7. "Heaven" 
8. "This Bar Don't Work Anymore"
9. "The Sad Songs"
10. "Watching You Love Me"
11. "Amarillo Sky" (Live from Nashville, TN)
12. "Johnny Cash" (Live from Los Angeles, CA)
13. "She's Country" (Live from Las Vegas, NV)
14. "Big Green Tractor" (Live from Dallas, TX)
15. "My Kinda Party" (Live from St. Louis, MO)


GEORGIA Track List:
16. "Whiskey Me Away"
17. "Trouble With A Heartbreak"
18. "The State I'm In"
19. "Midnight And Missin' You"
20. "Ain't Enough Cowboy"
21. "God Made Airplanes"
22. "My Weakness"
23. "Holy Water"
24. "Rock And Roll Cowboy"
25. "Your Mama"
26. "Take a Little Ride" (Live from Las Vegas, NV)
27. "Burnin' It Down" (Live from St. Louis, MO)
28. "Any Ol' Barstool" (Live from Knoxville, TN) 
29. "Rearview Town" (Live from St. Louis, MO)
30. "Blame It On You" (Live from Manchester, TN)
The three-time ACM "Entertainer of the Year" continues to hold his ground making modern albums with an old-school soul while bolstering 25 No. One hits, 15 billion streams and more than 20 million albums sold. Notably, seven of Aldean's previous studio albums have been certified PLATINUM or more and he has the most Top 10 song on Billboard's Hot Country Songs chart, more than any other artists since making his chart debut in 2005. He recently launched his latest collaboration, Wolf Moon Bourbon, an 80 proof bourbon that has been distilled from Midwestern grains and aged for four years offering a finish of caramel, oak and spice. Aldean continues to trek nationwide with his BACK IN THE SADDLE TOUR 2021 featuring special guests HARDY, Lainey Wilson, John Morgan and Dee Jay Silver which makes stops this week in Phoenix, AZ (9/30), Albuquerque, NM (10/01) and Denver, CO (10/2).