Kevin Day of Aspiga has been releasing material under the moniker of Graduation Speech since 2017.
The project has served as an avenue to explore music outside of the punk realm with friends helping along the way. While the debut EP, Quiet & Calm, was a solo effort; the 2019 EP, Maintenance Required, was built on sparse percussion, lingering piano parts, and more instrumentation. Graduation Speech is now set to release a three song EP titled Private Anxieties on April 30th. This release features a full blown band, including members of Crucial Dudes, and leans heavily in the alt-rock genre. You can stream the lead single "Everything I Need" now on BrooklynVegan. "Everything I Need" will hit all digital providers on Friday, April 9th. Additionally, Graduation Speech will be working with Jetsam-Flotsam on the physical release of Private Anxieties which will feature three home demos that are exclusive to the tape.
When people think back of their pandemic year, they will likely remember how often they ordered from their favorite restaurant, the stretch of their mask over their nose, the haunting smell of hand sanitizer—and, of course, the anxieties and uncertainties of an unseen and highly contagious virus. They may not remember how hard the pandemic hit musicians and performers, how so many lost their day jobs and their passion projects seemingly overnight. Though some musicians struggled to create during their quarantine, others used their music to make sense of the circumstances unfolding around them.

Private Anxieties, the third EP by Graduation Speech, is not a pandemic record, though it includes songs written during and inspired by the world's shutdown. "The pandemic had just started and I was furloughed from work almost immediately," says Kevin Day. "During my month-long furlough, I tried my best to write and record a song a day. I think those songs in particular lean into the uncertainty of what to expect from a lockdown and how long things will last."

Day, who also fronts the pop-punk band Aspiga, has always considered Graduation Speech a solo project, and his previous releases demonstrate this. 2017's Quiet and Calm features just Day with his acoustic playing spacious, somber songs; on 2019's Maintenance Required, he adds additional layers—streaks of guitars, daubs of piano, percussive textures—but the final result still feels like a solo album. Private Anxieties, however, shows the project shedding that designation; though the songs still center around Day's acoustic guitar, a full band is brought into the fold, transforming these emotional, intimate songs into something more alive.

"This recording is very much a snapshot of a group of people playing in a room together and all of the nuances that come with that," Day says. "You can feel the push and pull, hear a note end abruptly, and I think you can just feel everyone playing off of each other."

Listeners might feel this push and pull best on the opener "Dare To Try," on which Day's crisp chords seem to tug playfully against a grimy lead guitar as drums trot in the background, nudging the song along. The beat is much simpler on "Keep Still," alternating between clicking hi-hat and thumping drums. Here, Day's voice almost whispers above the warbling guitars, the clacking bass, the smeared lead. On "Everything I Need," his lyrics are simple and poetic and capture a different kind of push and pull—between being an adult and someone's son. "My mother, she asks me / if I have everything I need / and I tell her I do," Day sings above the calm clatter of the band behind him.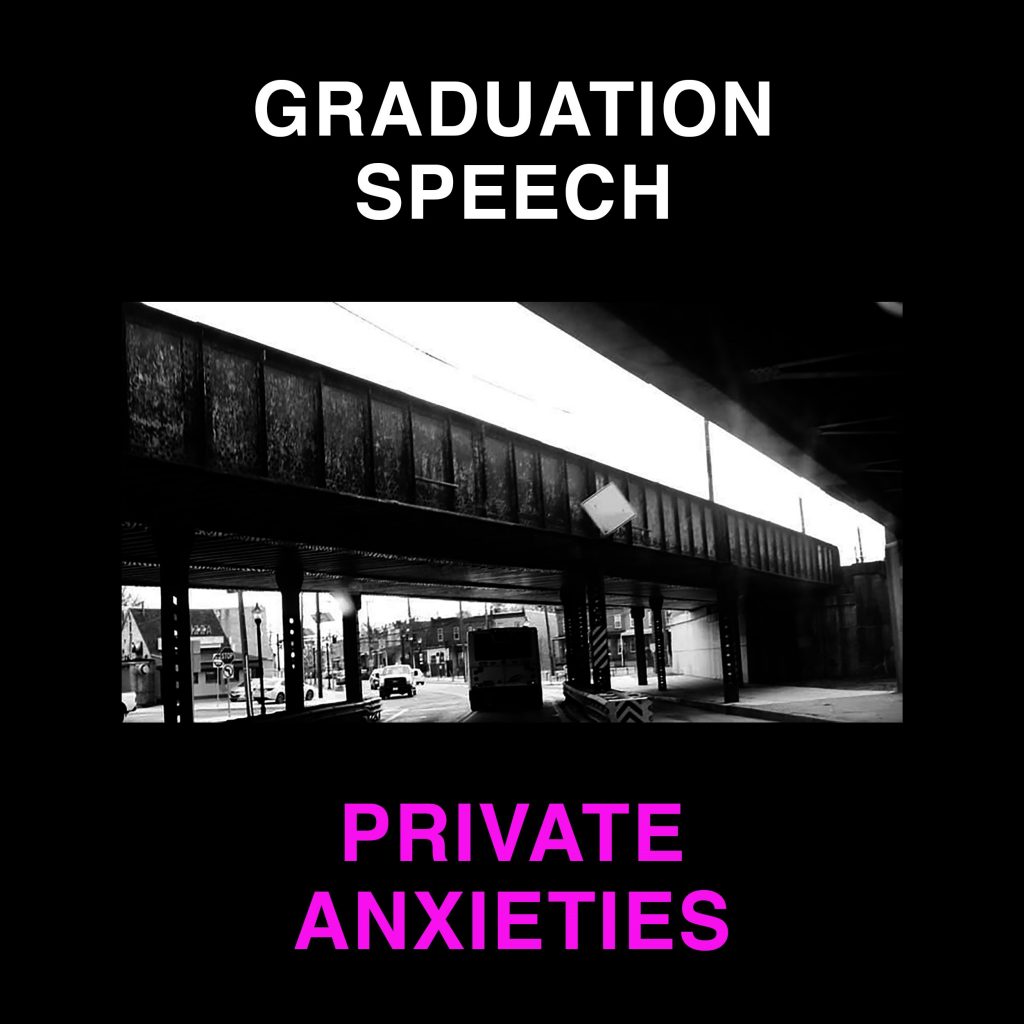 This is not to say that Day considers Graduation Speech to be a proper band—not yet—nor does it replace his other project. "I don't know that I'll ever be as proud as another project as I am with Aspiga," Day concludes, "but the mindset for Graduation Speech has always been to do things at the pace that I'm comfortable with. I had zero expectations when recording the first EP. It was recorded in two different homes in Philly and next thing you know Alt Press was covering it. I ended up playing a bunch of shows and I just felt connected again. It was a reminder that music could still be rewarding."

And, additionally, a reminder that music could be curative—a means of managing uncertainty, a way of bringing friends together after too much time apart, and an opportunity to turn this terrible and unprecedented pandemic into something productive and powerful.
Release Date: 4/30/21
Label: Jetsam-Flotsam
Formats: Digital | Tape
Purchase 


Album Credits:
Kevin Day: Guitars & Vocals
Pat Pie: Drums
Brandon Iacometta: Bass
Billy Bollinger: Lead Guitar

Recorded and Mixed by Arik Victor at Creep Recording Studio
Mastered by Dave Downham at Gradwell House
Album Design:
Brian Mietz

Album Cover Photo:
Glenn Yeary
Press Photo:
Julie Wackerle
Graduation Speech: Bandcamp | Instagram
Jetsam-Flotsam: Bandcamp | Facebook | Instagram | Twitter | Web