SEAFORTH UNLEASH MOST TRIUMPHANT WORK YET WITH NEW EP WHAT I GET FOR LOVING YOU AVAILABLE EVERYWHERE NOW.
Arista Nashville/Sony Music Nashville buzzworthy duo Seaforth has released their latest project, What I Get For Loving You, which was produced by the pair's Tom Jordan entirely from their home studio. Listen here.
Featuring their breezy summertime collaboration "Queen of Daytona Beach" with Sean Kingston and feel-good duet "Good Beer" with Jordan Davis, What I Get For Loving You also goes deeper, revealing new layers to the duo as songwriters and artists. 
"'What I Get For Loving You,' for us, translates to more than just a relationship. It's also, 'This is what we're doing. We chose this path,'" said the duo's Mitch Thompson. "Everything that comes along with it, the ups and downs, that's what we get for loving what we do. If you take a step back, it captures everything and just our journey in general."
"It's easy to just look at us like, 'Oh, these guys are funny,'" added Jordan. "But at the end of the day, we are musicians. We are producing the songs, and we are writing the songs, and we have real stories to tell."
The growth was hard won for the pair who thought they were on the fast track to their dreams at the end of 2019. Seaforth just finished opening shows in Sydney for their musical hero Keith Urban, was playing to full houses in Europe at Country 2 Country Festival, booked their first sold-out headlining show in Australia and felt like the world was at their feet. Then, the harsh reality of the pandemic isolated them from their careers, their friends, and held them captive a world away from their families in Australia. Feeling uninspired, they didn't write music for nearly a year, but credit their newfound personal and professional relationships with co-writers Rocky Block and Jordan Dozzi – who have multiple credits on the EP – for helping to revive their passion in the craft.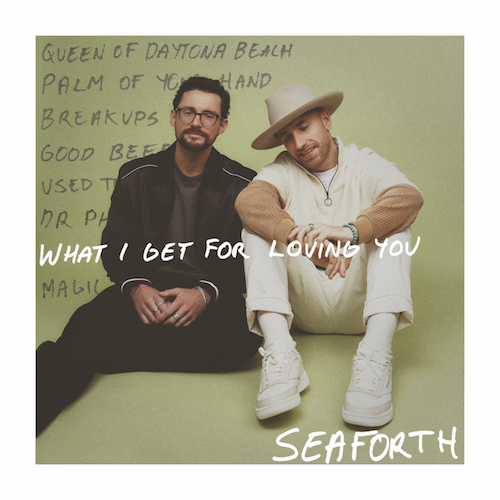 What I Get For Loving You tracklisting:

1. Queen of Daytona Beach (with Sean Kingston) (Tom Jordan/Mitch Thompson/Rocky Block/Kisean Anderson/Sylvester Jordan/Ben E. King/Jerry Lieber/Jonathan Rotem/Mike Stolle)
2. Palm of Your Hand (Tom Jordan/Mitch Thompson/Rocky Block/Jordan Dozzi)
3. Breakups (Tom Jordan/Mitch Thompson/Liz Rose/Cameron Bedell)
4. Good Beer (feat. Jordan Davis) (Tom Jordan/Mitch Thompson/Rocky Block/Jordan Dozzi)
5. Used To It (Tom Jordan/Mitch Thompson/Nolan Sipe/Hayley Warner)
6. Dr. Phil (Tom Jordan/Mitch Thompson/Rocky Block/ERNEST)
7. What I Get For Loving You (Tom Jordan/Mitch Thompson/Rocky Block)
8. Magic (Tom Jordan/Mitch Thompson/Derrick Southerland)