Adam Douglas is a playmaker in the best sense of the word. His music is intended to be played to people. He savours every moment on stage and values every opportunity to connect with his audience.
Raised in Oklahoma, USA, Douglas lived in Chicago and Minneapolis before finding his way to Norway where he has lived for the past decade. Now considered one of the best guitar players in Norway, he made his first stage appearance aged 8 and soon made the stage his home, a place to share his magnificent voice with his honest and revealing songs. 
As a musician, Douglas is an unexpectedly shy guy who turns into a firework on stage, drawing inspiration from the celebrated stars of soul music. He lets his big voice compete for attention with his guitar for an electric live show which is never the same twice. Most comfortable when he's the worst musician on stage, Douglas sought out a band who could keep him on his toes and perform best with them breathing down his neck, preferably with a choir on one side and a horn section on the other.
Since living in Norway, Douglas has found inspiration in the Norwegian mountains and fjords and has released 3 albums to critical acclaim. He has performed extensively across the country on solo tours and supported Sting at Kongsberg Jazz Festival and Bonnie Raitt at Olavsfestdagene in Trondheim.
In 2017 he won Stjernekamp (Battle of the Stars) on Norwegian national television and became the first artist to do so with his own original song. Although Douglas had already been a household name with blues fans for some time, he sang his way into peoples' hearts by remaining true to himself throughout the genre-splitting competition.
With his brand new single Joyous We'll Be, Douglas is now channelling this honesty in a new way. While he has not written about political issues previously, he feels that now he has to. He has observed political unrest in his native country with frustration and felt what he describes as "the world falling to pieces". Together with Jeff Wesserman, a fellow musician and Norwegian-based American, he wrote Joyous We'll Be about unity, and resistance, to take a stand against the political and social challenges unfolding in today's world.
"Joyous We'll Be is meant to be a musical call-to-arms for all to collectively recognize the current misgivings of today's society. It reflects a large group of humans, banding together with an array of instruments – to raise our hands and voices together in song. Singing together about the overwhelming need for positive change and rejoicing together upon said change's eventual arrival".
With elements of gospel choir, wind sections and American roots music, Douglas hopes to encourage hope, unity and a collective sense of looking ahead for a better future.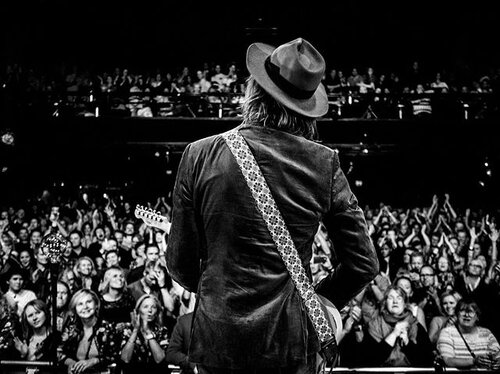 The track comes as the first taste of his upcoming album, which will be his third studio album. Adam Douglas is in great shape and with a newfound political outspokenness he is ready to stand up for is native country and look ahead towards a, hopefully, brighter future with his forthcoming releases.