Las Vegas rockers DEAD GIRLS ACADEMY are finally delivering their anticipated sophomore album, Doves In Glass Houses.
The 11-track collection will be released worldwide on all digital platforms on October 30th. Today the band debuts the second track from the album, the bone-chilling "Addicted To Your Heart."
"This song was extremely hard for me to write. When I sat down to write this song I had to decide how to approach the toxic relationships of my past. The amount of anxiety and pain I endured during a particular time has stuck with me like crazy glue. No matter how great my day is going, I can always count on memories of this past relationship to supply the anger and sadness needed to write a song. It just poured out of me and the outcome is explaining how I am 'Addicted To Your Heart.'"

Vocalist Michael Orlando
Adoration at radio is nothing new for DEAD GIRLS ACADEMY as their previous video, "This Is War," described as "An action-packed single" by KNAC, was released earlier this year as a gift for patient fans. Their debut album, Alchemy, released in 2018 on Victory Records, produced two Billboard Top 40 hits with "I'll Find A Way" and "No Way Out." Both songs also reached Top 30 at Active Rock Radio. The band then spent the next two years touring non-stop with JOHN 5, FALLING IN REVERSE, ADELITA'S WAY, BADFLOWER and numerous festivals including Warped Tour, Epicenter, Inkcarceration, Welcome To Rockville and dozens of regional radio festivals.
In 2019, DEAD GIRLS ACADEMY, rounded out by guitarist Craig Pirtle and skin-basher Zachary Moore, teamed up with three vastly different producers to create Doves In Glass Houses – Malcolm Springer (MATCHBOX 20, FEAR FACTORY), Kris Crummett (DANCE GAVIN DANCE, SLEEPING WITH SIRENS), and Nick Sampson (WE CAME AS ROMANS, POLYPHIA). Orlando goes on to add, "We recorded a majority of the album at NRG Studios in North Hollywood, CA (NO DOUBT, LINKIN PARK, EVANESCENCE)." With his transparent heart on his sleeve, Orlando adds, "I am so proud ofAlchemy, but I decided the follow-up would be much more honest." Songs like "Bleeding Faith," "Inside Out" and "Just For Tonight" take the listener through the bands groove-heavy guitar virtuosity, addictive vocals and layers of sonic rock n roll.
Hailed as the next coming of rock history, DEAD GIRLS ACADEMY was formed in 2017 by frontman Orlando as 'gothy, catchy rock n roll' (Kerrang! Magazine), and quickly gained fans by the thousands, applauded for their theatrically intense live show. As their tour supporting WEDNESDAY 13 was scrapped amidst the pandemic, new DEAD GIRLS ACADEMY dates will be announced soon.
Fans can get their fix from "Addicted To Your Heart" everywhere digital music is available today and won't have to wait long to hear all of Doves In Glass Houses which appropriately arrives on Devil's Night, October 30th.
To coincide with the new album, DEAD GIRLS ACADEMY released new merchandise for pre-order including t-shirts, long sleeve t-shirt, zip-up hoodie, and beanie.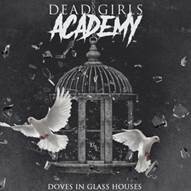 Doves In Glass Houses Track Listing:
1. Blackout
2. Ghost Of Me
3. Bleeding Faith
4. End Of The Fight
5. Addicted To Your Heart
6. Just For Tonight
7. Agonize
8. Nothing Left
9. This Is War
10. City Lights
11.   Inside Out