Join the visionary rock'n'roll storytellers as they open the gates to a utopian new world with their third studio album.
A place without prejudice, Luna Park! is populated by the weirdest and most wonderful people, there to help you forget reality and open your mind to new ways of thinking. Among them is: "Fayaway"…
A storming new track that has clocked-up over 16,000 streams already, "Fayaway" is based on the semi-fictional character in Typee, a nautical adventure novel by Herman Melville in 1846 (who went on to write Moby Dick). An inhabitant of the island the protagonist lands on, he can't help but fall under her spell in the strange new land he finds himself in.

"We thought she had a very mystical power over him. In reality, Melville never forgot about her and pined for her until the day he died."

says Tankus frontman Jaz Delorean
Finding asylum in 'Luna Park!' all these years later, Fayaway is one of countless things to fall in love with on Tankus the Henge's upcoming album.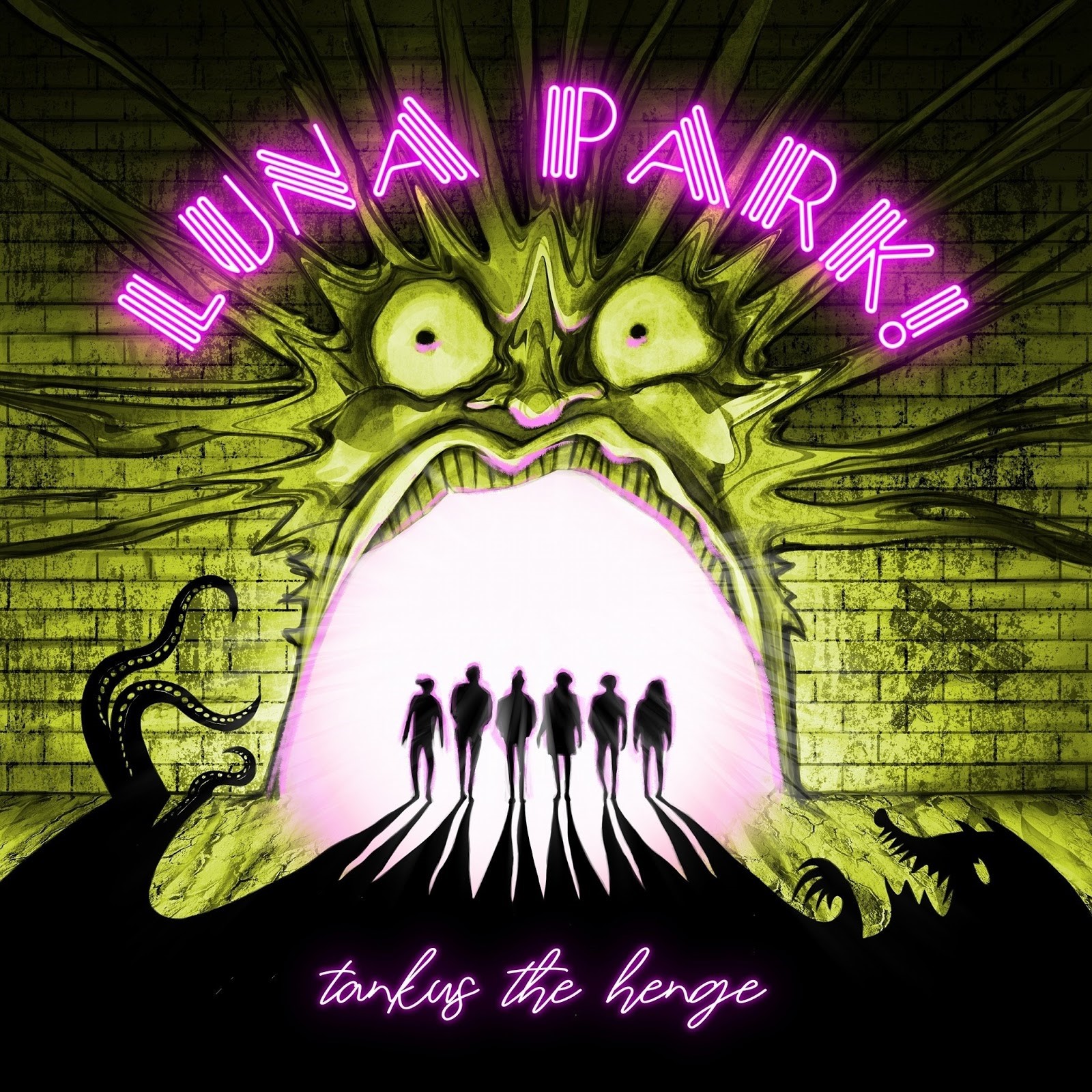 Homing in on an array of colourful characters including "Susie Sidewinder", "Sundance Kid", and "Pilgrim", the record follows their journeys as they each turn their backs on a city they once loved, now polluted by "glitterlung", and make the journey to the utopian Luna Park! in search of a better life.
 
It's not a concept album as such, more a vision. A fantasy of a new world where creativity is celebrated and live music thrives. A place where venue closures are a thing of the past, and corporate gentrification is a non-entity. A refuge from greed and capitalism, and the salvation of independent music, free thought and good-times.
[Read Tankus the Henge's full vision of Luna Park! below.]
Pitch-black satire shrouded in a neon glow; 'Luna Park!' is very much an allegory for what is happening on London's Denmark Street and all across the UK. A record that gives a voice to independent venues everywhere and amplifies the concerns of those institutions being bled-dry by the greed of landlords and the ruthlessness of real estate developers, before it's too late.

Speaking about the underlying themes at play, frontman Jaz Delorean says:

"I don't think the public knows the entire truth when it comes to the hardships and thin margins of running a venue, and most of the time we don't want them to. They go out to have a good time and forget about life for a while. Thousands of people work all hours to keep venues, and festivals alive, and at the moment all of it is under threat. The ripples will be felt in every household eventually… We learned and started honing our skill in Denmark Street, in clubs like 12 Bar Club and Alleycat, both of which have closed. Jamboree, Passing Clouds, The Peel, 14 Bacon Street, Madame Jojo's. All these venues were haunts of ours and are now closed permanently too. We need to support these small venues so much more."
Although recorded during the Winter of 2019, the record will no doubt find a new resonance with the thousands working in the live events industry who feel they have been forgotten by the UK government this year too.
Recorded at StudiOwz in Pembrokeshire, West Wales, the album was produced, mixed and engineered by the esteemed Gethin Pearson (Badly Drawn Boy/whenyoung/Crystal Fighters). Additional engineering was contributed by Owain Jenkins, with mastering by Robin Schmidt.
All tracks were written and performed by Tankus the Henge, with guest appearances from: Tom Sinnett (bass, guitar, moog, strings), Seb Skelly (trumpet) and Jodie Marie (backing vocals).
An album of fearless, outrageous rock'n'roll, 'Luna Park!' at once brings to mind Blur and the Blockheads, Motown to Madness. From the glam-rock stomp of "god oil money" to the skyscraping gospel psych of "Glitterlung" and its elegiac reprise; the Steely Dan-esque jazz-fusion strut of "(Livin Like A) Pilgrim", to the warped Northern Soul of "Fayaway" and the boozy barroom blow-out of "Staying On This Side Of The Dirt"; it's a record that invites you to escape in its incandescent spectacle, but urges you spare a thought for the people who put it on."Bands play it safe so much now, and we just don't care what people think of us" says Jaz. "We wanted to make a record that makes people feel, and think, and rejoice in the chaos and beauty of the underground music scene, which has shaped us and celebrated us, and we wanted to fly its flag a little higher, you know?"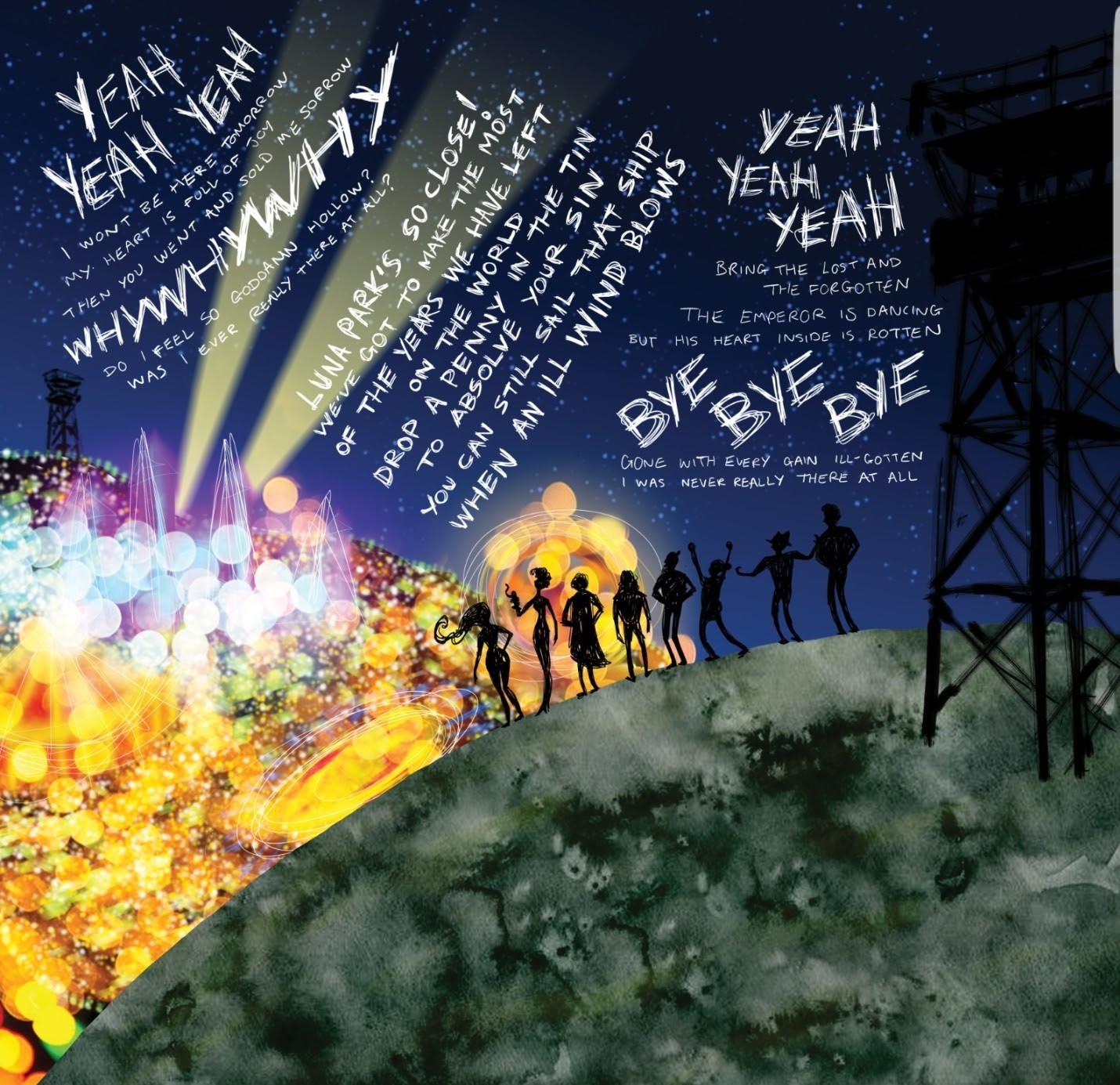 The album features vocative customised artwork made in collaboration with artist Adelle Gough. Gough has visualised 'Luna Park!', its characters and even the band members themselves in vivid detail to bring their utopia to life and enhance the listening experience.
Available on all streaming platforms, plus CD and vinyl, a hidden bonus track will also exclusively appear on the physical editions. 
TANKUS THE HENGE – RELEASE 'LUNA PARK!' ON 4 DECEMBER 2020
PRE-ORDER HERE
TANKUS THE HENGE ARE:
Jaz Delorean (River Thames) – vocals, piano, trombone
Tim Fulker (Pembrokeshire) – guitars, bvs
George Simmonds (East London) – trombone, bvs
João Mello (Curitiba Brazil) – tenor sax, keys, guitar, vocals on Pilgrim
Franco Pellicani (Perugia Italy) – drums

With guest appearances from: 
Tom Sinnett (Pembrokeshire) – bass, guitar, moog, string arrangement
Seb Skelly (North London) – trumpet
Jodie Marie (backing vocals)


FOR MORE INFORMATION https://www.tankusthehenge.com