Glitterhouse Records has announced the release of the iconic 'Unfucked – Live' album by Punkrock legends The Bates! Limited to 500 copies on red Vinyl with a release date on December 4th, 2020, it will be the first Bates album available on Vinyl since 1992.
For over a decade, The Bates were Germany's best and with over a million records sold, most successful Punkband besides Die Toten Hosen. They toured all over Europe and Japan with acts such as The Toydolls. They sold more than 1 million records and stormed the charts but paid tribute to fame and Rock'n'Roll, culminating in the death of singer/bassist Zimbl at the age of 41 because of drugs and alcohol abuse. This live album from 1992 shows them at the height of their powers: Raw, wild, a class of their own!
It all started in the mid-80ies in Eschwege, Germany. Four boys and their love for Punkrock accompanied by talent and diligence. Soon after they found their charistmatic frontman Zimbl, The Bates started touring locally, and playing youth centres and smaller clubs. It wouldn't take long until they reached out for the rest of the country and 'til they signed their first major contract with Virgin (who also released "Never Mind The Bollocks ") and became a huge success.The Bates always were a band that stayed real. Of course they did all of this MTV and VIVA party stuff and Zimbl even got pictured in Bravo's 'Foto-Lovestory' alongside German popstar Blümchen, but they stuck to their roots. They sung about love, desire and party. They never were a political band, it was all about having a good time. Proof to this is the stunning live album entitled 'Unfucked' from 1992. The 4-piece was a very powerful act to experience live, headed by their charismatic frontman Zimbl. 'Unfucked – Live' was originally released by Snoop Records in 1993. It was the band's last album before they signed with Virgin. Surprisingly it never got re-released, what Glitterhouse will finally change by the end of this year. As it's a timeless piece of live music and the 100 % proof why The Bates became that big: Because they were a stunning live act!

'Unfucked – Live' was recorded in 1992 at the Outpost Club in Göttingen, Germany, and was mastered by Pauler Acoustics. Master & Servant remastered the files for the upcoming re-release, finally available digital and on Vinyl for the first time ever on December 4th via Glitterhouse Records!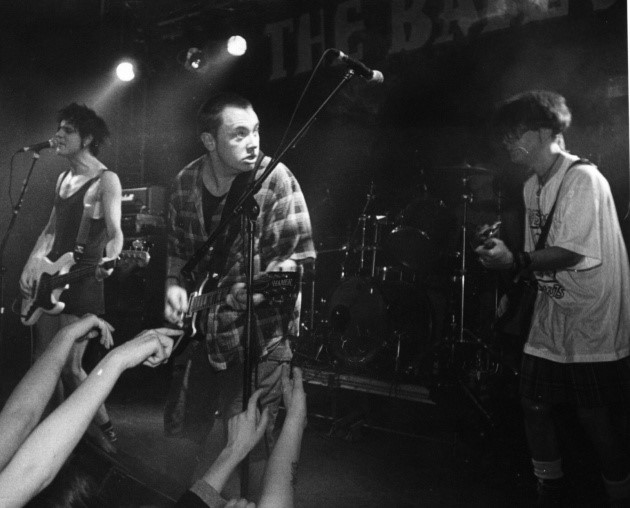 The pre-sale for this must-have live album by one of Germany's most influential and iconic punkrock bands, is now available at THIS LOCATION!
'Unfucked – Live' Tracklist:

01. Einführung
02. Good Friends
03. No More
04. Beautiful Noise
05. Who's That Girl
06. Questionmark
07. It's My Party
08. Der Einsame
09. I Want You Back Again
10. Kill That Girl
11. Yesterday
12. Runaway
13. Stuff
14. Song For Michael
15. Eagle Man
16. Witches
17. I Don't Care
18. Bring It On Home To Me
19. The Lips Of Jayne Mansfield
20. Paul Ist Tot
The story of The Bates continues until 2001. After years of drugs and alcohol abuse of singer Zimbl, the band took a break from which they never returned. Zimbl (Markus Zimmer) died in 2006. He only got to 41 years old. Armin (Beck) works as a minister, Klube (Frank Klubescheid) is a social worker specialized in helping disabled persons live rich and fulfilling lives, Reb (Michael Rebbig) is a teacher and Pogo (Thomas Möller) works – since he left The Bates in 1998 – for Hamburg based soccer club FC St.Pauli.
The Bates 'Unfucked – Live' Line-Up:
Zimbl – Bass, Vocals
Klube – Drums
Reb – Guitar, Backing Vocals
Pogo – Guitar
For More Info Visit:
www.glitterhouse.com