Following the success of his first single "Born to Ride" (currently with over 250K views on YouTube), Country rocker Manny Blu offers another peek into his upcoming EP New Ink, with the release of a third track, "Sink," now available, following a premiere on Raised Rowdy yesterday.
The infectious new song is written by Josh Osbourne, Ryan Tyndell(Eric Church, Jon Pardi), and Matt Jenkins (Florida Georgia Line, Old Dominion, Kenny Chesney), and is now available to stream or purchase HERE. New Ink will be available Nov. 13th and is now available for pre-save or pre-order HERE. 
Produced by Aaron Eshuis (Cole Swindell, Rascal Flatts), "Sink" is a catchy track about hitting the bottom of a bottle while "watching it all go down the sink" after a difficult breakup. Despite the theme, "Sink" delivers a driving country/rock sound fuelled by a dynamic bass line that brings a steady groove throughout as Manny's gritty vocals cut through with the storyline. "The energy of the song doesn't really match the sadness of the lyrics, which I thought was a pretty interesting plot twist!" Manny shares, "It was actually the song I was most nervous to record. You have to do a song like 'Sink' justice every time you sing it, so I wanted to get it right and I love how it turned out!"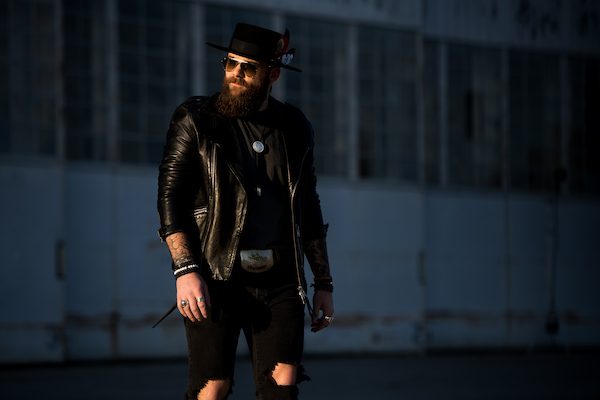 "I'm going to sink to the bottom of this bottle of Jack; I'm going to drink to your memory cause you're never ever coming back… watching our love go down the sink."
With his amplified mix of country twang and rock & roll attitude, Manny brings his rebellious outlaw vibe to country music, creating an original sound that makes room for his blues and rock upbringing. Each of the five tracks heard on New Ink live in an edgy new space with rock-based instrumentals at the forefront. Recorded at OmniSound Studios in Nashville, New Ink speaks directly to what Manny himself calls the "true heart" of the band's live shows: "There's more rock, more soul, and more volume this time around. It's bigger and louder, but it's still me. And more importantly, it's still fun."
When it comes to streaming, 2020 has already been a landmark year for the up-and-coming artist, with over half a million global streams this year. Manny continues to bring his vibe to country music – a sound he introduced with Leave It Like It Is, his debut record (2019) that earned him thousands of new fans and presented him with the opportunity to hit the road across Canada and the US. Last spring, Manny spent two months crossing Canada while opening for George Canyon's "Hit After Hit Tour" and then headlined his Canadian tour to close out the year. Earlier this spring, Manny crossed the US and Canada on another headlining tour, with new show announcements expected in the coming months.
Fans can stay up to date on news and announcements from Manny Blu by checking out his website or following on Instagram and Facebook.