Granger Smith's Country Things, Vol 1 is out now! Part one of his 10th studio album.
This eight-song volume gives a glimpse of he and his family's current country state-of-mind, including a guest appearance from his good pal Earl Dibbles Jr. Smith says: "I don't think I've ever been more excited to release new music! I'm so proud of these songs and the stories they reflect from my life.
I really believe it's my best album yet. Roll the windows down and crank it up!" To celebrate the occasion, Smith will be doing two YouTube premiere events. Starting at 6pm CT / Midnight BST, he will release his "Country Things" music video leading into his album release livestream event Live at the Yee Yee Farm at 6:15pm CT (12:15am BST 26/9).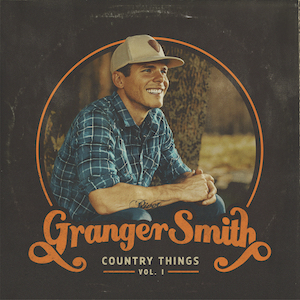 Fans can tune in to Granger Smith's YouTube channel where he will premiere the "Country Things" music video featuring Matt Carriker (aka "Demolition Ranch" by his nearly thirteen million YouTube subscribers), alongside both stars' wives and families. Immediately following the premiere of this video, Smith will host an album release livestream event at 6:15pm CT called Live at the Yee Yee Farm where he will be performing an exclusive show with first time performances of songs off the new album as well as other Granger Smith classics. The album release comes on the heels of last Friday's record setting Fall Launch for his Yee Yee Apparel outdoor apparel line. 
A portion of the the revenue generated from this company goes to causes the Smiths are passionate about, through the success of the apparel line they have been able to donate over $230,000 this past year. The first volume of the album from the born-and-bred Texan initially started back in early 2019. Smith was writing and creating and prepping for his 10th studio album when the unexpected passing of his son River struck and all of those plans abruptly came to a halt. Smith decided to let his music do the healing not only for himself, but for anyone who needs to hear songs that let them know they're not alone on whatever road they're taking. 
With that new way of looking at life, Smith went back to work on the album he had been planning.  Split into two albums but painting one whole picture, this album is meant to be listened to like a rollercoaster ride. It has highs and lows and, in the end, leaves the listener satisfied.  With songs such as "Hate You Like I Love You," a mid-tempo song, and while the title may sound like a contradiction, it really makes total sense. They say the opposite of love is not hate; it's indifference. Hate is actually a close relative of love. It takes the same passion and the same extreme emotional effort to hate as it does to love. This song shows the struggle of turning love into hate as a last resort to get over an unreciprocated love.
Accompanying this song is the title track "Country Things." Just as it sounds, this song lists an array of "country things" that hold true to what brings peace and a sense of home for Smith and his family. With an ode to heroes from military to nurses, "Heroes" is a song that pays respect to those who fight daily for our freedom and health with a fresh outlook no matter the circumstance. The album even includes a song called "Country & Ya Know It" and is exactly what the listener would expect to close out this first volume – a take on the popular kids' song "If You're Happy And You Know It"….with Earl Dibbles Jr. Earl Dibbles Jr., also known as Smith good buddy and alter-ego, is one layer of Smith's multifaceted life. From his family YouTube show "The Smiths," to his No. 1 book "If You're City, If You're Country," to his Granger Smith Podcast, to his hero-honouring documentary "They Were There: A Hero's Documentary," to his work with TheRiver Kelly Fund, the chart-topper continues to build a brand synonymous with those who cherish hard work and those who want to live life to its fullest. 
---
Over the course of his groundbreaking career, Granger Smith has amassed a massive and rabid audience now known as "Yee Yee Nation" built through heavy touring and grassroots fan engagement. He now has a social media following exceeding eight and half million along with more than one billion online video views. Signed to BBR Music Group's Wheelhouse Records, Smith broke onto the national scene with Remington, an album that garnered him the No. 1 smash "Backroad Song." Smith was also awarded a BMI Country Award for writing, producing, publishing and performing "Backroad Song" and followed it with the Top Five hit, "If The Boot Fits." "Backroad Song" was one of the Top 10 Most Played Country singles of 2016 according to Mediabase and has been certified RIAA PLATINUM.
His album When The Good Guys Win spawned the hit "Happens Like That" that has been certified RIAA GOLD. Not only has Granger stacked major accolades as an artist, but he also released his first-ever book If You're City, If You're Country, which immediately hit No. 1 on Amazon best-selling lists. Known as an artist but also for his alter ego, Earl Dibbles Jr., his family's YouTube series "The Smiths" and his iconic outdoor apparel company, Yee Yee Apparel, Smith is a jack of all trades. Additionally, Granger and his wife Amber Smith started The River Kelly Fund to bring awareness and invest in children in need, arts and education, wildlife preservation, military, veteran and first responder assistance, donor affiliations, and many more organizations in honor of their son River Kelly Smith. Taking all of these experiences and channeling them into good, Smith released his 10th studio album on September 25 called Country Things, Vol. 1, which ultimately showcases the man, the father, the performer and bona fide artist Smith has become.
Keep up with Granger Smith on Facebook, Instagram, YouTube and Twitter and visit his website here. Visit Yee Yee Apparel's website here and follow them on Facebook, Instagram, Twitter for updates.