On October 4th, Music For Beirut are hosting a virtual benefit concert in partnership with VICE's music platform, Noisey.
The event will be livestreamed on Noisey's YouTube channel, starting at 5pm PT/8pm ET, and will include performances from August 08, Abhi The Nomad, Abir, Annika Rose, Ash Leone, BabyJake, Blake Rose, Dounia, Drumaq, Ella Vos, Emily Vu, Evann Mccintosh, Gavin Haley, Gia Woods, Jensen McRae, John K, Jon Waltz, Lexi Jayde, Mishaal, Playyard, Rence, Ruby Red, Slush Puppy, Thutmose, Wafia, Zach Matari, and Zola Courtney. All proceeds from the fundraiser will go to the Children's Cancer Center of Lebanon (CCCL).

The Children's Cancer Center of Lebanon (CCCL) is a not-for-profit organization that helps treat childhood cancer. CCCL is affiliated with St. Jude's Children's Research Hospital (SJCRH) in Memphis, Tennessee and works in close coordination with the American University of Beirut Medical Center (AUBMC). Children at CCCL are treated free of charge, with no cost at all to their parents. Therefore, CCCL relies purely on donations.

Following the tragic events that took place on the 4th of August in Beirut, most of the city's hospitals were badly damaged and many children suffering from cancer were transferred to CCCL. To date, they have treated more than 1740 children with cancer, with an incredible cure rate of 80%. With a new surge of patients, the CCCL needs help in order to sustain treatment costs.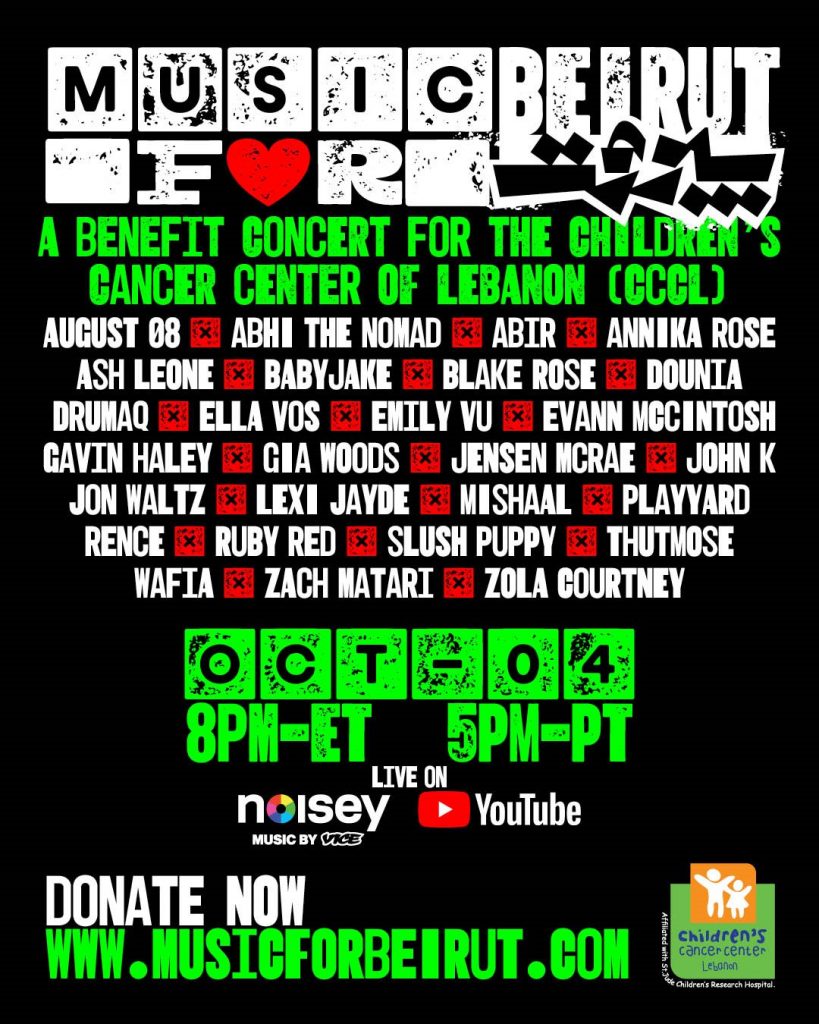 Music has the power to make a cultural shift and inspire people to come together. It's historically played a vital role in making change, empowering communities, and giving hope in a time of crisis.
While the Music For Beirut virtual benefit will be free to watch, donations can be made on www.musicforbeirut.com.


Tune in on Noisey on October 4th at 5pm PT/8pm ET: 
https://www.youtube.com/Noisey


Learn more about Music For Beirut and donate: 
www.musicforbeirut.com
www.instagram.com/musicforbeirut