Italy's heavy psych rockers MR. BISON unleashed a second excerpt of their upcoming album 'Seaward', to be released October 16h via Subsound Records and Ripple Music.
Travel across a colored Tyrrhenian Sea and lose yourself among the different moons that make up MR. BISON's hypnotic and trippy lyric video. "The Curse" is taken from their brand new record 'Seaward', a concept album that draws inspiration from the legend of the seven pearls of the Tyrrhenian Sea, and an imaginary horizon. The Leghorn/Pisa-based trio captivates by creating a unique and wild musical journey packed with psychedelia and virtuoso fuzz deliriums.
MR. BISON's two guitars together build a massive wall of sound through which listeners will likely never notice the absence of the bass guitar.
The band's upcoming full length record is arguably their most blazing, powerful and eclectic album to date. Recorded by Matteo Barsacchi and mixed/mastered at the Audio Design Recordings by producer Jordan Andreen (Earthless, Sacri Mont), 'Seaward' will be coming out on October 16th via Subsound Records + Ripple Music and is available for pre-order at THIS LOCATION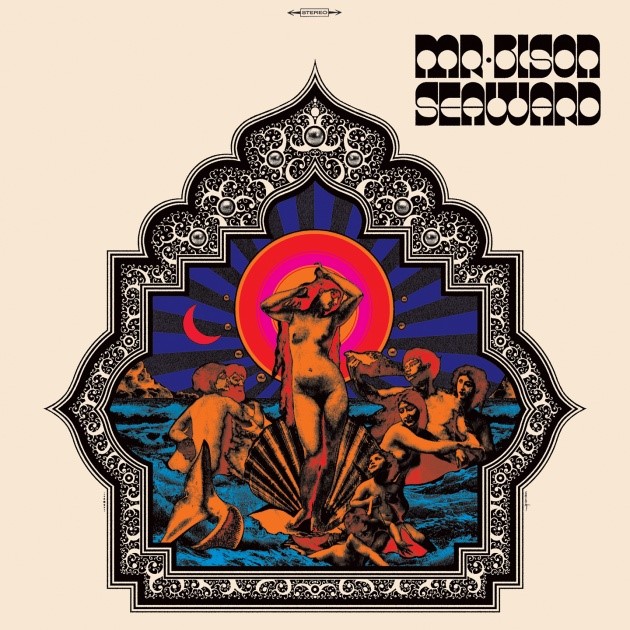 Available in the following formats:
– LTD red transparent w/ black splatter vinyl (250 copies)
– LTD ultramarine vinyl (200 copies)
– Black vinyl (350 copies)
– LTD cassette tape (100 copies)
– CD digipack
– Digital
The project is realized with the support of MiBACT and SIAE, as part of the initiative "Per Chi Crea"
Tracklist:
1. Seaward
2. From The Abyss
3. I'm The Storm
4. Oudeis
5. The Sacrifice
6. Underwater
7. The Curse

MR.BISON are:
Matteo Barsacchi – Guitar / Vocals
Matteo Sciocchetto – Guitar / Vocals
Matteo D'Ignazi – Drums / Sound Effects / Vocals
https://www.facebook.com/mrbisonband