Singer/songwriter Filmore's highly anticipated debut album, State I'm In, is set to arrive on September 25th, featuring recent hit 'Other Girl' (over 21m streams to date).
The rising country star, who was due to play London's C2C Festival in March, first teased the news with eager fans last week via social media. The 18-song project chronicles a chapter of his life filled with changes, including his recent engagement earlier this summer to long-time girlfriend Paige, planning a fall/autumn wedding and seeing his worldwide fan base continue to grow amidst a global pandemic.
Fans can pre-save or pre-order the album here: https://filmorestateimin.com/.


"This album is a look into my life over the last few years. It's the ups and downs in relationships, experiences from my hometown, life on the road, and living in Nashville," shares the Missouri-native. "I wrote every song from a real and personal place with amazing writers and friends. My hope is that you can listen to this album from start to finish and know who Filmore is by the end. Knowing that these songs relate to others, to help them get through a break-up, or celebrate love, or just let them enjoy a night out with friends, is why I made this album. State I'm In can be a state of mind or a specific location that helps you remember a moment in your life. For me, every one of these songs represents a moment in time that made me who I am today."

Produced by Zach Abend (Chris Young, Ingrid Andress, Cale Dodds), State I'm In seamlessly blends country music sensibilities with pop and electronic elements in earnest and features a number of brand new tracks including upcoming radio single, "Nothing's Better," along with breakthrough track "Slower" and fan favourites, "Other Girl," "Love That About You," and "London," which he shot a video for in the UK capital last year.


Raised in Wildwood, Missouri, Filmore's musical inclinations were shaped by a variety of sounds, cultures and musical eras; from his Colombian mother's salsa music to his father's Eighties' favorites like John Mellencamp and Def Leppard.
"I grew up listening to all types of music – my parents music and the radio stations in my hometown. From high school to college and even after moving to Nashville, my musical influences continue to grow," shares Filmore. "The motto I try to follow when writing and recording is 'anything but typical.' I've been in Nashville almost nine years, and in the last couple it feels like I've hit a groove creatively."
Filmore found his passion for music early and by chance when he joined the school choir in 5th grade as a way to earn extra recess time. He remained active in choir throughout high school and after graduation enrolled at the University of Missouri where he majored in vocal performance and business. Music remained Filmore's focus as he balanced his studies with performances in university productions of operas and musicals including Bye Bye Birdie. On the weekends he would play with his band – also called Filmore – making extra cash and gaining popularity regionally.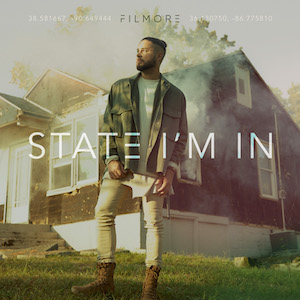 After completing his studies, Filmore moved to Nashville in 2011 to make a go as a solo artist. In a move of business savvy, especially for a newcomer to Music City, Filmore sold his beloved Jeep to have enough money to retain control of his masters and still doesn't have a car today. He went on to independently release several popular EPs including 2016's Proof but it was the release of banjo-led summer anthem "Slower" in 2018 that was Filmore's breakout moment. The song to date has garnered more that 26 million streams and earned comparisons to Sam Hunt. It also caught the attention of Nashville's Curb Records who signed Filmore last year.
Prior to signing his record deal, Filmore had been steadily building his following through touring and strong streaming numbers. In addition to a growing fan base, Filmore grabbed the attention of some of country music's hottest artists as well. Earlier this year he hit the road with Lauren Alaina for her That Girl Was Me Tour and has toured with the likes of Sam Hunt, Russell Dickerson, Carrie Underwood, Dan + Shay and more.
With a voice the New York Times notes "never flirts with tension," Filmore continues to build on his early success, having already accumulated over 146 million career on-demand streams with features on Spotify's noteworthy 'New Music Friday,' 'Hot Country' and 'Wild Country,' as well as appearances on NBC's "TODAY" and The Bobby Bones Show.

State I'm In track listing:
New To This (Tyler Filmore / Adam James / Ian Keaggy)
Slower (Tyler Filmore / Steven Jones / Justin Ebach)
Country Song (Tyler Filmore / Justin Ebach / John-Luke Carter)
W.I.L.D. (Tyler Filmore / Michael Whitworth)
State I'm In (Tyler Filmore / John-Luke Carter)
Heart's Having A Hard Time (Tyler Filmore / Hannah Ellis / Jason Massey)
Blue Skies (Tyler Filmore / Cary Barlowe / Jesse Frasure)
Nothing's Better (Tyler Filmore / John Luke Carter / Michael Whitworth)
Busy (Tyler Filmore / Justin Ebach)
Love That About You (Tyler Filmore / Benji Davis / John-Luke Carter / Michael Whitworth)
My Place (Tyler Filmore / John-Luke Carter / Justin Ebach)
Other Girl (Tyler Filmore / busbee / John Luke Carter / Josh Kear)
Pictures On The Fridge (Tyler Filmore / Jordan Schmidt / Bob DiPiero)
Me Lately (Tyler Filmore / John-Luke Carter / Jimmy Robbins)
Day Hour Minute (Tyler Filmore / Justin Ebach / Josh Miller / Zach Abend)
London (Tyler Filmore / John-Luke Carter)
Livin Easy (Tyler Filmore / John-Luke Carter / Jason Massey)
Anyone But Me (Tyler Filmore / Jason Massey / Hannah Ellis)
For more information, visit filmoremusic.com or follow online @filmoremusic.

ABOUT FILMORE: Country music singer/songwriter Filmore's new album, State I'm In, available Sept. 25, chronicles a chapter where he has experienced a lot of life's ups and downs, and seen his worldwide fan base – who are along for every note and lyric of the journey – grow significantly. With over 146 million in consumption, the Curb Records recording artist who calls Nashville home has logged appearances on NBC's "TODAY Show" and "The Bobby Bones Show" as well as inclusion byThe New York Times and Rolling Stone, while honing his electric and engaging live show opening for artists such as Sam Hunt, Blake Shelton, Carrie Underwood, Dan + Shay, Lauren Alaina, Pitbull, and more. He has also rocked performances at Stagecoach, Watershed, CMA Fest and Country Thunder.

ABOUT CURB RECORDS: Celebrating 56 years in business, Curb Records is one of the world's leading independent music companies. Owned and operated by Mike Curb since 1964, Curb Records has achieved 435 number one records, over 1,500 hundred Top Ten records and charted over 4,500 total records. With over a half century in operation, Curb Records has been influential in the careers of some of the biggest names in music, including: Tim McGraw, Hank Williams, Jr., Rodney Atkins, Lee Brice, LeAnn Rimes, The Judds, Dylan Scott, Sawyer Brown, Wynonna, Lyle Lovett, Jo Dee Messina, Hal Ketchum and Desert Rose Band, among many others. Today's roster includes some of the top names across multiple genres of music. For more information, visit www.curb.com