Big Loud Records' heavy-hitter HARDY has today released his much-anticipated debut album A ROCK (stream/download here).
Baring his Mississippi roots on 12 signature tracks, the 2X ACM nominee and multi-platinum songwriter breaks the mould, marrying rock and grunge sonics with loud, boisterous Country originals, brilliantly showcasing the clever and elastic songwriting that "immerses his listeners in the style, emotion and grit of his hometown" (American Songwriter).
"I am overwhelmed with excitement to share the next chapter of myself as an artist with my fans," HARDY shares. "I truly believe there is a song for everyone on this record and I can't wait to see what it does for me and my career. I'm so thankful to be able to make music for a living and I'm giving you guys my heart and soul with this record. Thank you."
The top notch lyricist wrote every song on the collection alongside some of Music Row's most revered talents, from decorated veterans Ashley Gorley, Hillary Lindsey and Jessie Jo Dillon, to buzzed about up-and-comers Hunter Phelps, Ben Johnson and Zach Abend. Produced by ACM Producer of the Year nominee Joey Moi and co-produced by CMA Musician of the Year nominee Derek Wells with additional production on select tracks by David Garcia and Jake Mitchell, the record captures the "breakout in the making" (HITS) as he steps fully into his artistry, blurring genre lines and leaning heavily into the early influences that shaped his musical taste. A ROCK cements HARDY firmly in his own unique lane as a hard-charged entertainer armed with a rich catalog that's dense, relatable and planted in gritty, honest Country music.
Diving deep into the real life moments that shape us, HARDY ranges from sensitive and in love on "Boyfriend," "a sharply written song about taking things to the next level" (The New York Times), to hauntingly reminiscent on "Give Heaven Some Hell," "a powerful song about saying goodbye to a loved one gone too soon" (ABC News Radio), to in-your-face honest and optimistic on current Top 15 single "One Beer" feat. Lauren Alaina & Devin Dawson, "a hook-filled little slice of life coming at you fast" (Rolling Stone). Continuing to praise the album Rolling Stone emphasises "HARDY's gift: synthesising biography with imagination to create real storytelling."
On Wednesday, September 9th, HARDY will celebrate A ROCK two ways. Making his Late Show with Stephen Colbert debut as part of their #PlayAtHome series, he'll perform brand-new track "Ain't A Bad Day." HARDY will then take the stage for a souped-up livestream show backed by his electric full band for the HARDY Album Release Virtual Concert, where he'll play the entire project top to bottom and might even include some special guests. SiriusXM will re-air the audio from the livestream as a nationwide US radio special later this month.
Adding to the excitement of release day, the official music video for title track "A Rock" is available now. Directed by Justin Clough and Benjamin Skipworth and shot in one fluid take in a rural home in Watertown, TN, the clip is a three-minute snapshot of a life well lived, zeroing in on how fast life twists and turns while capturing the milestone moments that "a rock" can make: an engagement ring, a tombstone and even the place we all call home.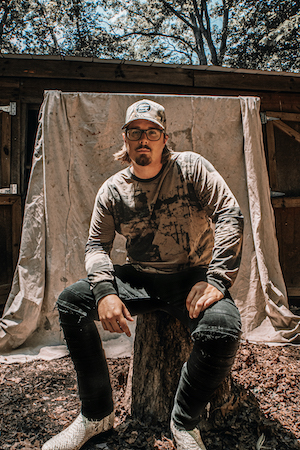 Acclaim is already rolling in for the album that "shows off a knack for irreverent storytelling" (Rolling Stone), with CMT framing HARDY freshly as he steps away from his redneck tendencies and into a new era, showcasing that he's "not just that guy anymore. He's so much more."
With every new release, Big Loud Records' HARDY continues to "embody that classic Country spirit while pushing the boundaries of modern radio music" (American Songwriter). Flying high at Country radio with Top 15 single "One Beer" feat. Lauren Alaina & Devin Dawson, the lead track is featured on HARDY's acclaimed debut album, A ROCK, out now. The project follows 2019's countrified mixtape HiXTAPE VOL. 1 — praised by Billboard as "one of the most ambitious projects of the year" — and career-launching EPs THIS OLE BOY and WHERE TO FIND ME. As the newly-minted 2020 AIMP Songwriter of the Year, a MusicRow 2020 Next Big Thing artist, CMA Triple Play award recipient and Vevo DSCVR artist, the pride of Philadelphia, MS has earned his reputation as "Nashville's Most Clever New Redneck Songwriter" (Rolling Stone) with five #1 singles as a writer since 2018: Morgan Wallen's 2X Platinum "Up Down," FGL's 2X Platinum "Simple," Chris Lane's Platinum "I Don't Know About You," Blake Shelton's 3X Platinum "God's Country," and LOCASH's "One Big Country Song." The ACM nominee for Songwriter of the Year and Song of the Year ("God's Country") has shared the stage with FGL, Chris Lane, Thomas Rhett, Cole Swindell and Morgan Wallen.