As we continue to trudge through this summer, it's good to take a few moments to appreciate the little things that make it bearable.
That would be a brand new single from Devon Kay and the Solutions. "Oh Glorious Nothing is that summertime ballad that politely reminds you that we don't know where we go when we die. It takes that information and delivers it to you with such a bright and positive sound that it almost feels like a metaphor for how we walk around each day, scared… but humming a tune to drown out the anxiety." – Devon Kay. I don't think that could have been worded any better! Now go listen to "Oh Glorious Nothing" at Brooklyn Vegan and let the sounds of the keys, horns, and that HUGE chorus wash over you.   
Devon Kay has used the term "the Solutions" to describe the members of his band his entire life. "The problem is," Devon says, "my songs are only really good as the people in the band." This is noticeable on the band's most recent single "Oh Glorious Nothing." What was mainly a three-piece band, where Devon would experiment with his song writing, became a full six-piece rock spectacle on the band's latest effort. Longtime members/songwriters Devon Kay & Ryan Scottie (Drums) perfected a remote platform of recording after the best friends moved to different coasts. This style is showcased on last year's album, Yes, I Can't.

"We haven't stepped foot inside a real studio in ages. There is no point. We are all budget minded people who make art with our own money. We don't dream of setting up for two weeks in a studio. We like to work on stuff after work in our home studios that for some of us are just laptops and some consumer microphones."

"Oh Glorious Nothing" is a step in a much larger direction for The Solutions. With the addition of Jacob Horn (Trombone), Jake Levinson (Bass), Ian Terry (Trumpet), & Joram Zbichorski (Keyboards) the band can now dip into a whole new world of sounds. Pulling inspiration from a love of pop punk and ska to new wave influence to big band horn lines, The Solutions are open to expanding the "ska-punk" genre to something you don't need to apologize for liking… modern ska fans get it.

"All of these new Solutions are all crazy good musicians from Wisconsin. I dunno why I found this treasure trove of WI musicians by way of Chicago but I did and you can't have them."

Since returning in 2019 the band is in full force with a new signing to A-F Records and has shared the stage with bands like All American Rejects, Bomb the Music Industry! & Dollar Signs.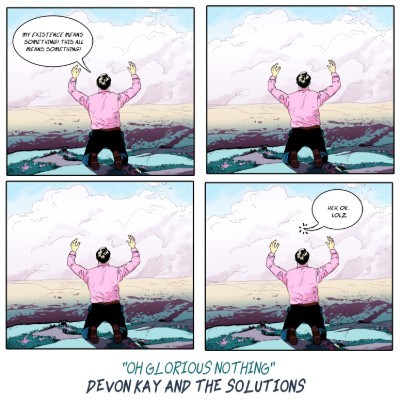 Release Date: August 7th, 2020
Label: A-F Records
Formats: Digital
Pre-Order
Devon Kay and the Solutions: 
Bandcamp | Facebook |  | Instagram | Twitter
Album Credits:
Devon Kay – Vocals & Guitar
Ryan Scottie – Drums
Jake Levinson – Bass
Jacob Horn – Trombone
Ian Terry – Trumpet
Joram Zbichorski – Keyboards

All music written and performed by Devon Kay and the Solutions
Mixed and Mastered by Mike Kennerty & Erik Atwell

Photo:

Album Art:
Walker DuBois