Hallmarked with Henderson's typically wry humour and canny lyricism, "Hey Batman" finds the singer-songwriter envisaging an ageing caped crusader in existential crisis.
With the future of the Dark Knight in doubt, this intriguing single offers wistful epiphany as Henderson ruminates deeply on themes of legacy, mortality, and the inevitability of change.
Speaking about the track Henderson says:
"One thing that's certain in life is that we all get older. With that inevitability comes the possibility that both we and our heroes are surpassed by new ideas and either disappear, become irrelevant or, worse, become anachronistic clanging bells. The only way to embrace getting older, however challenging it may be at times, is to accept that things change, remain curious and open to new ideas and resist the temptation to settle.
The track arrives with a video shot at an old narrow gauge mining railway in the Scottish Southern Uplands and sees Jack keeping his composure on what was notably one of the hottest days on record in 2020 so far. Directed by Hazel Henderson, it received its post-production finesse from Fretsore's in-house videographer Paul "Rile" Avis.
"Hey Batman" offers a first glimpse into Henderson's upcoming album: Where's The Revolution (out 2nd October 2020 on Fretsore Records). Self-recorded outside Henderson's hometown of Glasgow, the ten track release sees the UK singer-songwriter, producer and multi-instrumentalist on inspired creative form to deliver a solo album in its truest sense. Of making the record, Henderson says:
"If necessity is the mother of invention then Where's The Revolution is largely the result of that confluence of necessity and invention. Sometimes limitations can be liberating and for this album I wanted to explore what would happen if I recorded, produced and more or less played everything myself whilst embracing those limitations, both physical and financial, head on. There was no overarching manifesto and I wanted to let the songs dictate their own course and allow the imposed imperfections to constitute the very soul of the record."
Respected by musos and musicians across the globe, Henderson has performed and recorded extensively across North America, Europe and Australia, including multiple tours with Americana band Over The Rhine and rootsy Canadian outfit Cowboy Junkies. He has shared stages with the likes of Buddy Miller, Sarah McLachlan and Ron Sexsmith, and recently performed on stage with Patti Smith at Kelvingrove Park in Glasgow.
During his two-decade long career, he has recorded and performed in New York with Patti Smith's producer and bass player, Tony Shanahan, and worked with Marc Ribot, (Tom Waits, Elvis Costello), Tony Garnier (Bob Dylan, Paul Simon), Jon Graboff (Ryan Adams, Sheryl Crow), David Mansfield (Bob Dylan, T-Bone Burnett, Bruce Hornsby) and Joan as Policewoman.
Nearly 20 years on from his acclaimed debut Cheap Tattoo (2001), Jack Henderson has lost none of the spirit or guts that set him apart from the songwriting pack. An artist on a creative streak once more and with plenty left to say, he's now readying the follow-up to his applauded Sharkey's Parade EP of last year (also released by Fretsore Records). On 2 October 2020, Henderson returns to the label with a full length studio effort of strident prowess and arresting character that demands to be heard: Where's The Revolution.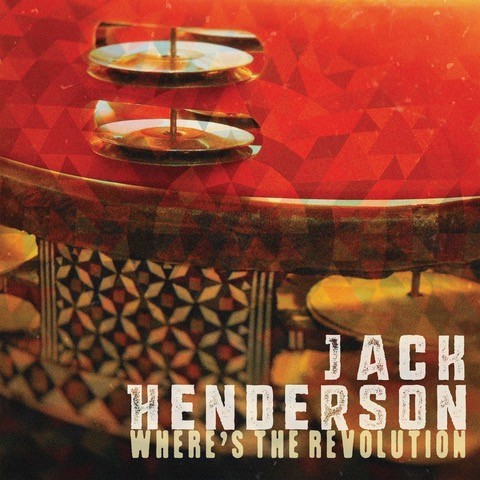 Expressing his excitement for the upcoming release, Ian Sephton, owner of London-based indie label Fretsore Records says:

"Seeing Jack play live in 2018, I was very impressed with not only his songwriting but Jack's captivating solo performance. So when I learned that Jack had 10 newly recorded songs, I was delighted that he agreed to release them on Fretsore."
JACK HENDERSON – WILL RELEASE: WHERE'S THE REVOLUTION – 2 OCTOBER 2020, VIA FRETSORE RECORDS
For more information on Jack Henderson and Fretsore Records please visit: