High on the success of their critically acclaimed album "PUSH", released in the end of May via Glitterhouse Records, Melbourne / Berlin-based trio, HEADS., has shared a brand new video to the song "Loyalty".
On "PUSH", the band continues to evolve their very own blend of noise-rock, post-punk and alternative rock in a sprawling soundscape – an experimental, distinguished, radical and yet still catchy ride. Following their 2018- album, "Collider", and extensive touring all over Europe and the States, HEADS. have taken a massive step forward with "PUSH". This album is a wall of sound, a monolith; it's a challenging, original and wild record for fans of acts like Swans, Helmet, The Melvins, Tar, Codeine, Metz, The Jesus Lizard or Protomartyr.

"PUSH" was recorded in Berlin by Kadavar's Christoph Bartelt, while Magnus Lindberg of Cult Of Luna took care of mixing and mastering. Appearing throughout the record you'll hear guest musicians including Kristof Hahn (Swans), Matthias Feit (Radare) and Markus E. Lipka (Eisenvater).


Only a few weeks since the release of their new album, HEADS. have just shared a video to the track "Loyalty". Says Australian filmmaker Wilson Bambrick about the video:
"Shot under the veil of first wave of covid breakouts in Victoria, Australia. Loyalty asks the viewer if a memory can be the same as an experience when there's no longer an option to do the latter. The simple question 'where is home' also looms."

"PUSH" is available as LP, CD and in Digital formats via Glitterhouse Records at THIS LOCATION!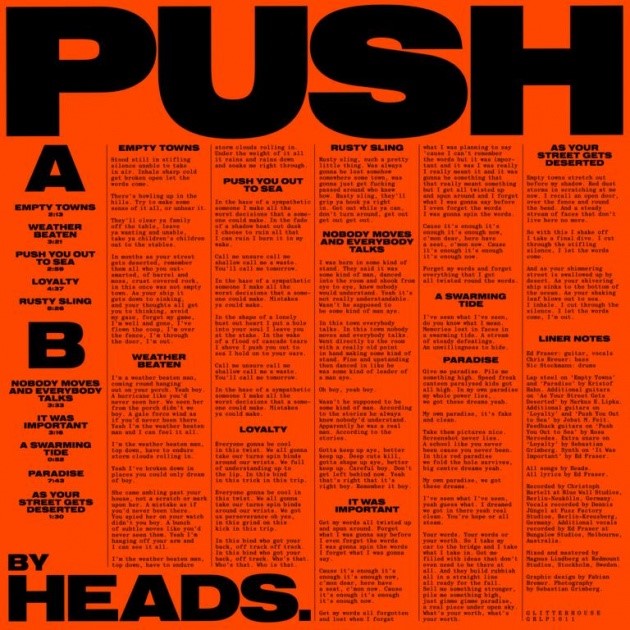 PUSH Tracklisting:
1. Empty Towns
2. Weather Beaten
3. Push You Out To Sea
4. Loyalty
5. Rusty Sling
6. Nobody Moves and Everybody Talks
7. It Was Important
8. A Swarming Tide
9. Paradise
10. As Your Street Get Deserted
 
For More Info Visit:
www.facebook.com/headsnoise
www.headsnoise.com
www.instagram.com/heads.noise
www.glitterhouse.com


HEADS. is: Ed Fraser – Vocals / Guitar
Chris Breuer – Bass
Nic Stockmann – Drums