LA alternative rock outfit NEW LANGUAGE has released a captivating new music video to visually express the mindset of their new single "PARANOID." "PARANOID" completes the band's EP1_2020 visual trilogy as they rev up for the release of their full length due out later this year.
Speaking on the track, the band states, "PARANOID was initially written in response to the repeated gun violence we see here in the US and around the world. "PARANOID" was a theme we felt could all be related to in some regard. As a small experiment, we asked peers, family, fans, and friends, "What makes you paranoid?" The answers were all over the place and it quickly became apparent how we all share the same feeling but for such varying reasons. Is it losing control? Is it not meeting expectations? Is it violence? Are we paranoid because the person standing next to you is paranoid? The list could go on and we can be better at understanding everyone's reasons."
Stream 'EP1_2020' on all DSPs: https://found.ee/NLEP1_2020
This year saw the band garnering enthusiastic support from the likes of KROQ, Loudwire, Alternative Press, Revolver, The Noise, BuzzBands.LA, New Noise, Triple J, Sirius/XM Octane and Spotify (which added their music to the weekly 'New Noise' 'Rock Hard', 'Totally Alt', 'Rise Up' and 'The Scene' playlists) resulting in over 1.7 million streams on Spotify, with an average of 35,000 monthly listeners. Their videos have been viewed over 100,000 times on Youtube.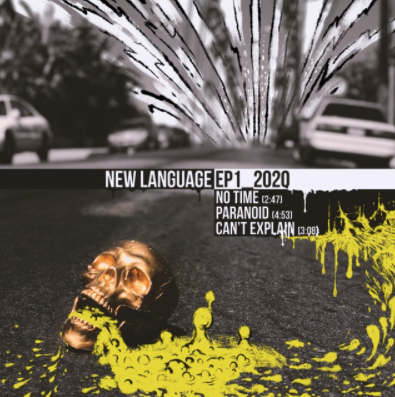 Formed in 2016, NEW LANGUAGE's debut full-length 'Come Alive' was produced by Gone Is Gone/At the Drive-In drummer Tony Hajjar. The 'Everybody Screams' EP followed in 2017. Since then, the band has toured and played shows with the likes of Papa Roach, The Used, Gone Is Gone, Will Haven and has appeared at Aftershock Festival, Vans Warped Tour and KROQ's Locals Only Fest.
www.facebook.com/newlanguageband
www.instagram.com/newlanguageband