It is no secret that one of the band's greatest influences is Thin Lizzy.  Indeed, Thin Lizzy's pioneering hard rock aesthetic is foundational to Night Demon, engrained in the band's collective musical DNA. 
With this single, they celebrate the priceless legacy of Thin Lizzy, paying tribute to the iconic Irish minstrels with a pair of songs, one original and one cover. "Are You Out There" is a rollicking, feel-good tune whose hooks, melodies, vibe, and spirit were all crafted in the vein of the Dublin masters, yet still filtered through Night Demon's signature sound. 

Even the subject matter of the song is related to Thin Lizzy, albeit with an autobiographical twist.  Lyricist Jarvis Leatherby spins a cautionary tale about the final days of the legendary Phil Lynott, before his life was cut tragically short by drug and alcohol addiction.  To be sure, "Are You Out There" may surprise longtime fans expecting a pummelling metal attack in the time-honored Night Demon tradition.  But this song showcases a different side of the band, one that has always been present but perhaps obscured by the darkness and fury. 

Night Demon recorded "Are You Out There" at Electrical Audio in Chicago, under the watchful eye of famed rock producer Steve Albini.  In keeping with the Thin Lizzy tribute theme, the B-side of Are You Out There is a suitably Demonized cover of the Lizzy classic "The Sun Goes Down."  Initially, Night Demon's version adheres closely to the somber, moody feel of the original, only to explode into an urgent uptempo romp that indelibly etches Night Demon's mark on the song.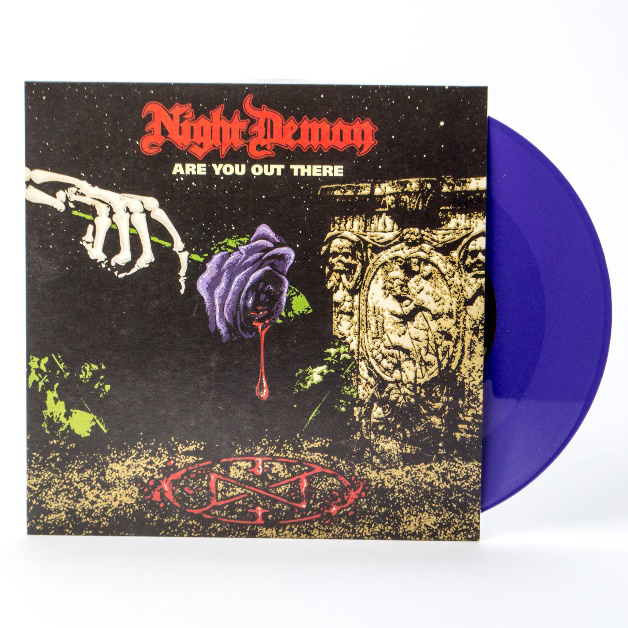 Transparent green 7'' (limited to 200) – High Roller & Band Shop
Lilac 7'' (limited to 300) – Band shop via Kingsroad (US & EU)
Digital Audio Bundle – all platforms
The Night Demon legend continued to grow with the release of their second full-length album, Darkness Remains, in April 2017.  Darkness Remains saw the band delivering all of the expected NWOBHM-inspired thrills and chills, but also honing their songwriting chops, developing more of an individual sound, sharpening their attack, and even taking a few chances along the way.  The album was lauded by leading journalists, publications and webzines around the world, hauling in top honors in numerous end-of-year polls and lists.

True to form, Night Demon again embarked on a gruelling touring regimen, including headlining the Darkness over Europe tour and spending five weeks in Europe as direct support for German metal masters Accept.  To celebrate their accomplishments thus far and document their ferocious live rituals, Night Demon released a comprehensive, career-spanning live album, Live Darkness, in August 2018.  Recorded before a packed house of longtime friends and supporters in their adopted second home of Cleveland, Ohio, Live Darkness captured the band's energy and intensity on that magical night, yielding definitive versions of the Night Demon catalog.  More intensive touring followed, including a headlining appearance at the Hell Over Hammaburg Festival in Hamburg, Germany in early 2019, with special guest Uli Jon Roth joining the band for a spinetingling encore of the Scorpions classics "In Trance" and "Top of the Bill."

Night Demon is:
Jarvis Leatherby – Vocals, Bass
Armand John Anthony – Guitars
Dusty Squires – Drums
Night Demon online:
Facebook https://www.facebook.com/nightdemonband/
Website https://www.nightdemon.net/
Instagram https://www.instagram.com/nightdemonmetal/?hl=en