Deep in a musty, age-old cellar of old town Gothenburg, VAMPIRE have been plotting something wicked…again!
In 2020, frontman Hand of Doom, guitarists Black String and Sepulchral Condor, bassist Command, and drummer Abysmal Condor proudly present their third studio album, "Rex", which proves to be a tremendous sonic and compositional highlight in their career thus far. "The new album "Rex" ended up as a quite consistent VAMPIRE work", Black String states. "It's a work of reverence to the desolate ways in life and the glorious metal of old.
The spirit when writing this album was basically 'do what has to be done'. "Rex" is generally more bravehearted when it comes to musical references than parts of our previous output." Indeed, even though VAMPIRE's cob-webbed, moon-burned brand of death metal has not changed entirely, all of its facets have been refined, enriched and perfected. Influenced by Mercyful Fate and Slayer as they are by Dissection and Possessed, VAMPIRE have been fusing a vast variety of elements since day one, yet on "Rex" also a very classic heavy metal approach inspired by the 80's grandeur of Maiden and Metallica is apparent, and, combined with occasional acoustic guitars, adds an increased melodic quality while being the band's most fiery and fierce work to date, too. "Rex" is a sonic triumph of all things death and metal captured very well on the album's striking artwork by Mitchell Nolte (www.mitchellnolte.com).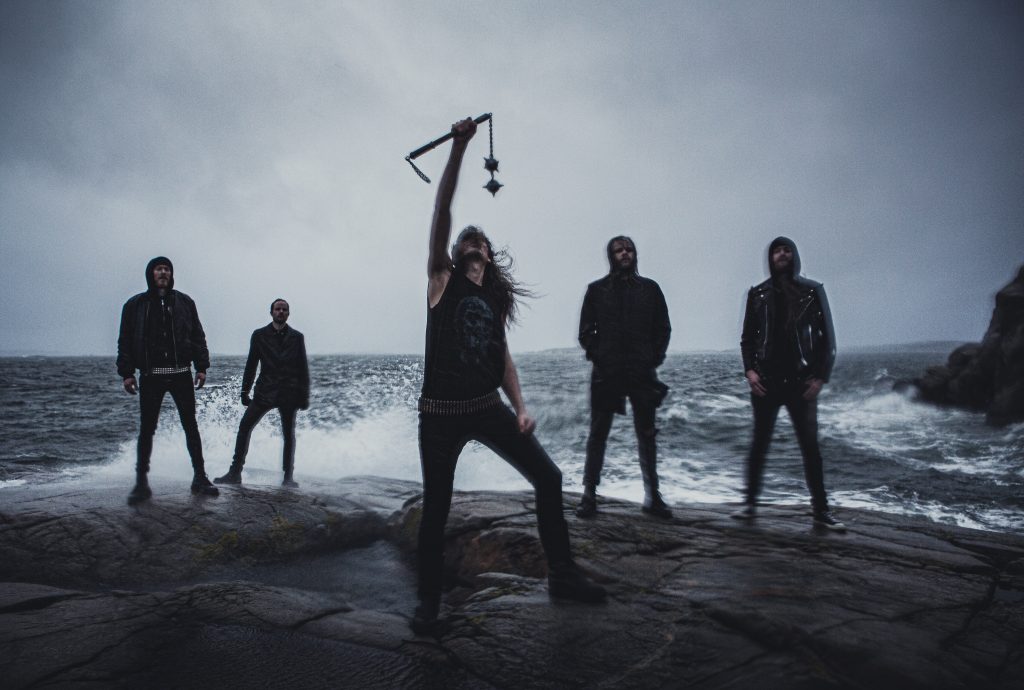 "The cover shows a figure that listeners are well acquainted with from several previous VAMPIRE releases", Hand Of Doom explains. "This time around, The Reaper appears on horseback: laurel-crowned and triumphant, wielding both scythe and a black flag. What this says about the content of "Rex" is that a great deal of our artistic expression remains intact, but that we work with a grander, more heroic and celebratory register than ever before." That is also quite present in the lyrical content as Hand Of Doom details. "If the music draws strongly towards the 1980s, the lyrics carry the decadent efflorescence of the 1890s. A recurring theme in the lyrics for this album is the vanity of human endeavor in the presence of powers we fail to grasp or even recognize.
As an example, the title track portrays the crucial fatal blow to the Swedish Empire from an unexpected and rarely considered perspective, and this is how many of these songs work. Tapping into the mythical, archetypical and superstitious, they shed light on familiar historical and traditional situations with an uncanny tone and vocabulary, be it guerrilla warfare or Midsummer festivities. "Serafim" has the Fallen Angel sharing its outlook on this world and the beyond, and in two songs we hired the dead hands of poets Robert Graves and Emily Dickinson to pen the lyrics. Here be ghosts!" Having risen from the proverbial grave in 2011, VAMPIRE released their self-titled demo a year later. Immediately hailed by tastemakers—such as Darkthrone's Fenriz—and fans, who raided 300 copies of the demo in a week, VAMPIRE's vicious yet evocative style set fire to convention. Signed by Century Media a year later, the Gothenburgers quickly set out to work on their debut.
Released in the abyssal spring of 2014, VAMPIRE's self-titled debut was received with much praise whereas the group's artistic endeavors already became less to-the-face and more atmospheric on the following "Cimmerian Shade" EP and even more so on the second album, "With Primeval Force". The latter overall turned out to provide a little less traditional songwriting in vampiric terms and was colder, less immediate than the debut. 2020's "Rex" now ups the ante notably unfurling a highly addictive whirlwind of the harsh and the heavy, the aggressive and the atmospheric, the melodic and the maniacal. With "Rex", VAMPIRE have successfully crafted a majestic, macabre force of its own!

Release date: Friday, June 19, 2020
https://www.facebook.com/vampiretheband/