Ahead of the release of their highly anticipated 3rd album 'To The Earth, Mercury-nominated British Jazz super-group Dinosaur have shared a live video of their single 'Mosking' (recorded at Love Electric, London). The single was the first to be released from the new album, which is out on Edition Records this Friday and sees the band celebrate a decade of music-making.
Dinosaur's latest offering finds them in a more acoustic setting, presenting brand new material that reflects on 10 years of miraculous interplay, whilst maintaining the sonic elasticity of their previous, more "plugged-in" album 'Wonder Trail'. Playing the compositions of bandleader and multi-award-winning composer, Laura Jurd, Dinosaur explore Laura's distinctive yet ever-evolving music with playful abandon and technical prowess, earning them a reputation as some of the most remarkable UK jazz musicians of their generation. Having played at some of the world's most iconic jazz festivals including North Sea, Molde and Montréal, the band goes from strength to strength as they enter their 10th year of trumpet-led, improvisatory magic.

'To The Earth' is vertiginous in it's scope carrying the listener through a vast array of moods and themes, whilst also taking the band into new territories across moments of revelatory spontaneous composition. Tracks such as 'Slow Loris' see clarinet-like synth blend seamlessly with Conor Chaplin's bassline whilst the band effortlessly flit between tumultuous and mellifluous motifs. Whereas further into the album tracks such as 'Held By Water' sees the band lean the acoustic sound of the new record into new London jazz crossover domain with drummer Corrie Dick's drum machine-esque rhythms and pianist Elliot Galvins' almost ambient electronic swells before developing into a more Middle Eastern based Trumpet groove. These intricacies and multifarious journeys are described by jazz pianist Liam Noble in the album's liner notes as being "peculiarly British" with "a lightness of touch and occasional flirtation with silliness, but never too much."

Laura cites British musicians such as Liam Noble, Chris Batchelor and Huw Warren as well as Norwegian piano trio 'Moskus' and more historic artists such as Duke Ellington, Charles Mingus and Miles Davis all as key influences on this music. However, it's clear that the significance of these influences is found in Laura and the band's ability to build on these ideas throughout their flexible career of achievements rather than mimic them.

Speaking about the new album, Laura says:

"My discography to date, as Dinosaur and albums under my name, is the result of an unavoidable necessity to express and share a wealth of musical interests – from folk influenced counterpoint, to song-writing, Stravinsky-inspired harmony to the use of analog synthesis and looped grooves. Whilst this may well dizzy the narrative surrounding my output, jazz (in its most typical form) has always played a huge role in my life and the life of this band.

'To The Earth' is simply a collection of joyfully crafted melodies, which we can dive into and explore as improvisers. It makes so much sense that this is the music to surface after a decade of playing together. This way of making music has been there from the very beginning and something we have developed together over the last 10 years.

I am constantly knocked out by the musicianship and sense of ensemble I experience in Dinosaur. Playing with Elliot, Corrie and Conor, feels like putting on the most comfortable pair of shoes – where anything from sitting back in the warmth of it all, running with the smallest of ideas to taking risks can be executed with utmost presence … trust. A space in which the sounds take care of us and we take care of them."

'To The Earth' is out 15th May via Edition Records – Pre-order HERE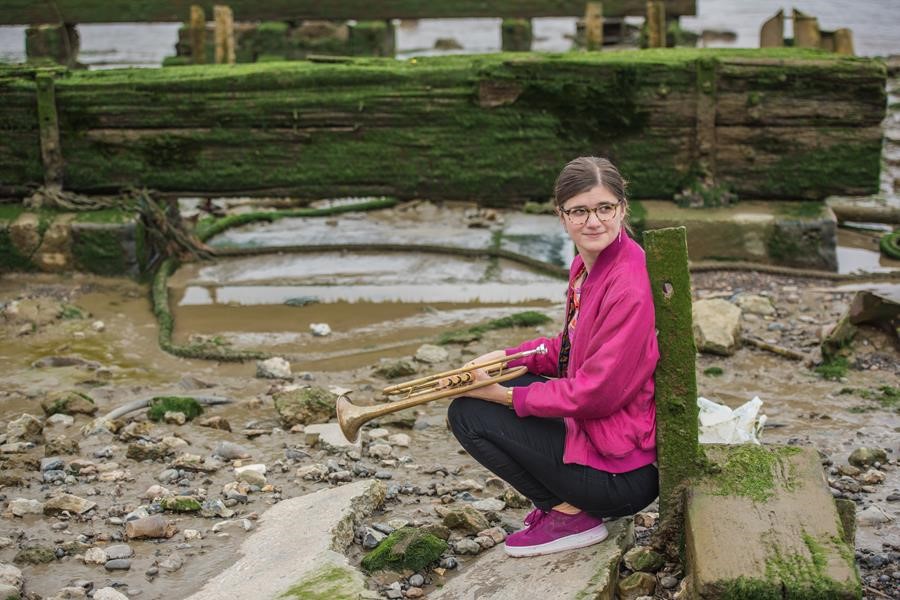 Laura Jurd is a trumpet player, composer and improviser from the UK. A recipient of multiple awards and a BBC New Generation Artist from 2015-2017, Laura has developed a formidable reputation as one of the most distinctive and creative composer-performers to emerge from the UK in recent years.

Performing regularly throughout the UK and Europe, she leads the 2017 Mercury-nominated band Dinosaur who have performed at North Sea, Montreal and Molde International Jazz festivals to name a few. A highly active composer, Laura is equally at home writing for contemporary chamber groups and orchestras as she is writing for jazz ensembles and improvising musicians. Frequently creating works that present musical ingredients from outside the world of jazz music, within the realms of a jazz band, she has by been commissioned by the likes of the BBC Proms and the National Youth Jazz Orchestra, the BBC Concert Orchestra, Ligeti Quartet and the Northern Sinfonia. In light of this, Laura recently received a prestigious Paul Hamlyn Foundation Award for Composers as well as a 2019 Ivor Composer Award.

A passionate educator, Laura also teaches composition at Trinity Laban Conservatoire of Music and Dance; jazz trumpet at Goldsmiths University; works with the National Youth Orchestra, and the National Youth Jazz Collective.
Dinosaur
'To The Earth'
15th May 2020
Edition Records

Tracklisting:

1. To The Earth
2. Slow Loris
3. Mosking
4. Held By Water
5. Absinthe
6. Banning Street Blues
7. For One

All tracks written by Laura Jurd except for Absinthe, which was written by Billy Strayhorn

—

Follow Dinosaur: