TOMORROW'S GHOSTS FESTIVAL 2022 are thrilled to announce their primetime Saturday night headliner….THE LOVELESS.
Established in 2018, Tomorrow's Ghosts Festival takes place annually at The Pavilion in Whitby (UK). A celebration of all things Gothic that also embraces a wide range of alternative culture, the festival aims to host both established and up and coming bands to reflect the diversity of the goth and alternative music scene as well as similar highlights from the mediums of film, art, guest appearances and theatre. Previous editions have hosted acts including Wayne Hussey & The Divine, Peter Hook & The Light, New Model Army, Paradise Lost, Fields of the Nephilim, Pop Will Eat Itself, The Chameleons, Pink Turns Blue, Salvation, Evi Vine, The Membranes, The Eden House, Sometime The Wolf, The Society, Terminal Gods, Sweet Ermengarde Saigon Blue Rain, Christine Plays Viola, Mercury's Antennae and Clan of Xymox.
Making their Tomorrow's Ghosts debut in 2022 with a headline set, expect the unexpected when The Loveless bring their devilishly dark arts to Whitby Pavilion next Halloween.
A project designed to take its constituent parts back to where they all began, The Loveless pledges itself to the pulp appeal of Garage Rock in its rawest, most gripping guise. 
Drawing material from Marc Almond's immense back catalogue as well as from the oeuvres of Lou Reed to David Bowie, warped 60s R&B staples to lost garage-rock gems, The Loveless could be accused of being a "covers band". And yet with a demonstrative talent for chiselling cuts down to their most primeval rock roots.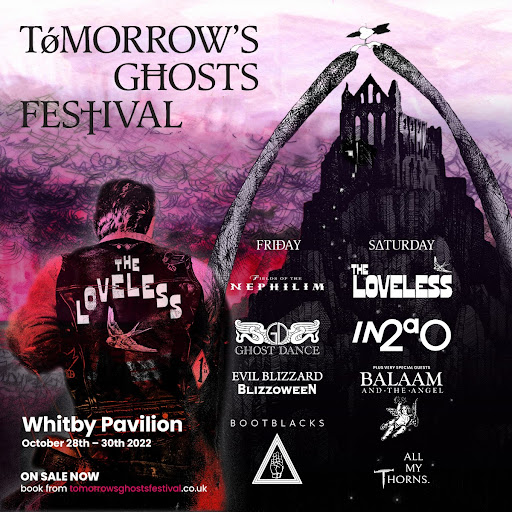 First appearing on the live stage in 2019, The Loveless spent the lockdown of the last few years recording their debut studio release. A self-titled 7-track mini album released just before Christmas 2020, the record saw swaggering Iggy Pop covers ("Kill City") rubbing shoulders with leather-clad garage originals (Shadows of Knight's "Dark Side"); dark dancehall standards ("Putty In Your Hands" by John Patton and Eddie Snyder) sparring with daring mash-ups of Deep Purple and The Sweet. And despite the insidious nature of gentrification that has made the area a theme park of its former self, guitarist Neal X swears the ghosts of old Soho make their presence felt in the twilight hours and late-night grooves of The Loveless' version of Smoky's 'Hot, Hard & Ready'.
Having played just a handful of live shows since their formation, The Loveless' headline set at Whitby's Tomorrow's Ghosts Festival will be a rare opportunity to see some of the world's finest musicians in unbridled form and embracing their dark sides. 
Miss this at your peril..
PREVIOUSLY ANNOUNCED – Already shaping-up to be a vintage year, The Loveless will join a line-up sporting a smorgasbord of gothic and alternative desirables drawn from across Europe & the USA.

Headlining the Friday night, original goth rock messiahs Fields of the Nephilim have been previously announced to be topping the bill that night. One of Goth's most significant artists, Carl McCoy and co. will be reacquainting audiences with their magnetic, macabre appeal and a boundary-pushing arsenal that includes scintillating singles such as "Moonchild", "Psychonaut", "Summerland" and so much more.
 
Elsewhere, other incredible acts confirmed to be appearing at Whitby's premier gothic and alternative arts festival include very special guests Into A Circle, Ghost Dance, and Balaam And The Angel, as well as exclusive performances from Bootblacks, All My Thorns, AND Evil Blizzard present… 'Blizzoween'. 
TICKETS
Tickets for Tomorrow's Ghosts Festival are on general sale NOW. Links and prices are as follows: 
Friday Night Tickets – 28th October 2022– £38.00 Advance STBF
General Sale: https://bit.ly/3l2LRlS

Saturday Night Tickets – 29th October 2022 – £38.00 Advance STBF
General Sale: https://bit.ly/3xiOMMd

Weekend Tickets – Friday 28th & Saturday 29th October 2022 – £70.00 Advance STBF
General Sale: https://bit.ly/3r6EjTg