US visionaries Joywave have announced their upcoming third album, Possession, which will be released on March 13th and can be pre-saved on Spotify.
The album was recorded and produced at the band's studio in Rochester, NY, by frontman Daniel Armbruster and mixed by Dan Grech-Marguerat (The Killers, Liam Gallagher, Lana Del Rey) and will include and their new single, 'Half Your Age'.
It's the latest in a series of new music released by the band over the past 6 months, including 'Blank Slate', 'Obsession' and the Guardian's Hottest Track of the Week 'Like A Kennedy'. All tracks were accompanied by equally imaginative videos, ranging from the emotionally charged 'Like A Kennedy' to the wildly creative montage of fictitious movie title cards for 'Obsession' and the visually playful Claymation video for 'Blank Slate', all streaming now via the band's official YouTube channel.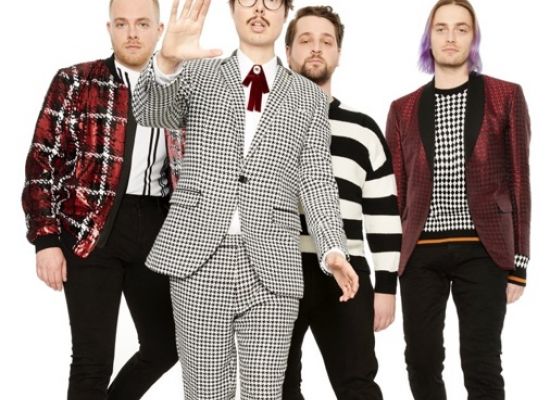 The album title is a reference to control and the loss of it. The 12-song collection speaks to the noise surrounding us. "Our heads are spinning. Every day is crazier than the last. Every screen we walk by is shouting at us, demanding our undivided attention. Control over our own lives is constantly under siege", notes Armbruster.
Possession explores these themes at both a societal and personal level, ultimately encouraging listeners to zoom out and see the big picture. Continuing with the band's creative use of noteworthy samples and field recordings, Possession is woven together with audio from Voyager's Golden Record (launched by NASA in 1977). Curated by Dr. Carl Sagan and affixed to the front of Voyager 1 and Voyager 2, the disc was designed to convey a basic understanding of humanity to intelligent lifeforms in far corners of the universe and was also the inspiration for the album artwork.
Album tracklisting
1 Like A Kennedy
2 Coming Apart
3 Half Your Age
4 Obsession
5 Blank Slate
6 F.E.A.R.
7 Funny Thing About Opinions
8 Who Owns Who?
9 Blastoffff
10 Possession
11 No Shoulder
12 Mr. Eastman
At the end of 2019 Joywave returned to the UK for their first headline show in several years, playing to a sold out crowd at London's The Lexington as part of their series of intimate live performances aptly titled "The Possession Sessions". They also joined Bastille on a major North American run, adding to their already impressive live resumé, and are now excited to reveal that they will be supporting PVRIS on their UK and European tour this February.
The UK dates include Glasgow, Manchester and a show at London's Brixton Electric on February 20th before heading out to Europe. The band will then embark on two US headline tours in support of the album throughout March, April and May.
Joywave's unique outlook and inventive interpretation of pop demonstrates a band that are at the top of their game. Their intelligent artistry and undeniably addictive music draws them out from the crowds with the upcoming album Possession set to take them to new heights in 2020.
PVRIS SUPPORT TOUR
FEBRUARY/MARCH 2020
18th – St Luke's, Glasgow UK
19th – Gorilla, Manchester UK
20th – Brixton, Electric London UK
22nd – Melkweg, Amsterdam NL
23rd – Trix, Antwerp BE
24th – La Machine du Moulin Rouge, Paris FR
26th -La Laiterie, Strasbourg FR
27th – Volta, Cologne DE
28th – Kunst, Hamberg DE
1st – Lido, Berlin DE
MORE INFORMATION
Weaving blissed-out synths and unstoppable dancefloor grooves with euphoric hooks, exuberant wit, and uncommon emotional depth, Joywave has spent much of the past decade holding an aural mirror to society, concocting a distinctively modern approach towards pop music that is both organic and synthetic, much like our own day-to-day lives.
The NY-based band first came together in 2010 to put live flesh on the bones of songwriter-multi-instrumentalist Daniel Armbruster's original home recordings. A series of visionary mixtapes and EPs followed, as did Big Data's RIAA gold certified 2013 single 'Dangerous (Feat. Joywave)', a #1 hit at Alternative radio as well as a top 10 multi-format smash.
2014's How Do You Feel? EP was fast followed by Joywave's full-length debut album, How Do You Feel Now? The LP spawned a string of multi-format hits, including 'Dangerous', multiple versions of which were then showcased on 2016's innovative remix collection, Swish. The following year saw Content make a top 10 debut on Billboard's Heatseekers chart upon its arrival, powered by the Alternative radio favourites, 'Doubt' and 'It's A Trip!'.
Joywave has proved just as prolific and popular on the road, performing countless headline dates and show-stealing sets at international festivals spanning Lollapalooza, Coachella, Firefly and the UK's Reading/Leeds, and support runs with such like-minded artists as The Killers, Bastille, Young the Giant, Cold War Kids, Walk the Moon, Bleachers, Metric, Sir Sly, Bishop Briggs, Thirty Seconds To Mars, and more.
Joywave
Daniel Armbruster: Vocals
Paul Brenner: Drums
Joseph Morinelli: Guitar
Benjamin Bailey: keyboard, guitar, vocals.