Oslo-based art rock trio Dim Gray play melody-driven songs in a post-progressive vein, incorporating elements from folk music into a forward-thinking aesthetic that results in a hauntingly evocative sound. A wide and sophisticated palette of sounds and ideas is rooted in yearning vocals and subtly reverb-ed guitars.
The group's debut album, 'Flown', was released digitally in 2020. To coincide with the brand new release of its physical 2xLP and CD formats (with bonus songs), a live video of album song 'Dreamer's Disease' has been made available. Twisting the expression used at the beginning of 'You Get What You Give', a late 90's hit by New Radicals, 'Dreamer's Disease' is described by Dim Gray as "a song about being trapped in a state of apathy and the process of escaping it. It is incredibly fun to play live, alternating between heavy riffs and tender moments, including an expansive instrumental section featuring a menacing folk riff that builds and builds."
he three group members – Håkon Høiberg, Oskar Holldorff and Tom Ian Klungland – all moved from different parts of Norway to its capital city in 2012 in order to continue their studies. Having found each other, they soon began writing and performing together. The trio have contrasting musical backgrounds in genres as diverse as black metal, progressive rock, blues, folk and film music, but in fusing these together they have developed something distinctive and unique.

2020 saw the band issue the songs 'Ráth', 'Again', 'Light Anew' and 'Ouroboros' prior to the initial digital release of 'Flown'. A concept record with intertwining songs structured as one continuous story, the album relates a vivid tale of loss and loneliness that constantly twists and turns, with intimate and spatial moments offset with massive and colourful soundscapes. Describing their lyrical approach, the band explain that "rather than tell a linear story, we attempted to structure it as a circular narrative, with the protagonist trapped in a downward spiral, a vicious cycle without a clear beginning or ending. The story can be interpreted in various ways, but the lyrical themes remain centred around loss, longing and loneliness, and the psychological toll these feelings can take on a person."
Musically, 'Flown' weaves a route from strings-infused chamber pop, through dark indie folk and into grandiose art rock. It is an ambitious musical statement that will appeal to fans of artists such as Radiohead, Fleet Foxes, Steven Wilson, Sigur Rós and Susanne Sundfør.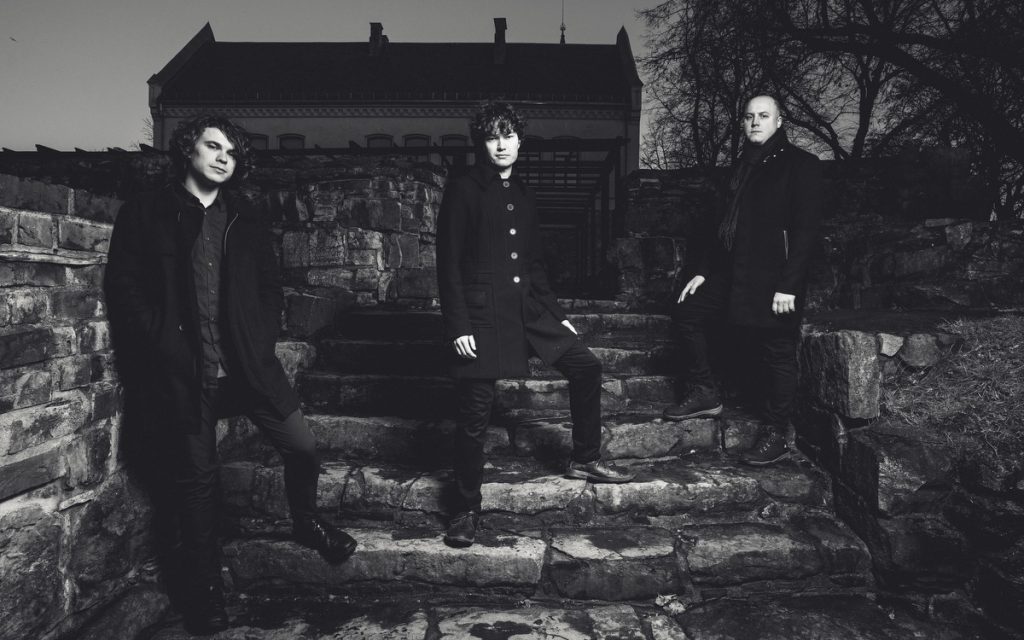 DIM GRAY
Håkon Høiberg – guitars, vocals
Oskar Holldorff – vocals, keyboards
Tom Ian Klungland – drums, vocals
Four songs have been added to the album for its release on 2xLP and CD formats.
FLOWN
TRACKLISTING
1  Again
2  The Wave We Thought We'd Ride Forever
3  Closer
4  Ráth
5  Wandering
6  Flown
7  Light Anew
8  Yore
9  Song For E
10  Dreamer's Disease
11  Ouroboros
12  Black Sun
13  Again – Live*
14  Song For E – Live*
15  Paper Bird – Extended Version*
16  Ice And Sea* (CD ONLY)
16  Wakeless* (LP ONLY)
* bonus songs

debut album
2xLP / CD formats
out 25.06.21
(Grim Day/Plane Groovy – 2xLP)
(Grim Day – CD & digital)
'Flitting between ringing indie guitar and doom folk melodies, a silken thread of haunting vocal stitches everything together into warm blanket of Hygge. Just stunning.