Singer and songwriter Brooke Eden premiered her vibrant new music video for "No Shade" yesterday via PopCulture, her first in four years.  On screen, Eden radiantly exudes the confidence and self-love that she has earned since her previous releases. 
Filmed and directed by Ford Fairchild, the video portrays Eden's full-circle journey highlighting her previous bartending and performance gigs that led to her start in Nashville. The first of Eden's trilogy of music and videos, "No Shade," is out now. Watch HERE
With her versatile signature vocal swagger on full display, Eden shares this song as part one of her reintroduction. After four years of finding love and acceptance that inspired her music both sonically and lyrically, her three-part reintroduction was penned from the heart and all produced by Jesse Frasure (Thomas Rhett, Florida Georgia Line, Kane Brown, Marshmello, Meghan Trainor, and more). 
The new song "No Shade," written with Steven Lee Olsen and Brandon Day, reintroduces Eden with a clever play on a break-up song. Though more than that, it's the story of a woman rediscovering herself after spending years in a situation that stifled who she was and who she wanted to be. "Nobody going to steal my sunshine or turn my blue sky grey / All I know is at the end of the day wildflowers grow when there ain't no shade," Eden sings, and you can hear the two meanings at work in her powerhouse vocal.
Eden wrote the new music in the years since her 2016 release of Welcome to the Weekend amongst a season of profound personal and professional growth. Hear more about her journey HERE.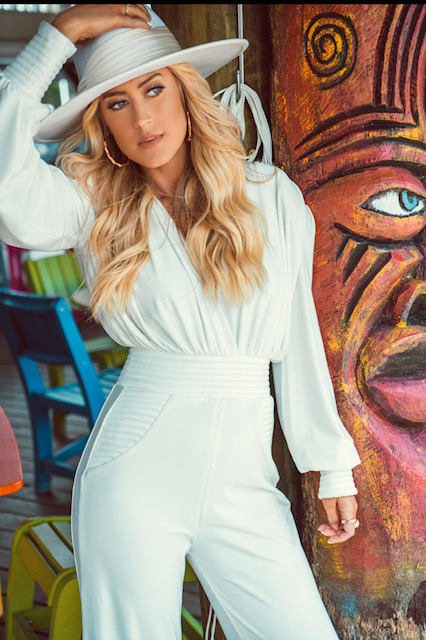 Since making her debut, Eden has shared stages with country's biggest stars like Garth Brooks, Tim McGraw, Sam Hunt, Dan + Shay, Florida Georgia Line, Kane Brown, and Sugarland. Over the course of Eden's career, she has amassed 37 Million total on-demand streams and is a proud member of CMT's "Next Women of Country." Previously named Vogue's "10 Country 'It' Girls," PEOPLE's "Seven New Country Acts You Should Check Out," and championed by Billboard as a "fiery country star-in-the-making, Eden has so much to share in 2021.
Lauded for her commanding stage presence and brassy straight-shooting style, vocal powerhouse Brooke Eden flaunts a sassy flare in her trio of new songs that vulnerably detail her journey to love. Championed by Billboard as a "fiery country star-in-the-making," Eden pairs her honest songwriting with punchy tracks from producer Jesse Frasure (Thomas Rhett, Florida Georgia Like, Little Big Town) to deliver her most authentic work yet.  Coupled with a trilogy of music videos that illustrate Brooke's own path towards self-acceptance, Eden confidently shares her romantic optimism and warmth, while sharing the joys of summer all year long.