Two years have passed since the self-titled debut of Warrior Path that hit the world's Underground Metal scene like the Hammer of Thor, getting everything from raving reviews to scoring the highest ranks on various "Album Of The Year" lists.
Continuing their journey, main-man and songwriter Andreas Sinanoglou and musician/producer Bob Katsionis (Firewind/Outloud/Serious Black) along with drummer Dave Rundle, are coming back with another epic tale, the tale of "The Mad King".
This time they are joined by one of the most legendary singers in the history of Power Metal, Swedish vocal phenomenon Daniel Heiman (Lost Horizon) taking the torch from Yannis Papadopoulos (Beast In Black).
Musically, the band seems to have evolved in all aspects, leaving the obvious influences and forging their own sound: The excessive number of ballads of the debut gave its place to furious songs, the Iron Maiden-ish twin harmonies became epic metal riffs, while the production itself is "warmer" and even louder and punchier than the one of their debut. Still, the influences vary from Riot, Heaven's Gate and Scanner to Crimson Glory and early Queensryche.
Daniel Heiman quotes:" After interesting discussions with the band members and since we agreed very quickly on all levels, I knew it would be an awesome collaboration and when I heard the new music I was blown away.
Old fans of Warrior Path and fans of my voice will not be disappointed! Also, I know a lot of new fans will emerge with this amazing release."
"The Mad King" was recorded during the first pandemic "Global Lockdown" in the new Sound Symmetry Studio of Bob Katsionis in Athens, Greece and analog-mastered once more by Nasos Nomikos at VU, Productions in Piraeus, Greece.
For the magnificent cover artwork, the band once again worked with Bulgarian artist Dimitar Nikolov bringing to life a scene from the Palace of the Mad King as told in the title track of the album.
"The Mad King" will be released in deluxe digipak CD via Symmetric Records and in Gatefold Vinyl by Ikaros Records, along with a Special Box-Set bundle.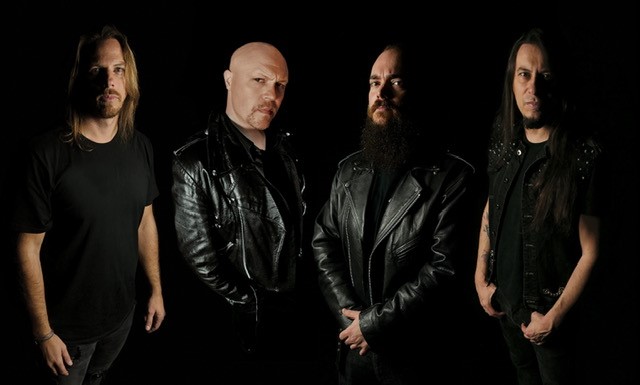 The album will also be licensed to the following territories:
-North America by Stormspell Records
-South/Latin America by Urubuz Records
-Japan by Rubicon
Line-Up:
Daniel Heiman: Vocals
Andreas Sinanoglou: Rhythm and Acoustic Guitars
Bob Katsionis: Lead Guitars, Bass, Keyboards
Dave Rundle: Drums
Tracklisting:
It Has Begun (Instrumental)
The Mad King
His Wrath Will Fall
Beast Of Hate
Don't Fear The Unknown
Savage Tribe
Avenger
Out From The Shadows
Neverending Fight
Last Tale