Enslaved's new studio album Utgard was recently released into the world, the concept of which explores the esoteric place in Norse mythology that celebrates therebirth of the individual – a place where one goes for unification of that which is above and that which lies below. A reckoning of dark and light, of night and day.
In continued celebration of Utgard's release, tied in with the upcoming Winter Solstice (a Pagan holy day marking the symbolic death and rebirth of the Sun), the band are proud to announce a Winter Solstice streaming event for Saturday 19th December via the Revolver Magazine Facebook page, which will be followed by a live Q&A with some band members.

The digital event will feature all three parts of Enslaved's recent Cinematic Summer Tour, the revered filmed performances titled; 'Chronicles of the Northbound', 'Below the Lights' and 'Utgard the Journey Within'.

The performances will be presented by Revolver Magazine, and will be repeated the next day Sunday 20th December on the Enslaved YouTube channel. The events are also collaborations with respected European festivals Roadburn, Beyond The Gates and Summer Breeze.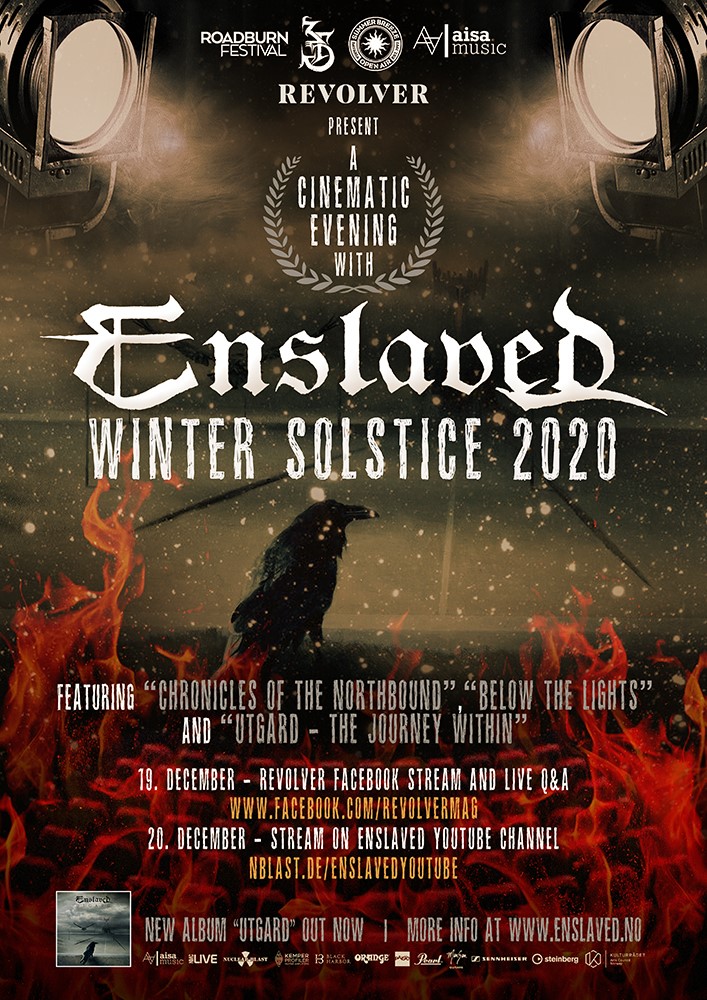 Cinematic Summer Tour information:

For this forward-thinking concept, ENSLAVED joined forces with three festivals, to present fans with three different shows:
July 30th – in cooperation with Roadburn, the tour launched with a "Chronicles Of The Northbound" show.
 
August 20th – the second show was a "Below The Lights" set, presented by Beyond The Gates festival.
 
October 1st – the band ended their virtual tour at Summer Breeze festival with a presentation of some new songs, for their release event "Utgard – The Journey Within".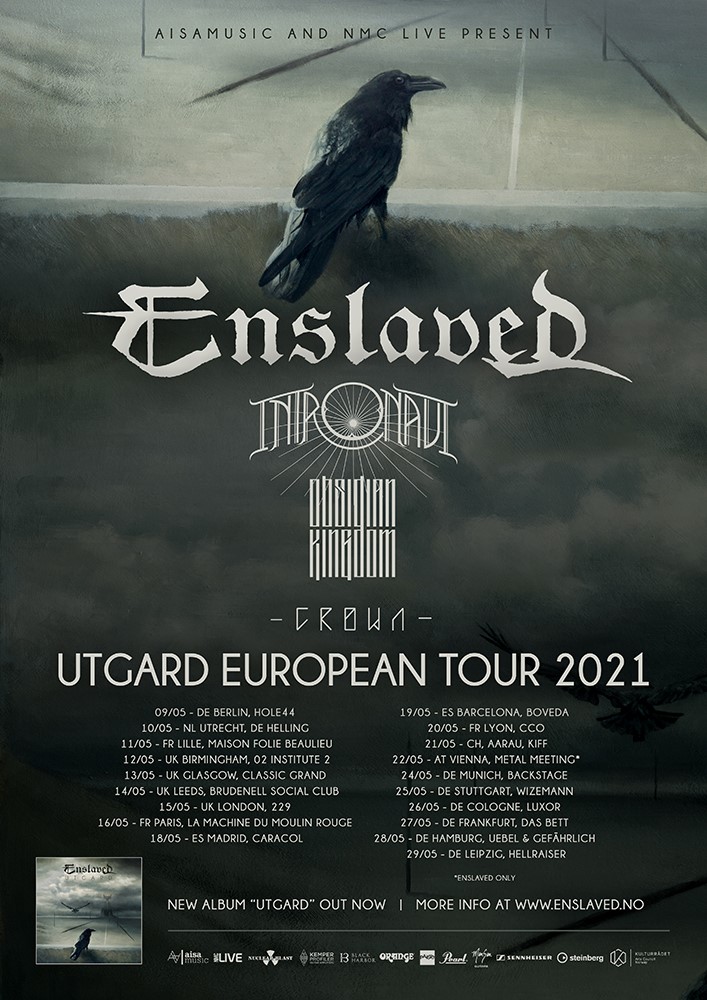 Enslaved recently announced new 2021 tour dates. The live run is set to include nineteen dates taking the band across seven countries, accompanied by Intronaut, Obsidian Kingdom and Crown. 

ENSLAVED – UTGARD EUROPEAN TOUR 2021
w/ Intronaut, Obsidian Kingdom, Crown
09/05 – DE Berlin, Hole44 
10/05 – NL Utrecht, De Helling 
11/05 – FR Lille, Maison Folie Beaulieu
12/05 – UK Birmingham, 02 Institute 2
13/05 – UK Glasgow, Classic Grand
14/05 – UK Leeds, Brudenell Social Club
15/05 – UK London, 229 
16/05 – FR Paris, La Machine du Moulin Rouge 
18/05 – ES Madrid, Caracol
19/05 – ES Barcelona, Boveda 
20/05 – FR Lyon, CCO 
21/05 – CH, Aarau, KiFF
22/05 – AT Vienna, Metal Meeting 
24/05 – DE Munich, Backstage 
25/05 – DE Stuttgart, Wizemann 
26/05 – DE Cologne, Luxor 
27/05 – DE Frankfurt, Das Bett 
28/05 – DE Hamburg, Uebel & Gefährlich 
29/05 – DE Leipzig, Hellraiser 
Ivar Bjørnson | guitars 
Grutle Kjellson | vocals
Arve 'Ice Dale' Isdal | guitar
Håkon Vinje | keyboards, clean vocals
Iver Sandøy | drums