Before BEANS ON TOAST releases two new albums this December, it's perhaps only natural that his latest single is in praise of "the album" itself.

A celebration of the greatest of music formats and a sweet-natured education of how to enjoy it most, "The Album Of The Day" is a tender folk song dedicated to time spent playing LPs with his daughter Wren. 

"We put a classic album on and we listened to it back to front, or front to back you know what I mean, the whole thing in its entirety, there'll be no rewind no fast forward, exactly as its creator intended" .

Beans
'KNEE DEEP IN NOSTALGIA' & 'THE UNFORESEEABLE FUTURE'
OUT 1ST DECEMBER 2020, VIA BOTMUSIC
PRE-ORDER NOW

A tribute to long-players and best listening practises, "The Album Of The Day" is packed with references to classic records including 'The White Album' to 'Exodus', 'Blonde On Blonde' to 'London Calling' and many others that have found their way into Beans' own collection. A reminder of the joy music can bring and appreciating the things that matter most in life; "The Album Of The Day" is a must-listen for anyone who loves records and sharing them with those closest to them.


Following on from recent single "The Village Disco", the two tracks will feature on Beans on Toast's 'Knee Deep In Nostalgia' album; a record produced-by and featuring FRANK TURNER. It's one of TWO albums to be released by Beans on 1st December 2020 (via BOTMusic), the release will also be accompanied by: 'The Unforeseeable Future'. Although released on the same day, the two new records are deliberately intended to look in different directions. Past vs. Present. Dreamy escapism vs. a gritty reality check. Normal vs. New Normal…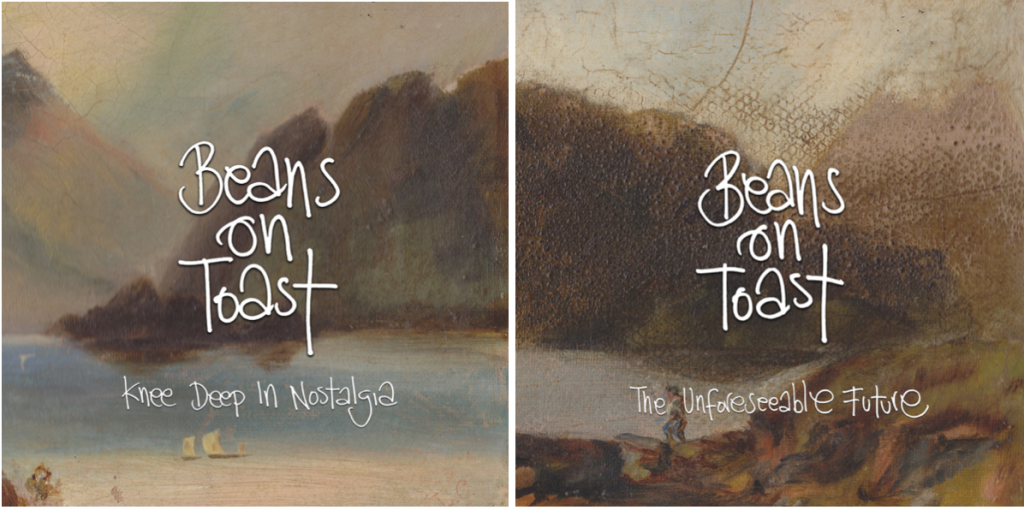 'Knee Deep In Nostalgia' is an album packed with positivity, warm feelings and memories of good-times. Rest assured, it has absolutely nothing to do with the worldwide pandemic. Alongside Frank Turner's playing and production, additional special guests on the record include: Matt Hensley (Flogging Molly), Matt Nasir (Sleeping Souls), Guise and Anna Jenkins (The Red Clay Halo) who give it a full band sound.   

It's partner, 'The Unforeseeable Future' was recorded solo by Beans at home during lockdown. It comprises a succession of pinpoint social commentaries all inspired by the "sh**show that has been the year 2020", says Beans. Featuring just Beans with an acoustic guitar or piano, the album compiles songs that will be familiar to fans who followed Beans' prolific single release series during lockdown, plus introduces a number of new additions recorded since.

Whether you want to shake your fist in fury at the world we live in, or forget about it completely – take your pick. Together, 'Knee Deep in Nostalgia' & 'The Unforeseeable Future' will provide essential listening to see out this most unprecedented of years…

If you're pandemic-ed out, "The Album Of The Day" could well be the perfect antidote. A song all about the simple pleasures of switching off and enjoying music, tune-in on all streaming platforms NOW. 

BEANS ON TOAST – "THE ALBUM OF THE DAY" – SINGLE OUT NOW

NEW ALBUMS: 'KNEE DEEP IN NOSTALGIA'
& 'THE UNFORESEEABLE FUTURE' 
– ON 1ST DECEMBER 2020, VIA BOTMUSIC

PRE-ORDER HERE