On the altars of fire their flesh shall be incinerated and their souls bound in chains.
I shall separate the sin-ridden, transient shell from the eternal essence through the application of agony; a purity of pain that will consume the mundanity of sanity as surely as it opens the skin and shatters the bones. There is meaning beyond the understanding of the human herd in my divine dissections, power too great for their faltering hearts in my glorious ritual of homicide!
Returning from the darkness, from the silent shadows, with their first full length album in six long years come Austin, Texas' Whore Of Bethlehem. Ritual Of Homicide is an outpouring of black blasphemy and bloodstained brutality to shake the pillars of faith. Riffs twisted into agonised, abhorrent forms, guitar leads that scream with the pain of tortures unimaginable, drums that blast with infernal power and a voice torn from the unseen depths of the abyss – each element bound together with nails, thorns and sacrilege. From the irresistible intricacies of 'Vermin' to the spirit burning thrill of 'Sermon Of The Malignant Spirit', Ritual Of Homicide is a masterful album that holds fast to the hallowed forms of classic death metal while striding purposefully into the realms of sheer sonic extremity, with a heart sworn to the black and a soul pledged to hell. Rarely does such formidable force combine with such harrowing melody and fearsome atmosphere. Concluding with current single, 'Pseudochrist', Ritual Of Homicide is the sound of utter, irredeemable damnation.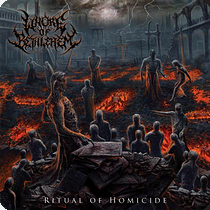 Line-up:
James VanDenBerg – Vocals
Alan Berryman – Bass
Ryan Sylvie – Guitar
Phil King – Guitar
Sam Axelrad – Drums


While Whore Of Bethlehem's second album, the indisputably excellent Extinguish The Light, was branded "truly sinister and monstrous" by Antichrist Magazine, that fine album pales into insignificance when placed next to the infernal majesty of Ritual Of Homicide. Released on March 24th through Comatose Music, this album is a definitive demonstration of the power of brutal death metal combined with the might, the dark arts of black metal. Prepare to offer up your souls to the lords of the pit and kneel before the Whore Of Bethlehem!