Virvon Varvon are UK (London) vets featuring members of Black Time, Wake Up Dead, Candy Highway, and The Jazz June.
After burning through a couple of pressings of their debut mini-LP "Mind Cancer" (Girlsville Records), they gigged around London and played Get Lost Fest in Hamburg, Germany last year. In September they head to Gonerfest in Memphis, TN for their first-ever shows stateside.
To coincide with their appearance at Gonerfest, Virvon Varvon is releasing a new EP called "Voices" on Girlsville Records.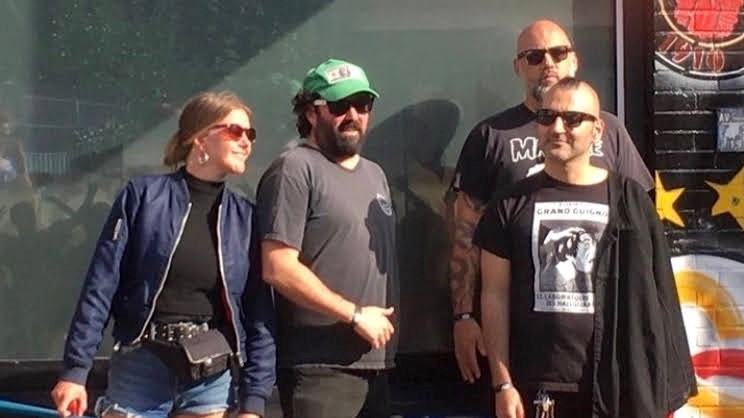 "Voices" was written by Virvon Varvon bassist, Cunha. Pulling more than his fair share of weight as the new member of Virvon Varvon & penning the lead single on the EP, "Voices" doubles as the lead single for the follow-up LP to the debut Virvon Varvon 12″ (Mind Cancer), due in 2024.

Voices is a hooky and raucous shouty punker with Lemmy Caution's guitar leads functioning as what could be mistaken for a Wavey synth bit, Hanne's vocals: urgent, venomous, raw, and appropriately desperate. The backing vox on the chorus drives home the message: voices in one's head that can't be silenced.
"Useless" was written by Andrew Low and is aggressive punk pop with immediacy and a huge chorus. Virvon Varvon delivering once again on the promise of hard & fucked up pop for punks!
"Holding Pattern" is a composition by Lemmy Caution and is reminiscent of the lo-fi punk of the sorely missed Black Time, with a spoken word bit that to these ears is a clear nod to Huggy Bear, both in delivery and the music, bringing to mind something akin to the outro to Teen Tighterns. SLOW. DEATH. IS. YOURS!