Stitched and spliced, fused and bound, a construct of manipulated organic growth and twisted architectural ingenuity.
Drawn from a vat of pain, there is nothing within your agonised shell but an obscene strength and raging, perverse appetite. With no controlling conscience or moral guidance – you are too dangerous to be allowed to live, yet too impossibly fascinating to destroy.


So here you are, in your gore-soaked paradise prison, wading through the carnage of your discarded projects. You breed them, feed them, dissect them and rebuild them; following in your father's footsteps. You break them, consume them, pulverize and shatter them, before they join the rotting collection of offal, swaying gently from their hooks. And your father watches you through his electric eye, his imperfect son, his beloved creature, his genetically engineered monstrosity.
If the malicious beast that is brutal death metal could be strapped to an operating table, if its essence could be extracted like spinal fluid with a long, cruel needle, then within that viscous, poisonous fluid you would find the sound of Tortured. This international assembly of elite exponents of the brutal arts have defined the rotten soul of death metal's darkest offspring. It has been a long wait since 2020s The Limb Collector EP first hinted at what Tortured were capable of with its short, sharp shock of violence, but every second of those intervening years has been justified by the arrival of their full length debut. Genetically Engineered Monstrosity is an absolutely electrifying, breathtaking, bludgeoning assault. The gloriously grotesque riffs are carved from your flesh by the six string scalpel of Oscar Ortega (Cystectomy, Strappado etc) while the blast beats rain down like hammers to the skull and ghastly, inhuman vocals vomit from the abyss. The relentless, remorseless 'Human Bait' is deaf to all pleas for mercy, while the crushing pressure of 'Boiled To Death' will see internal organs exploding from every orifice. To the last devastating notes of 'Gruesome Chastisement' Genetically Engineered Monstrosity is utter nirvana for those hopelessly addicted to the bloody and battering sounds of extreme death. This is a master class in absolute bone breaking brutality.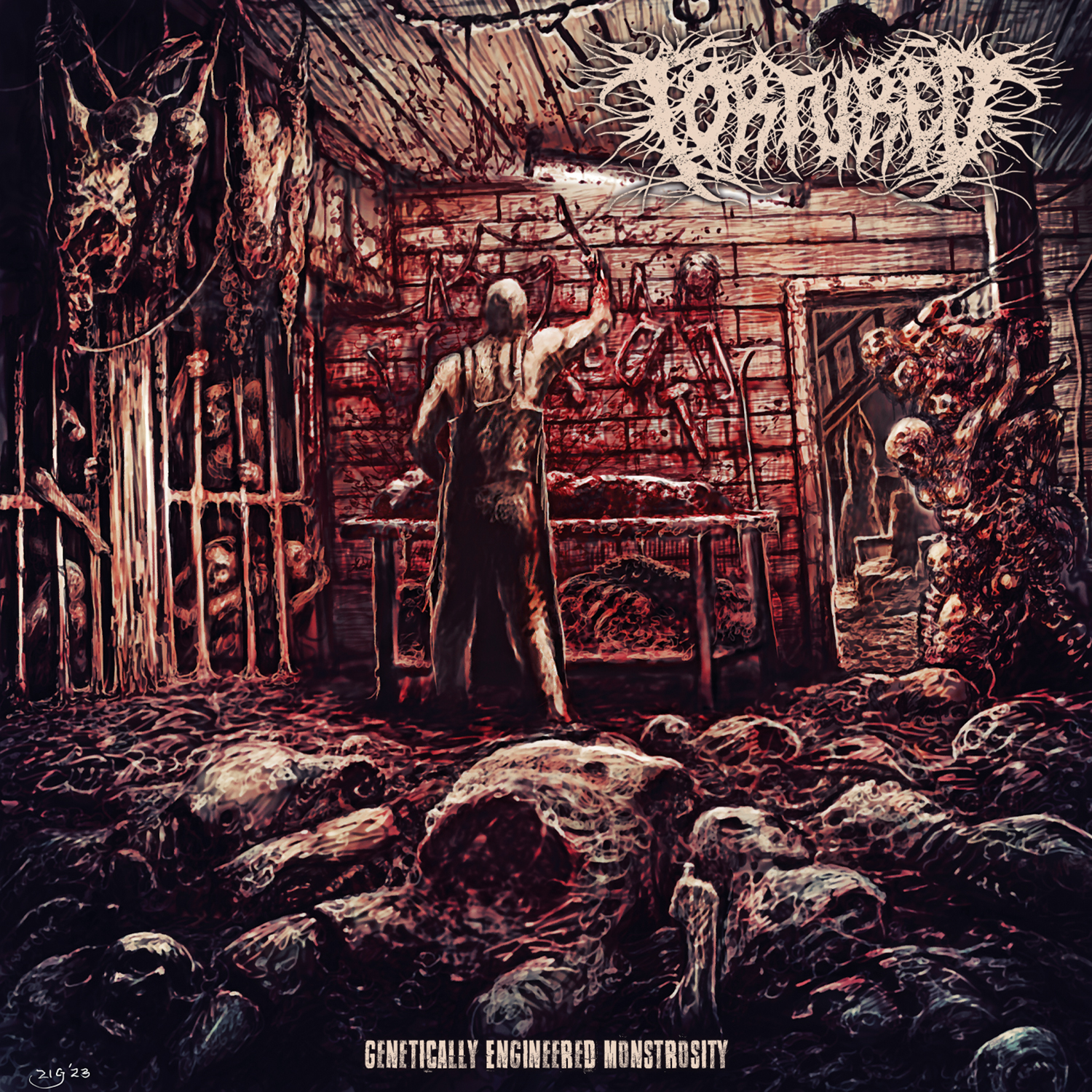 Mixed and mastered by Alexander Borovykh at Tsun Tsun Productions (Aborted Fetus, Insect Inside, Kraanium etc) Genetically Engineered Monstrosity hits hard, with unfathomable levels of power; when Comatose Music set this killer loose on July 7th the levels of destruction will be overwhelming. Housed in the grim and grisly artwork of scene legend Jon Zig (Deeds Of Flesh, Defeated Sanity, Houwitser etc) Tortured's debut album is going to be adored by gore hounds and blood junkies in every unsanitary underground dungeon the world over. This is unflinching, undiluted, ultraviolent brutal death metal – accept no imitations.