Composer and singer-songwriter Jamie Irrepressible aka – THE IRREPRESSIBLES – has shared news of a new EP 'Self Love & Acceptance', and shared a brand-new track "Self Love".
The EP is set for release on 2 October 2023, ahead of a special UK tour this Autumn which will see stops at some of the most beautiful churches and venues across the UK.
Intended as a series of meditations surrounding the artist's own personal journey towards 'Self Love & Acceptance', The Irrepressibles new EP sees Jamie Irrepressible niftily craft an impressive selection of brand new songs and instrumental pieces that are just as uplifting as they are introspective.
An intimate, piano-oriented collection, the release is The Irrepressibles' first new music in almost three years and features new single "Self Love" (out now).
From long-developing moments of enveloping orchestrations, to more intimate reflections on the inner processes of enlightenment and expansion, the EP is a powerfully personal contemplation on the long journey toward self-love. The EP will also feature the intensely inspiriting "Transformation of Acceptance".
The creative guise of Northern composer Jamie Irrepressible, The Irrepressibles' new release 'Self Love & Acceptance' follows his three critically acclaimed studio albums 'Superheroes' (2020), 'Nude' (2012) and 'Mirror Mirror' (2010), featuring his now international indie-hits "Most Beautiful Boy", "Two Men In Love" and "In This Shirt", which have over three billion streams combined.
Alongside the release Jamie and his seven-piece band of strings, percussion and folk musicians will head out on a UK tour of the country's most beautiful churches and concert halls. Taking to the stage across October for the series of orchestral-pop shows, the shows will see Jamie's acclaimed chamber-pop songs brought to life amongst settings that match the ambience and acoustics of his innovative pieces.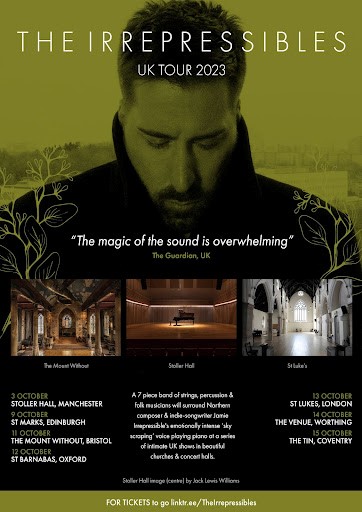 With some shows already sold out and tickets on sale now, find full dates and details below.
THE IRREPRESSIBLES – UK TOUR 2023
3 October – Manchester – Stoller Hall, Manchester
9 October – St Marks, Edinburgh
11 October – Bristol, The Mount Without
12 October – Oxford – St Barnabas
13 October – London – St Lukes
14 October – Worthing – The Venue
15 October – Coventry – The Tin
For his upcoming shows, Jamie Irrepressible will be joined by his band of musicians:

Violin – Elliot Lyte
Viola – Charlotte Stock
Cello – Rebecca Thomas
Double Bass – Alice Phelps
Accordion, Clarinet & Backing Vocals  – Anja Kadir
2nd piano, Clarinet, Organ & Backing Vocals – Sarah Kershaw
Folk Kit & Percussion – Thomas Twemlow
Vocals, Piano & Mandolin & Acoustic Guitar – Jamie Irrepressible
The Irrepressibles is the creative guise of Yorkshire composer and singer-songwriter Jamie Irrepressible. He formed the band initially in London back in 2002. Over the past two decades he has earned international acclaim for his cathartic orchestral-pop compositions, collaborations with other artists, and sensory heightening live shows.
Currently based in Manchester, Jamie's new EP 'Self Love & Acceptance' is due 2 October 2023, ahead of the upcoming live dates this Autumn