As musical trends come and go, The Hangmen have remained uncompromising since their formation in 1986.
From big money major label deals to debilitating drug addiction, lead singer Bryan Small has continued to charge forward with the headlong momentum of a runaway train.
Bridging the gap somewhere between The Gun Club and the Rolling Stones, the band's latest offering, Stories To Tell smashes together Small's lurid love songs with unsparing, unsentimental blasts that shine a penetrating light into the dark and seedy corners of life. From the melodic "Midnight Riders" to the haunting "On The Outside," Small delivers an album with a simplicity and depth of songwriting reminiscent of Neil Young and Tom Petty.
"Midnight Riders is a rite of passage song. It's the way my friends and I lived in our early days navigating life, being in bands and coping with everything as kids in Hollywood. We didn't have boundaries. We didn't have mentors. We were notoriously fucked up geniuses in our eyes. I'm not surprised by the path we took for ourselves – some made it, some moved home and some died." Small himself recently relocated after 38 years in Los Angeles to his hometown of Missoula, Montana, so his kids could grow up around family.
"We recorded in different studios over the course of about a year and a half, which is the way some of my favorite albums were made,"reveals Small, "This is the first record since Mike Ness (Social Distortion) produced In The City that I've kinda let go of the production and mixing to get a different view of these songs."
Longtime Hangmen fan Rob Schnapf (Elliot Smith, Beck, X) also stepped in to produce two tracks on Stories: "On The Outside" and "Last Time I Saw You," a tribute to "Rontrose" Heathman, the former Hangmen and Supersuckers guitar player who passed away in 2020.
Stories To Tell also includes a raucous cover of Credence Clearwater Revival's "Sinister Purpose." "CCR has always been a part of The Hangmen's DNA to some extent. It was a bit of an overlooked song that spoke to us. Jimmy James (guitarist) brought it to the band and it was a natural fit."
Stories To Tell will be released September 8, 2023 on Acetate Records. A month-long European tour commences September 13 in Paris.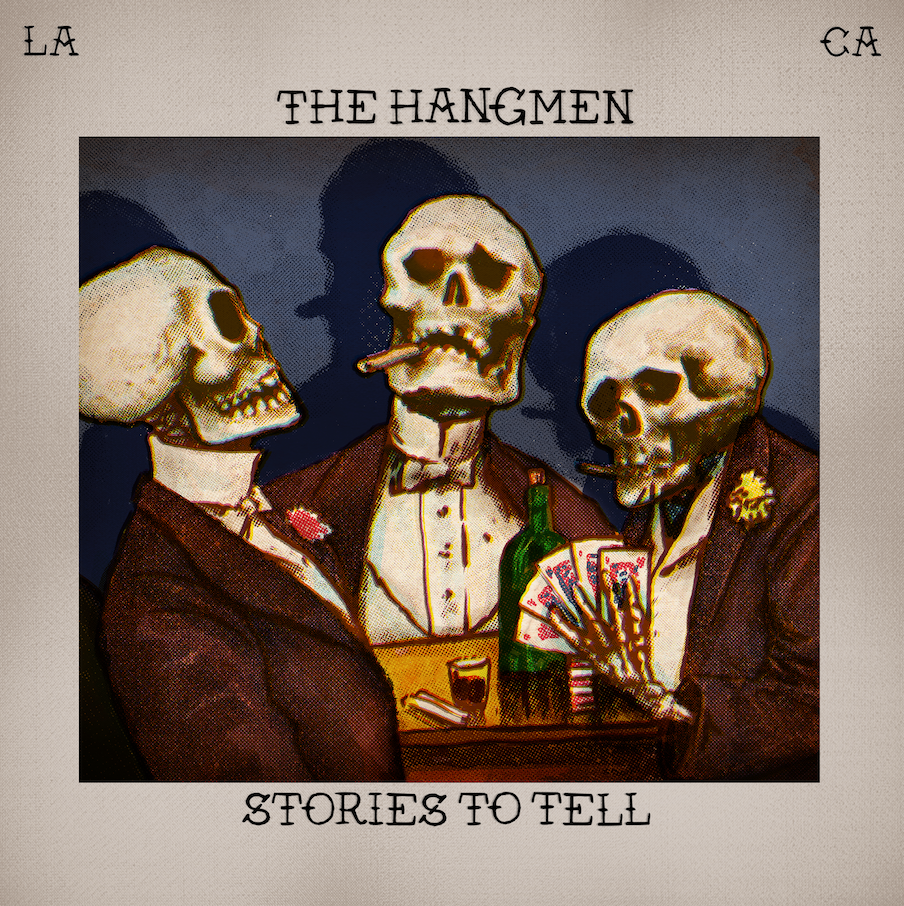 'STORIES TO TELL' TRACK LISTING
1. Broken Heartland
2. Midnight Riders
3. Last Time I Saw You
4. On The Outside
5. Sinister Purpose
6. Bayou Moon
7. Behind The Wheel
8. Stories To Tell
9. Hard Luck Jim
10. Runnin' Kind
THE HANGMEN EUROPEAN TOUR 2023
13/09 WED PARIS, FR @ LA DAME DE CANTON
14/09 THU RENNES, FR @ LE NOKTAMBÜL
15/09 FRI St. GUILLES CROIX VIE FRI, FR @ ROCK THE SEA
16/09 SAT PERIGUEUX, FR @ LE MOULIN DU ROUSSEAU
17/09 SUN ZARAGOZA, SP @ SALA Z
19/09 TUE LIERGANES, SP @ LOS PICOS
20/09 WED A CORUÑA, SP @ MARDI GRAS
21/09 THU MADRID, SP @ CLAMORES
22/09 FRI BURGOS, SP @ AMB
23/09 SAT BILBAO, SP @ KAFE ANTZOKIA
24/09 SUN TOLEDO, SP @ PÍCARO
26/09 TUE GRANADA, SP @ LEMON ROCK
27/09 WED BENIDORM, SP @ ROCKSTAR
28/09 THU VALENCIA, SP @ LOCO CLUB
29/09 FRI BARCELONA, SP @ SIDECAR
30/09 SAT MONTPELLIER FR @ SECRET PLACE
01/10 SUN COMO, IT @ JOSHUA BLUES CLUB
03/10 TUE ZAGRED, HR @ HARD PLACE
04/10 WED BELGRADE, RS @ KC GRAD
05/10 THU PRAGUE, CZ @ VAGON
06/10 FRI BERLIN, DE @ WILD AT HEART
11/10 WED HAMBURGH, DE @ APOLLO CLUB
12/10 THU KOLN, DE @ SONIC BALLROOM
14/10 SAT MESSANCY, BE @ BACK TO THE PIPELINE