Born from a musician's desire to re-envelope their life in the heaviness that is metal and to refamiliarize with a conduit that could be considered detrimental amidst today's destructive society, the gritty powerhouse that is Ontario, Canada hardcore/metal quartet TEETH emerged from the sludge of a foul generation.  
Resolved to utilize the carcasses of their conquered demons as fodder for a new euphonious weapon, TEETH wanted to create the most ignorant, aggressive-sounding music imaginable. Their latest offering A Biblical Worship Of Violence will be unleashed digitally on May 5th and on vinyl on July 21st via Nuclear Blast Records.
 
TEETH is  
Chris LeMasters | Guitarist
Blake Louis Prince | Vocals
Marc Quagliarini | Bass
Mat Stewart | Drums
The band states, "A Biblical Worship Of Violence is our ode to the ache of change – a snapshot of a moment in time where we were all going through dark shifts in our personal lives that forced us to see life through the lens of true pain and discomfort. We knew we needed to create something so visceral and honest to articulate what we'd been going through while also giving us the opportunity to speak on the state of this world. Division, compulsion – an intrinsic gravitational pull toward cruelty and brutality. ABWOV is a commentary on human beings darkest, most volatile conventions."
TEETH comments on the single, "'Hate Me' is about watching the people around you – whether it's your peers, family/loved ones, colleagues – self-destruct over petulant nonsense. Watching a marriage or friendship crumble over disagreements when both parties are too blinded by our inherent attraction to turmoil to see the pettiness of it all. It's about how we – as humans – are so viscerally unwilling to budge in our cemented beliefs and beholden to our egos that we'd rather just let the house burn down to prove our point. I THINK THERE'S FIRE IN THESE WALLS."
A Biblical Worship of Violence was recorded in the Fall of 2020 at Bell Tower Studios. Davis Maxwell and the band were responsible for producing and engineering the record while Lance Prenc handled mixing and mastering. This time around the band enlisted Heavy Sleeper Co to create the album artwork and layout.
A Biblical Worship Of Violence will be available as a red with black splatter vinyl. Below is the A Biblical Worship Of Violence tracklisting:
1. We Eat Our Young
2. Hate Me
3. Pig Virus
4. Drip
5. EYESHORNSMOUTH  

Pre-order/pre-save A Biblical Worship Of Violence EP here: http://teeth.bfan.link/a-biblical-worship-of-violence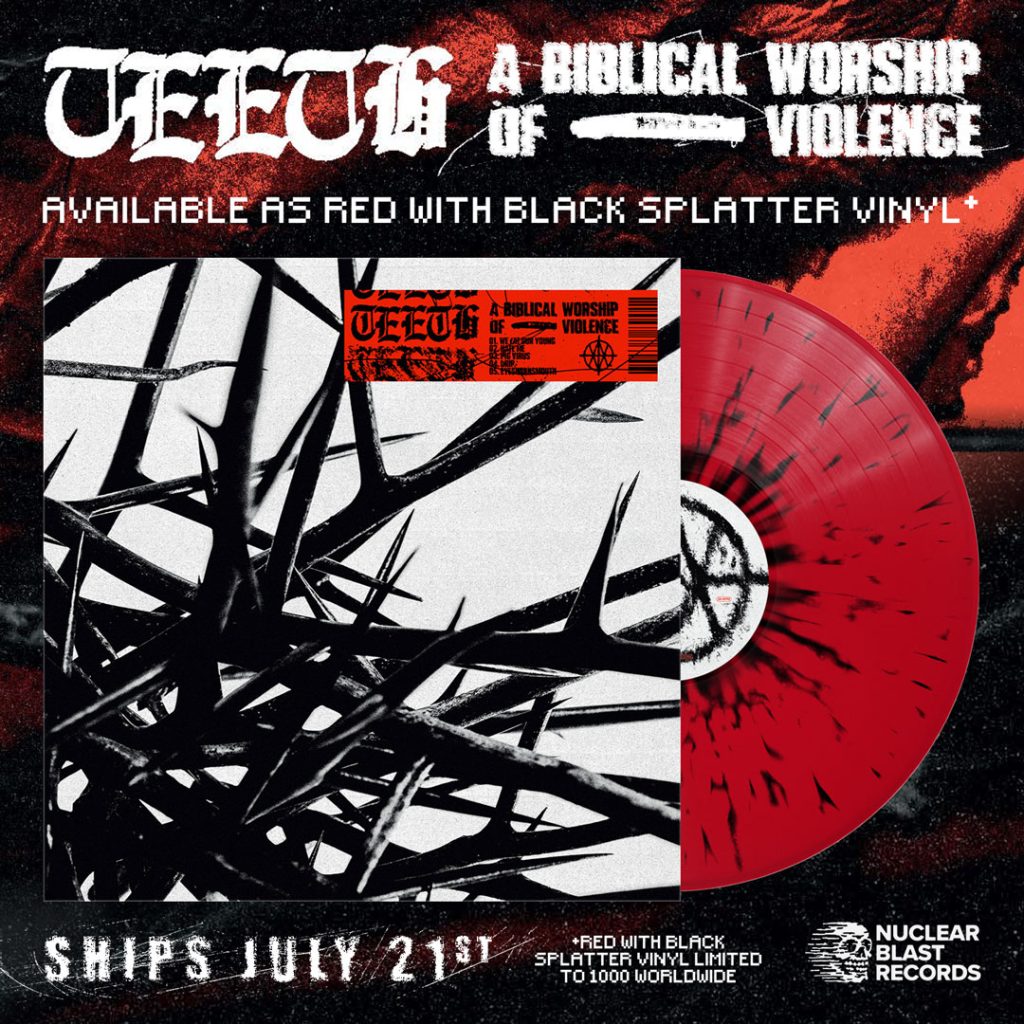 TEETH will play two hometown shows before heading on the road with headliners TALLAH on their "A Hard Reset" US tour. The trek will kick off on May 7th at the Bamboozle Festival and will make its way to Baltimore, Virginia Beach, and Atlanta before concluding in Chicago on May 25th in Chicago.  

4/20/2023  Onyx Club – Guelph, ON
4/23/2023 Rumrunners – London, ON  

W. TALLAH
05/07 Atlantic City, NJ @ Bamboozle Festival
05/09 Providence, RI @ Alchemy 05/10 Poughkeepsie, NY @ The Chance
05/11 Baltimore, MD @ Angels Rock Bar
05/12 Virginia Beach, VA @ Scandals Live!
05/20 Columbus, SC @ New Brookland Tavern
05/21 Atlanta, GA @ The Masquerade
05/24 Evansville, IN @ Lamasco Bar And Grill
05/25 Chicago, IL @ Cobra Lounge