This is both well-timed and thematic given the crazy state of affairs in the world at the moment. The most unlikely love story ever – this song is about falling head over heals… with a fascist!
Based in London, Tantrum Zentrum's members draw from the UK, Canada and the USA, music having brought them together like a magnet while living in London. Inspired by early 70s krautrock and late 70s New York no-wave bands, they deliver sonic dissonance and poppy hooks with great energy and style… imagine Killing Joke on happy pills.

This is the second of three songs recently recorded with renowned producer Steve Evans (Robert Plant, Siousxie Sioux, Goldfrapp). The earlier-released single 'Der Leiermann' is performed in German. And while the new single is performed in English, it contains a few Bosnian and corrupted German words for emphasis.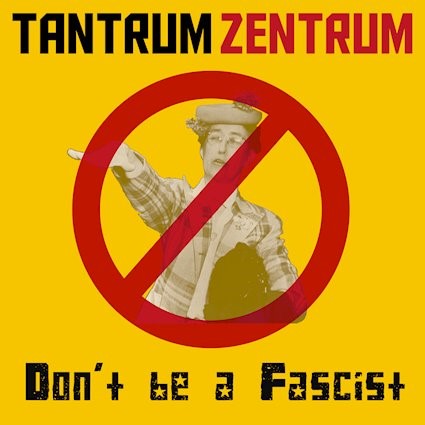 Made up of Vaat Dafuq (vocals, guitar), Sabine de Rousseau (guitar, vocals), Valhalla Schimmer (bass guitar) and Kur Putchnik (drums). Tantrum Zentrum makes hi-energy post punk interlaced with funk, goth and krautrock influences.
"'Don't Be A Fascist' is a wartime love story. Inspired by the 80s Yugoslavian pop hit 'Fa Fa Fašista' (performed by Sarajevo's Plavi Orkestar), the song tells a story as old as time itself: boy meets girl, and they fall in love. Then their country gets occupied by the German forces of the Third Reich, and the girl falls for the tall, handsome enemy soldier in a magnificent uniform. Needless to say, the boy is furious!" says Vaat Dafuq.

"We chose a bombastic title that may resonate with many even now. The release is accompanied by a humorous 'explainer'-style video that shouldn't be taken too seriously."
With analogue synths, distortion and hypnotic drums played with Devo-esque precision, the band's music shares elements of Krautrock pioneers Neu! and Faust, along with goth and no-wave experimentalists such as Sonic Youth, Glenn Branca and Theoretical Girls.

Tantrum Zentrum creates memorable live performances loaded with good energy, humour, excellent musicianship and in several languages. Always happy to play for their audience, they aim to get people moving, while fostering genuine connections and a sense of community. The band will be playing a number of club shows in the UK in support of this release.

As of June 30, 'Don't Be a Fascist' will be available from fine music platforms, including Apple Music, Spotify and Bandcamp.