Svalbard have released the third single from their forthcoming new studio album, The Weight Of The Mask, due out on October 6th. 
The track titled 'How To Swim Down' is Svalbard's most unique and moving work to-date, featuring heart-rending, ethereal violin parts from Liam Phelan, and a profound vocal performance from Serena Cherry.
The track is accompanied by a beautiful animated video, created by Boy Tillkens. The heart-breaking animation is a delicate portrayal of humanity, detailing the tenderness and strength found in existence.  
Svalbard's Serena Cherry commented,
"This song is about the exquisite pain and sorrowful beauty of unrequited love. I think it's the saddest, most heart-breaking song we've ever written. Lyrically, the starting point of the verse is about concealment of adoration, before the chorus gives way to realising and accepting a fate of loving someone quietly from afar. 

I cannot watch the music video for How To Swim Down without crying. Boy has captured the bittersweet emotion of the song so delicately, it's an incredibly moving piece of animation to watch. 
 
Musically, How To Swim Down saw us dive into unchartered waters with Liam adding many layers of mournful violin parts onto the track. Finally, violins – for the first time in Svalbard history! It feels so exciting to have new instruments on a song. Another first is that How To Swim Down features only clean vocals, no screams. I wanted the vocal delivery of these lyrics to feel as though I'm whispering a secret to someone whilst they're sleeping. My vocals here represent that lonely type of communication, singing to yourself in an empty house. It's a private, selfless love song, where only the listener knows of my heartache."
The Weight Of The Mask – tracklist:
01. Faking It
02. Eternal Spirits
03. Defiance
04. November
05. Lights Out
06. How To Swim Down
07. Be My Tomb
08. Pillar In The Sand
09. To Wilt Beneath The Weight
The Weight Of The Mask was recorded at The Ranch Production House, UK. The record was produced and mixed by Lewis Johns, with mastering by Grant Berry. Engineering was handled by Lewis Johns, assisted by Matt Janke, with additional editing by Kel Pinchin and Sebastien Sendon.

Svalbard's intention with their music is to make people feel less alone, and to be there for people in their darkest times. The Weight Of The Mask bravely lays out experiences of mental illness and depression, hoping to help destigmatise these topics.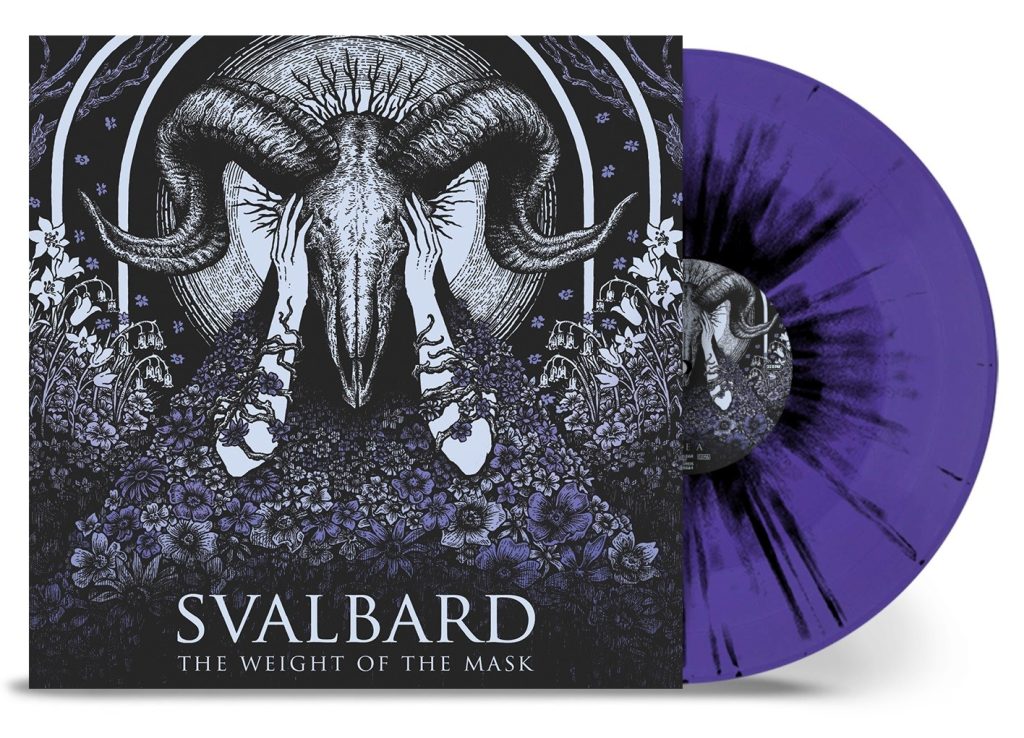 Svalbard finished an extensive tour across the continent supporting post-metal monoliths Cult Of Luna and Russian Circles earlier this year, and the band are currently in the midst of a string of European summer festival performances. They've recently played the likes of Inferno (Norway), Hellfest (France) and With Full Force (Germany), plus 2000Trees and Portals in the UK. Their remaining festival dates are listed below.

SVALBARD will be returning to the EU mainland for six headline show dates in October, which will be followed by a performance at the Cult Of Luna curated Beyond The Redshift event in London and a headline date at The Key Club in Leeds.