Charismatic, enigmatic, and absolutely outstanding, singer Elena Alice Fossi, who is best known for her work with Italian electro-trailblazers KIRLIAN CAMERA, presents "Modernism", the fifth album of her eclectic project SPECTRA*Paris.
"Modernism" is transfiguring electronic music through the prism of Elena's voice and several collaborations with other musicians into a beautiful kaleidoscope of stylistic colours ranging from EBM, future pop, dark electronic, art pop, and various influences more.
Among the artists that gladly followed Elena's call are KIRLIAN CAMERA mastermind ANGELO BERGAMINI, PROJECT PITCHFORK, SEASURFER, legendary producer JOHN FRYER, who worked with DEPECHE MODE and NINE INCH NAILS alongside many others, JOHN ROX & OXYDION, African singer-songwriter FAKEBA, and guitarist and producer MICHAEL CIRAVOLO (BEAUTY IN CHAOS, HUMAN DRAMA).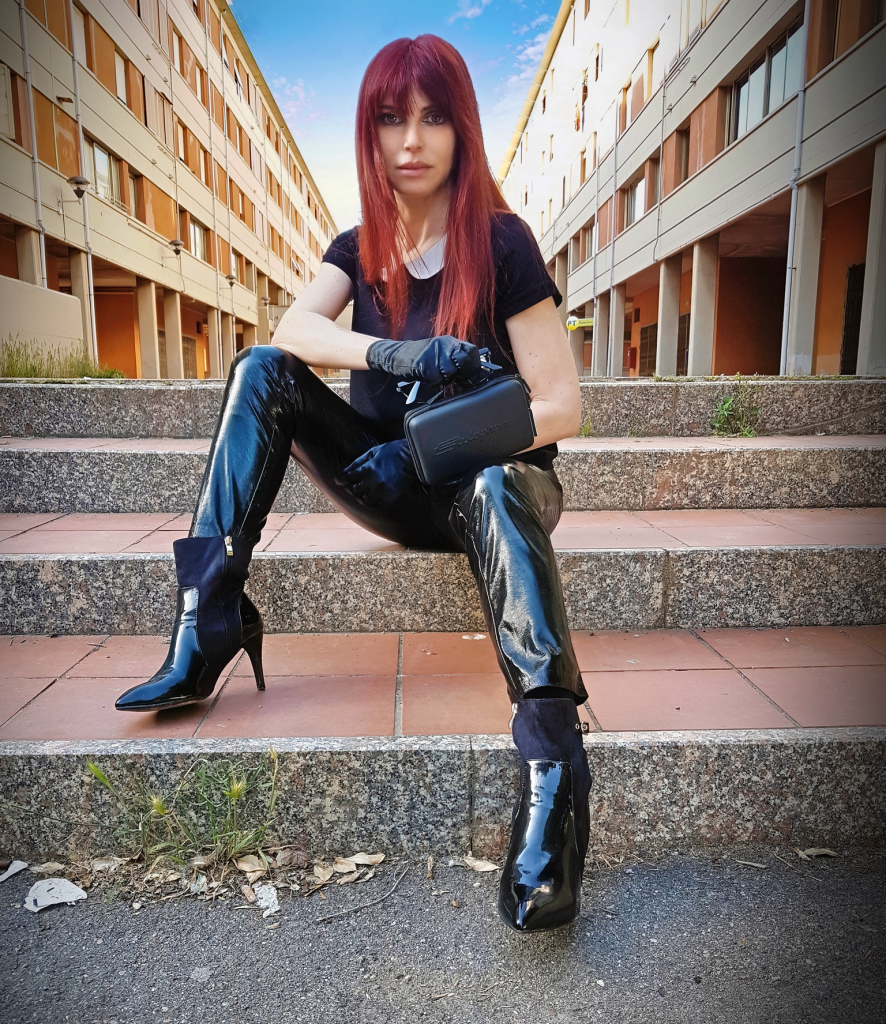 "Modernism" in a way is a musical child that was born out of the isolation that was imposed on Northern Italy during the pandemic. To cage a tigress like Elena and to separate her from the beloved stages and music performances probably had to result into something consequential and massive. With "Modernism" the singer and composer turned something horrible into something wonderful in a process that was liberating and empowering at the same time. Elena trapped into the SPECTRA*Paris songs all the notes that absorb her fears, her astonishment, and her sense of confusion into what she calls "a weird concoction of melancholy and rhythm".
The episodic character of "Modernism" that may also be viewed as musical glimpses into a personal diary penned by Elena during her isolation is complemented and underlined by the beautiful artwork that accompanies the album. The photographer's lens becomes a keyhole through which the observer might peek into most intimate moments of the artist's life. 
SPECTRA*Paris was conceived as an electronic rock oriented project in the wake Elena's previous project SIDERARTICA. In 2007 she self-released the ultra-rare promo 3″ CD-R limited to 25 copies "Spectra Murder Show" and immediately got picked-up by a label, which led to the acclaimed first album "Dead Models Society (Young Ladies Homicide Club)" hitting the streets in the same year. The debut reached the charts in many countries and went up to gold. Elena followed-up with two successful albums in 2010, "License to Kill" and "Christmas Ghouls". Tracks from these recordings as well as the latest album "Retromachine Betty" (2017) have been used in tv and catwalk soundtracks.
With "Modernism", SPECTRA*Paris chronicle Elena Alice Fossi's musical prison-break into the freedom that only true art can grant. Aided by her accomplice and long-time friend Angelo Bergamini, who co-produced and supervised every sound in this chapter, the composer and singer has delivered a fascinating personal statement via a wide range of electronic music.
Release date: August 26, 2022
 
 Tracklist
 1. Flying Onlookers     
 2. Devious
 3. Moondrops
 4. Infection Party
 5. Naughty Girl (J5mm 2022 Mix) feat. John Fryer
 6. Graphic Music 1.0 (instr.)
 7. Poison Fresh
 8. MOroDERN feat. Fakeba
 9. Indigo Cypher          
 10. Vacanze Romane
 11. Just a Cigarette
 12. Angry Bite  
 13. Ogre's Horizon        
 14. Poison Fresh (Doctor Phibes Mix)