Dynamic blues force Samantha Fish and country outlaw Jesse Dayton reveal the fierce new track "Riders" from their upcoming effort, Death Wish Blues, out May 19th on Rounder Records.
"Riders" finds the duo interchanging commanding vocals while building a ferociously groove-heavy rhythm. Describing the song, Fish says, "'Riders' is about being musicians and troubadours and having one-night stands with whatever city you happen to be in.
Every city is personified as a love interest or partner, and in the end you just move on to whatever adventure is coming up next." Follow Fish and Dayton down the road in the gritty "Riders" video.
Garden & Gun recently featured Fish in their "New Guitar Greats" roundup, alongside Marcus King, Billy Strings and other top players. Garden & Gun writer Jim Beaugez noted, "On Faster, her 2021 Rounder Records release, she worked with producer Martin Kierszenbaum (Lady Gaga) to create a set of spunky, pop-focused cuts, and her latest — Death Wish Blues, a collaboration with outlaw country figure Jesse Dayton — channels those same impulses through a fuzz box with the grit set to eleven."  

Death Wish Blues showcases the raw power of Fish and Dayton's guitar playing, both with foundations grounded in blues music. Aided by Jon Spencer's production, they push the limits by seamlessly merging their strengths into an album of songs with both swagger and bravado, as well as emotion and sensitivity. The result is a raw combination of blistering blues, deep soul, punk, funk, and good old rock-and-roll.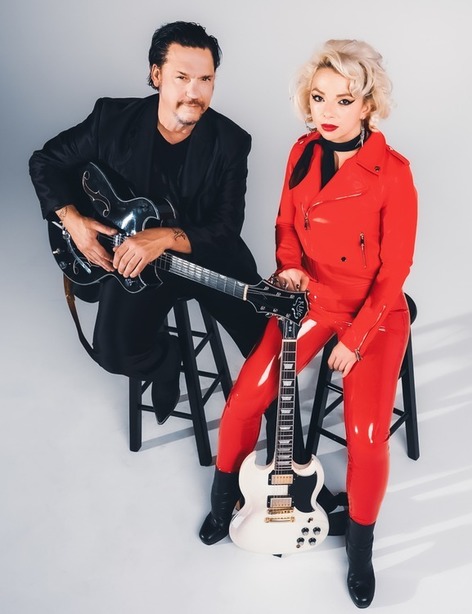 Fish and Dayton are gearing up for a round of tour dates to support Death Wish Blues, including the New Orleans Jazz and Heritage Festival on April 29th. A full list of tour dates is below.

Hailing from Kansas City, MO, Samantha Fish is one of the most dynamic blues forces in the world today, headlining festivals and captivating audiences with her guitar prowess and power vocals. An award-winner and road warrior, she performs 200 shows yearly, both domestically and abroad. Death Wish Blues is her 7th album. Jesse Dayton boasts an exceptional resume as an acclaimed solo recording artist, collaborator with artists such as Johnny Cash, Waylon Jennings and Duff McKagan, a touring guitarist for seminal punk band X, teammate with Rob Zombie on the soundtracks for his iconic horror films, and as a radio show host on Gimme Country.
Samantha Fish & Jesse Dayton North America Tour Dates

April 14 – New Orleans, LA –  French Quarter Fest
April 22 – Lake Charles,  LA – This is Home Festival
April 29 – New Orleans, LA – New Orleans Jazz and Heritage Festival
April 29 – New Orleans, LA – The Fillmore
May 4 – New Orleans, LA – The Civic Theatre
May 6 – Cottonwood, AL – Yellow Rose Theater
May 7 – Decatur, AL – Princess Theater for Performing Arts
June 9 – Flagstaff, AZ – Flagstaff Blues Fest
June 11 – Vienna, VA – Filene Center
June 13 – Northampton, MA – The Pines Theater
June 14 – Plymouth, NH – Flying Monkey
June 15 – Kingston, NY – Ulster Performing Arts Center
June 16 – Beverly, MA – Cabot
June 17 – Syracuse, NY – NY State Blues Festival
June 18 – New York, NY – Central Park Summerstage
June 20 – Amagansett, NY – Stephen Talkhouse
June 22 – Hartford, CT – Infinity Hall
June 24 – Winter Park, CO – Blues from the Top
June 25 – Augusta, NJ – Rock, Ribs and Ridges Festival
June 27 – Columbus, OH – King of Clubs
July 1 – Sioux City, IA – Saturday in the Park
July 30 – Ft. Wayne, IN – Sweetwater
August 5 – Mammoth Lakes, CA – Bluesapalooza
August 19 – Cleveland, OH – Jacobs Pavilion
 August 27 – Edmonton, AB – Edmonton Blues Fest
September 8 – Las Vegas, NV – Big Blues Bender
November 4 – Ft. Lauderdale, FL – Big Easy Cruise

Samantha Fish & Jesse Dayton EU Tour Dates

March 31 – Leipzig, GERMANY – Kupfersaal
April 1 – Winterbach, GERMANY – Lehenbachhalle
April 2 – Milan, ITALY – Santeria Toscano
May 22 – Zurich, SWITZERLAND – Kaufleten
May 23 – Prattein, SWITZERLAND – Z7
May 25 – Karlsruhe, GERMANY – Tollhaus
May 26 – Mainz, GERMANY – Frankfurter Hof
May 27 – Schoppingen, GERMANY – Grolsch Blues
May 29 – Maastricht, NETHERLANDS – Blues Festival
May 31 – Paris, FRANCE – Bataclan
October 19 – Sunderland, UK – The Fire Station
October 20 – Glasgow, UK – Barrowlands
October 21 – Manchester, UK – 02 Ritz
October 22 – Bristol, UK – SWX
October 24 – York, UK – Barbican
October 25 – Cambridge, UK – Junction
October 26 – Bournemouth, UK – 02 Academy
October 27– Bexhill, UK – De La Warr Pavilion
October 28 – Birmingham, UK – 02 Institute