Ríoghnach Connolly & Honeyfeet are back with their ecstatic single "Work It".
Arriving in tandem with a brand new official video today, the track heralds a wave of new activity for the Manchester collective, with fresh music and live dates all on the agenda for the year ahead.
The opening track of their current album, 'It's Been A While, Buddy' (out now on Stardust Works via AWAL), as its title may suggest "Work It" is a heart-pumping, pulse-quickening, funk'n'soul workout. A fusion of elastic basslines, brassy breakdowns, and piano-house hooks, Ríoghnach Connolly leads it all from the front with her commanding soulful vocal.

The track is also paired with the B-side "You Go To My Head", the band's laid-back take on the Fred Coots-composed classic, which was famously covered by Ella Fitzgerald and Billie Holliday among others. Initially recorded as a distraction from the humdrum of lockdown, it sees the light of day for the first time in 2023, with this final studio version given its finishing touches by Werkha.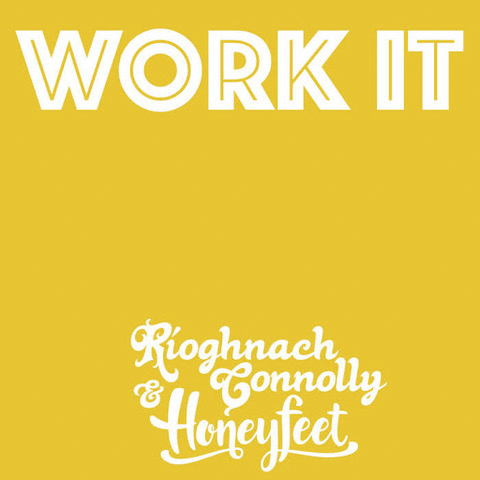 Speaking about "Work It" and how it came together with their current album, Phil Howley of Honeyfeet says: 

"I love all of the new songs as they've all got such different personalities but I do really love "Work it" for its drama and scope…. The recording of this album I found to be one of the most inspirational and educational experiences of my whole musical career. We got to all work together in one space and got to watch the pieces come together before our very eyes. It was a truly democratic writing process, where we could listen and respond to each other in real time And then at the end of the day you could listen back and see that you created something really interesting. It was this process that I found to be such an enlightening and rewarding experience. I'm incredibly proud of the new material."
Directed by Elle Brotherhood of On The Brink Studios and featuring a playful dance routine courtesy of movement artist Freya Jenkin, "Work It" is coupled with an energising official video shot around the Islington Mill creative hub in Salford.

The announcement today also comes as Ríoghnach Connolly & Honeyfeet prepare to take their latest tunes to live rooms and festivals nationwide. With Ríoghnach solo dates, full band shows with Honeyfeet, and even a few fixtures with her co-collaborator Stuart McCallum in trad-folk side project The Breath; full dates and details are outlined as follows:
2023 LIVE DATES 
RÍOGHNACH CONNOLLY / HONEYFEET / THE BREATH
16/03/2023  Saint Patricks festival, Armagh (Ríoghnach Connolly)
17/03/2023  Ye Olde Fighting Cocks, St Albans (Honeyfeet)
18/03/2023  Kanteena, Lancaster (Honeyfeet)
15/04/2023  Victoria Baths Springfest, Manchester (Honeyfeet)
28/04/2023  Camp Quirky, Northamptonshire (Honeyfeet)
04/05/2023  Trinity, Bristol (Honeyfeet)
12/05/2023  Boiling Wells Amphitheatre, Bristol (Ríoghnach Connolly)
13/05/2023  Hallé St Peter's, Manchester (The Breath)
18/05/2023  Hootenanny Brixton, London (Honeyfeet)
10/06/2023  Fox and Firkin, London (supporting The Langan) (Ríoghnach Connolly)
15/07/2023  The David Hall, South Petherton (The Breath)
23/07/2023  Secret Garden Party, Huntingdon (Honeyfeet)
25/07/2023  Dalston Curve Garden, London (The Breath)
28/07/2023  Šramlfest, Znojmo (Honeyfeet)
04/08/2023  Underneath The Stars Festival, Barnsley (Honeyfeet)
11/08/2023  The Minack Theatre, Porthcurno (The Breath)
23/09/2023  Allen Valley Folk Festival, Allendale (The Breath)
30/09/2023  Sam Henry Weekend, Portrush (Ríoghnach Connolly)
20/10/2023  Folk Expo, Manchester (Honeyfeet)
08/11/2023  The Mount Without, Bristol (The Breath)

Tickets for all shows on sale now:
Honeyfeet / The Breath