Hereford, Texas native Randall King brings his Billboard-praised "sturdy baritone" to the forefront alongside a healthy dose of hubris and equal parts vulnerability on latest double-shot delivery: 'The One You're Waiting On' and 'Hard To Be Humble'.
The son of a working man, King was raised on the influences of country music greats Alan Jackson, George Strait, Keith Whitley and more; his neo-traditional style a byproduct of living life the way he often heard reflected in their lyrics. It was this same authenticity that rang out when King first heard 'The One You're Waiting On' and was instantly drawn to the longing, reflective track.
"The first time I heard this song, I had it playing in my truck and was just blown away, pretty sure I missed a turn," King laughs. "The song is just incredible. I have sung along to it so many times runnin' down the highway. I have always loved it and you can hear my passion for this song reflected in my vocals. I'm beyond excited to have this one out there."
On the other hand, where 'The One You're Waiting On' hangs on King's ability to project the anguish of love slipping away, 'Hard To Be Humble', also out today, balances as an upbeat, cheeky brag. With his head held high, King sings:
No I can't help talk about you
Walk a little taller in my old boots
Never liked showing off what I got
But look at you baby, how could I not
Ain't anybody else that I wanna be
When every guy in here wants to be me 
Walking in with you on my arm
Lovin' you's easy, but girl it's so hard
To be humble
"We were pitched 'Hard To Be Humble' by my buddy Jake Gear (Hailey Whitters' producer), and the email had gotten lost in the mess of what my inbox is. Two days before we went in to cut I just happened to be going back through my old emails and found this song sittin' there, put it on, and went 'Whoa… how was this song missed?!' We cut this catchy fun love song and boy I got to tell ya, I'm sure glad I double checked my Gmail that day!"
As he continues to tease new music, King is set to kick off "KingFest" at the Nashville Palace tonight for the first of two back-to-back shows in Music City. The two-day branded festival event features support from Tyler Booth, Braxton Keith, Drake Milligan and Jon Stork.
Already known for his road warrior diet of over 150 dates each year touring across the United States, King continues his trek internationally next month with 11 European tour stops. With five of the shows already sold-out, the overseas dates have been met with fan enthusiasm, leading King to set his sights on larger venues to meet the demand. Once he returns from the European run, King will join as direct support on select dates of Jon Pardi's Mr. Saturday Night World Tour.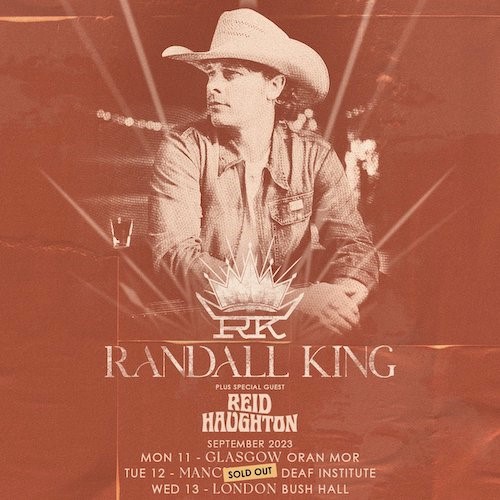 For upcoming tour dates and more information, visit RandallKingMusic.com or follow @RandallKingBand across all social platforms.
Randall King UK/EU 2023 Tour Dates:
Sept. 8 – Gstaad, Switzerland – Festivalzelt
Sept. 9 – Gstaad, Switzerland – Festivalzelt
Sept. 11 – Glasgow, UK – Oran Mor
Sept. 12 – Manchester, UK – The Deaf Institute (SOLD OUT)
Sept. 13 – London, UK – Bush Hall
Sept. 15 – Cologne, Germany – Club Volta (UPGRADED due to demand)
Sept. 17 – Hamburg, Germany – Bahnhof Pauli (UPGRADED due to demand)
Sept. 18 – Berlin, Germany – Kesselhaus (UPGRADED due to demand)
Sept. 19 – Stuttgart – Im Wizemann (DATE ADDED due to demand)
Sept. 21 – Vaduz, Liechtenstein – Rheinparkstadion
Sept. 23 – Vaduz, Liechtenstein – Rheinparkstadion