frfrfr
With their feet pressed firmly on the pedal and with no signs of easing off, "Hold Up!" sees Pigeon Wigs achieve a runaway sense of momentum as they unleash this spiralling rock'n'roll juggernaut.
Fusing fuzzy riffs, foot-stamping drum clashes, gritty '60s-esque vocals, and helter-skelter melodies, the new track sees the band tapping into the classic rough-cut sounds of John Lennon, The Stones and Creedence, while refracting them through the same retro/futuristic portal that has spawned us the likes of White Denim and Foxygen.


Photo credit: Elijah Thomas
Of the new track, lead singer Harry Franklin-Williams explains:
""Hold Up!" is about the sometimes long and dreary ways of normal life until someone special comes along and makes you want to go away on an adventure, live life as it should be and fall in love. It's the sound of a sun rising on a world that you thought you knew, only to be surprised by all the things you'd never noticed before." 
Written in Franklin-Williams' old living room with lead guitarist Louis Jugessur on his first guitar, an old sunburst Yamaha, the track also arrives alongside a cosmic official video that stitches together a series of surreal animations to create a dizzying and deftly psychedelic dream-like world. Harry adds:
"I wanted the music video to feel like an intergalactic romp through time and space, and to achieve this we hired four different animators from across the world to make one section of the video each. I gave them the most basic instruction — "the car must keep moving" — and let them loose to interpret the video however they wanted. Their range of styles, cultural influences and personal taste made each world feel completely separate while still linking together."
The new track comes ahead of the Pigeon Wigs' upcoming mini-album 'Rock By Numbers', due 7 July 2023 via Clwb Music. Recorded before the band had played a single gig, the pair wrote the extended release in lead-singer Harry Franklin-Williams' living room over the course of a few weeks. He jokes: "We wanted to be able to arrive on the scene fully formed like a baby with a moustache or furniture not from IKEA." 
Produced and mixed by Tom Rees of fellow Cardiff band Buzzard Buzzard Buzzard, the new album features "Hold Up!" alongside an eclectic range of new tracks including dizzying psych-rock romp "Come Of Age", riled-up "Radiation Blues, breezy ballad "You Play Me" (produced by Andrew Bishop) and climactic closer "Epilogue 6" (produced by Harry Franklin-Williams and CVC's Elliot Bradfield).  Of the upcoming release, Franklin-Williams explains:
"'Rock By Numbers' is a reference to paint-by-numbers kits, and the title tells you a little about the mini-album. As you go track-to-track you're getting a Pigeon Wigs view on some of our favourite artists, genres and people. It's a love letter to all that music has done for us, full of fuzz and boundless energy." 
Funnelling a vast and varied, yet eerily relatable, array of themes through a psychedelic-pop lens, he adds:
"When it comes to the lyrics themselves the main themes are dysfunctional relationships, loss and finding a light at the end of the tunnel. Most of these songs were written during a turbulent time in my life: both romantic and familial relationships falling apart, watching the death of your heroes and working through that to see the better times ahead. I'm much more objective about all these topics now, but at the time I used these songs to help work through all the feelings I was having in a way that I hope connects with other people."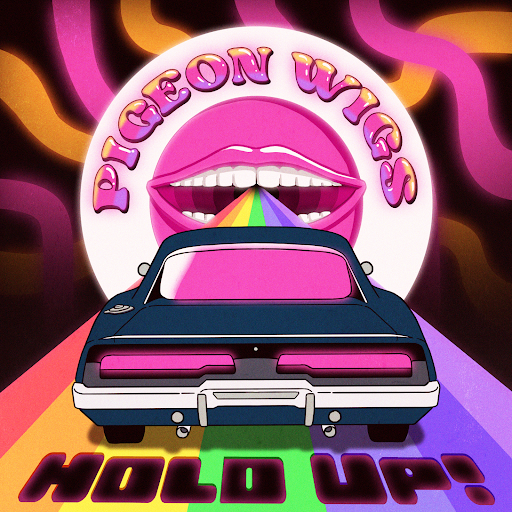 'Rock By Numbers' Tracklist
1. Near The Knuckle
2. Death of a King
3. Heavy Low
4. Radiation Blues
5. Hold Up!
6. War-Torn Warriors
7. Come Of Age
8. Iron Dynamite
9. Going Nowhere
10. You Play Me (Live)
11. Epilogue 6
NEW MINI-ALBUM: 'ROCK BY NUMBERS'
– OUT 7 JULY 2023, VIA CLWB MUSIC
Newly sprung from the fertile soil of Cardiff's blossoming music scene, Pigeon Wigs are a five-piece alt-rock band whose riff-laden fuzzy tones and melodic harmonies come crashing together to form a wild beast like no other. Tackling everything from social commentary to dysfunctional relationships and alien abductions, the band was born out of a writing partnership between Harry Franklin-Williams and Louis Jugessur and came to life when the pair "corralled some of Cardiff's finest to record a new project". 
Having already attracted glowing praise from the likes of BBC Introducing and BBC Radio Wales, as well as online tastemakers including A&R Factory and Buzz Magazine, Pigeon Wigs have also gained glowing reviews from a range of alt-rock contemporaries such as Buzzard Buzzard Buzzard and Panic Shack who enthused: "all of Jagger's love-children couldn't write a better banger than this." 
As new single "Hold Up!" leads the charge ahead of upcoming mini-album 'Rock By Numbers', Pigeon Wigs are ready to solidify their status as true ones-to-watch as they continue their rampage around the South Wales music scene and beyond. Catch the band at these summer festival shows: