From the pulsating heart of Manhattan, the inimitable Nevaris unveils 'Interference,' the second single from his debut LP 'Reverberations,' slated for release under the esteemed M.O.D. Reloaded banner.
This boutique label's latest gem, supported by guitar legend Carlos Santana, who lauds the album as "a work of supreme creativity," follows the initial track offering, 'Dub Sol.'
Nevaris (percussion, keyboards) collaborates with bassist-producer maestro Bill Laswell, creating a distinctive lineup featuring DJ Logic, Will Bernard, Peter Apfelbaum, Lockatron, and Matt Dickey. This quintessential New York City ensemble shines, with bass, percussion, drums, and turntables commanding the spotlight, exuding a Big Apple sound that embraces the city's electric aura.
Regarding 'Interference,' Nevaris shares, "It was inspired by New York City and the energy of growing up there. As musicians mostly from this city, we really channeled that energy. We tracked the initial percussion, bass and drums live in the studio and added everything else on top of that. There was a good energy to the song from the very beginning. It's an almost fully improvised track built in some layers. We wanted to give the rhythm section plenty of room to breathe."
He continues, "If there's a sound I've been searching for in a life of playing music, this is pretty much it. When I got the mix back from Bill, I cranked it so loud. It was a really good feeling. I hope I can share that feeling through the track."
TRACK LIST
1. Dub Sol 07:17
2. Disruption 04:29
3. Ninth Sun 05:46
4. Remedy 06:21
5. Interference 07:26
6. Safehouse 05:16
7. Frequencia 04:50
8. Lockatronic 03:43

Born and bred on the Upper West Side of Manhattan, Nevaris is a multifaceted musician and visual artist, adept at percussion, keyboards, vocals, and composition. His style is deeply rooted in Afro-Latin, dub, and funk music, influenced by his European and Mexican heritage and multi-generational connections to both NYC and LA's Echo Park.
'Reverberations' marks the third collaboration between Nevaris, Bill Laswell, and this lineup of musicians (with the addition of Matt Dickey). This time around, the focus is on the dub elements of their sound. This instrumental masterpiece intertwines dub, funk, afro-latin rhythms, turntablism, and extended improvisation.
Before 'Reverberations,' Nevaris performed and recorded with an ever-evolving roster of musicians under the moniker Loud Apartment, most notably with Bernie Worrell of P-Funk and Talking Heads fame.
Nevaris explains, "This record builds on the momentum from 'System Breakdown' and 'New Future,' which we released in 2020 and 2022 as Loud Apartment. There were dub aspects of those recordings, so Bill Laswell and I decided to create a recording entirely focused on that sound. It was a logical next step and came together in an organic way. We let the music go where it needed to go."
He adds, "It's a dub-based project, with breakbeat, funk, ambient, and afro-latin elements. It's rhythm-based music where the pocket is essential. Lockatron is a huge part of that, as, of course, is Bill Laswell, DJ Logic, and everyone else involved. Peter Apfelbaum's horn arrangements are also a core aspect. In my mind, it's a cohesive piece of music that is best listened to as a whole rather than as individual songs. And Bill takes it where it needs to go with the production like no one else really can."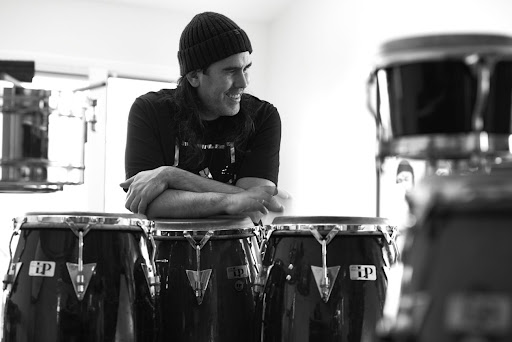 Nevaris' creative prowess extends beyond music, as a visual and multimedia artist working across mediums. He co-founded Nolej Records, Nolej Studios, and the Uncomun Festival.
Starting May 3, 'Interference' is available on Bandcamp as a single and an instant-grat download for those who pre-order the full album. 'Dub Sol' can also be found on premier digital music platforms, including Apple Music, Spotify, and Bandcamp. The highly anticipated 'Reverberations' album is set for release on May 26.
With 'Reverberations,' Nevaris and his collaborators have forged a mesmerizing auditory experience, capturing the essence of New York City's dynamism and channeling it into a thrilling fusion of dub, funk, and Afro-Latin sounds. This exceptional ensemble, backed by Santana's stamp of approval, is poised to make a significant impact on the contemporary music scene, solidifying their place as trailblazers in a new generation of innovative artists.
Keep an ear out for 'Interference' and the upcoming 'Reverberations' LP, as this Manhattan-based virtuoso and his talented cohorts unleash their groundbreaking soundscapes onto the world. This is one musical journey you won't want to miss.