MacKenzie Porter, the newest country sensation on Big Loud Records, has just released her latest summer anthem, "Chasing Tornadoes," and it's causing quite a stir in the country music world.
Chasing Tornadoes a perfect mix of classic country and pop, the track is an F5 level hit that's sure to leave you spinning.
Returning with her signature "mesmerizing vocals and hook-driven songs" (Billboard), Porter's latest adrenaline-fueled offering is a wild ride, a tale of a wild lifestyle and an unpredictable relationship that's as addicting as it is unpredictable. Written by Emily Landis, Jamie Moore, and Lainey Wilson, and produced by studio mastermind Joey Moi, the song's electric lyrics find Porter spiraling:
'Cause baby I'm a sidewinder
Storm rider
I'm going down like a telephone wire
You're a mustang runaway
Two lane drifter
I must have a thing for twisters
Hot as Arizona
Cold as Colorado
Trying to catch that feeling like lightning in a bottle
I'm gonna go where the wild wind blows
Tearing up the road
Chasing tornadoes
With Porter's lightning-fast vocals and fearless attitude, "Chasing Tornadoes" takes us on a journey into the eye of the storm, defying tornado warnings and running at full speed towards the thrill of the ride. It's the perfect track for a summer drive down a dirt road.
And the excitement doesn't stop there. The song's official music video, directed by Justin Clough, premieres live on YouTube Monday (8 May) at 5pm CT / 11pm UK time. Shot in the lively streets of Las Vegas, the clip follows Porter's storm as it rampages through the city, disrupting everything in its path.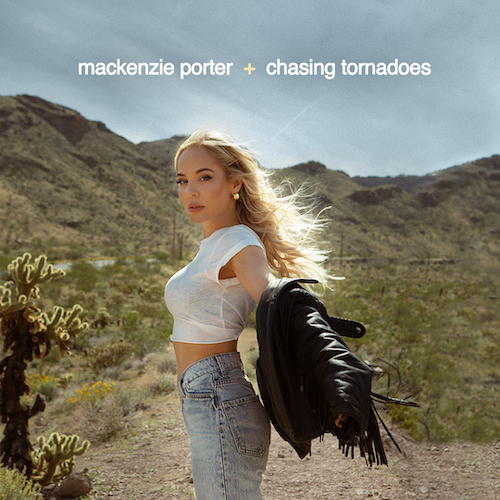 Porter's star power is on the rise, and it's not hard to see why. Nominated for Music Event of the Year with her six-week #1, platinum-certified hit 'Thinking 'Bout You' with Dustin Lynch, Porter's record-breaking smash stands as the longest-running Top 10 single in Billboard Country Airplay chart history at 28 weeks. With her sights set on the 2023 ACM Awards in Dallas, Texas, Porter's touring calendar is jam-packed with performances at some of the year's most anticipated festivals, including Gulf Coast Jam, CMA Fest, Faster Horses, Watershed Festival, TidalWave Music Festival, and Coastal Country Jam.
So get ready to chase the storm, folks, because MacKenzie Porter is about to take the country music world by force with "Chasing Tornadoes."