LOTUS THRONES Reveals Second Single "BOTOXDRONE$"
Riff-laden industrial, post-punk outfit LOTUS THRONES from multi-instrumentalist Heath Rave(ex-WOLVHAMMER, ex-ACROSS TUNDRAS), has released the second single, "BOTOXDRONE$," from his forthcoming sophomore album, "The Heretic Souvenir," which will be released on April 7th, 2023 via Disorder Recordings(CD/Digital) and Seeing Red Records (Vinyl).
"BOTOXDRONE$" was produced by Rave and Sanford Parker and features guest saxophonist Bruce Lamont (YAKUZA), and is accompanied by a gruesome, blood-soaked video created by Chariot of Black Moth (CAVE IN, JESU, NAPALM DEATH). 

Commenting on the new single, Rave says:

"The pundit, the news anchor, the primetime host, gleaming in the light. Are you buying what they're selling? This is my favorite song ever created in this project. The ones with Bruce Lamont on saxophone are always up there but I feel like the is the one that is quintessentially everything that is Lotus Thrones. Dark, weird, heavy and sensual. We got to work on this one in the studio together in Chicago and it was such a privilege. Bruce will always be a de facto member of Lotus Thrones."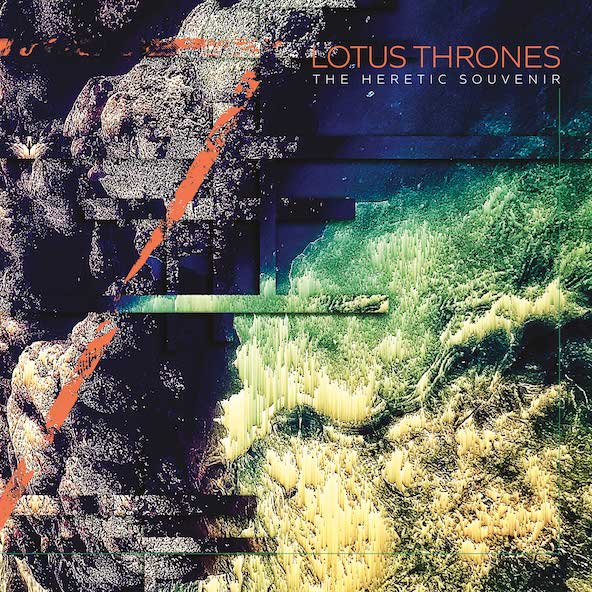 "The Heretic Souvenir" Tracklisting:
1. Gore Orphanage
2. B0T0XDR0NE$
3. Alpha Centauri
4. Glassed
5. Roses
6. Autumn Of The Heretic Souvenir
7. Nautilus
When Heath Rave first sat down started creating music solo as Lotus Thrones in late 2020 he had no set parameters or end goals. While his resume is firmly rooted in metal, the former Wolvhammer and Across Tundras drummer had long desired to make something that while still heavy and uncompromising, had a melodic sensibility and unflinching edge of experimentation. What came forth was a singular vision of riff-laden industrial post-punk splattered with elements of metal, goth and touches of noir jazz and electronic music.
 
The debut record "Lovers in Wartime" showcased his love bands like Killing Joke and Ministry at its bleaker moments while touching on the bombast of Sisters of Mercy and Samhain. Not only heavy, it plainly showed a level of sophistication in its stark, disparaging sounds and a proud vulnerability in its lyrical content. Touching on subjects like addiction, isolation and depression, Heath Rave opened up and bared truths about emotions we've all felt.
 
On his 4 seasonal follow up EP's he released throughout 2021 and 2022 he distilled the sound of each one, taking chances and experimenting with post-metal, synthwave and doom all the while having a touch of himself throughout that was unmistakable. In 2022 he also expanded Lotus Thrones to a full live line up, including David Grossman (Rosetta, New Miserable Experience), Joshua Kost (Model Prisoner, New Miserable Experience), Mathew Geary (Cape of Bats) and Jason Dost (Krieg, Sunburster). Nothing short of prolific, the well is full and Lotus Thrones has more to come in the near future.