The first review of Gustav Holst's Mars- the Bringer of War, a little over a hundred years ago, spoke of a 'temptation to make discord the goal of music/ the machinery wholly work of the devil".  
It was yet another early start at The Garage and Corpsing were bursting with this copious, repetitive temptation as they growled, seethed and raged their way through their mesmeric, spine-chilling, discordant set of songs and like many planets, they were hard to make out through any earthly lens.
Their sound is trance-like, boldly warmongering and essentially complex, with a message that "we represent the dark parts of every heart in this reality…"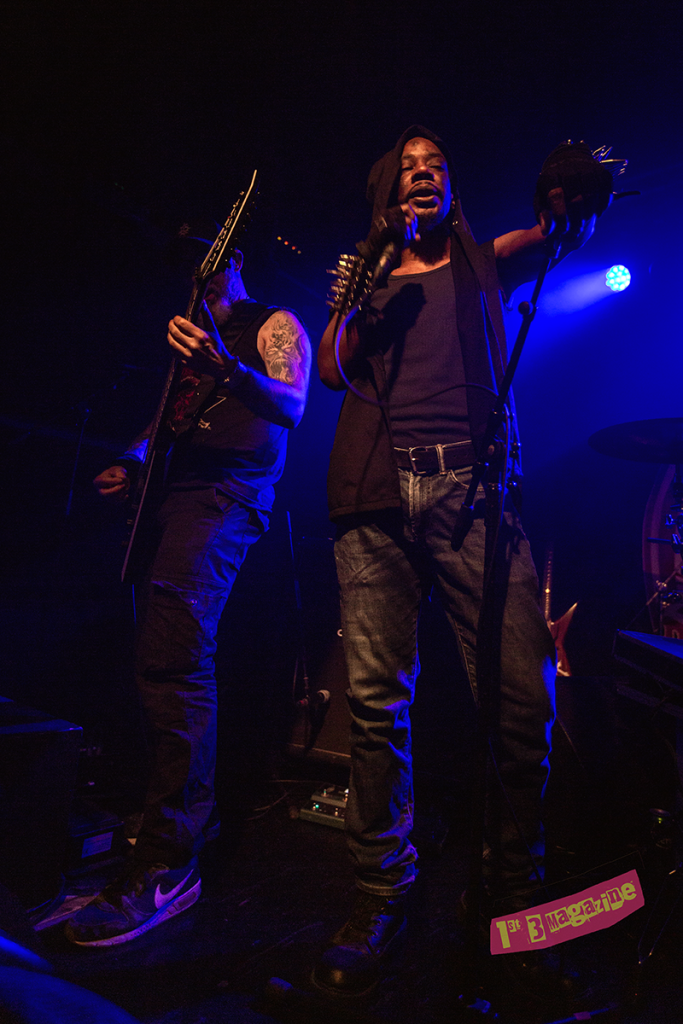 Black Ocean is visceral as it slices through the steadily enlarging crowd. Like a preacher delivering a dark prayer, lead singer Kyle Austin calls us to follow him with an intense fervour; sudden dramatic breaks in drumming and guitar solos punctured by guttural utterances leading back to frenzied drumming and 8 bar sections repeated until the end in a repetitive, rhythmic hell. Very fast strumming characterised their next number, Cunt, as the same notes are repeated again and again in an ominous ostinato. The crowd have answered the call to prayer and communal worship has begun tonight, here in Highbury, characterized by mass head-banging, emerging emotion filling the room. The song slows to a rallentando, the music dying away, signalling the end of Corpsing's stage time tonight.
London-based metal band Damim begin their writhing, animalistic set with Eyeballing, an assault on all the senses, and the crowd absolutely love it. Made of Beasts follows, the fans becoming one with simultaneous whole body movements, bowing down low, leaning into the first of many moshpits this evening. Their dark, searing, blackened sound incites a physical release in the crowd: limbs flailing with abandon and souls given up to the all-encompassing onslaught of the ears. This sound? This sound is pure war. 
Rising of the Lights starts with a driving bass riff and cymbals, lead singer's Dalek-like vocals on a monotone, his multisyllabic insistence pervading The Garage. This is rawness- a blistering, crackling sound depicting fury and chaos, with beats so fast you can feel the collective heartbeats racing higher and higher. The Difference Engine and World Turned Hell have the fans raising their hands in collaborative devil signs to signify collegial belonging.  
Damim play a new song from their recently released EP, All I Want to Know is How it Ends and the emotions are exposed and bloody. There is a tangible communication in this building, a belonging, a sameness accepted by all. Mirror Image is the final deliverance with chromatically laden bar chords overlaid with intricate, complex fingering. This is a scorching finale with a syncopated, edgy compound time beat throbbing to big chords as the stage is lit like a flame.
Waiting for the big guns, Left to Die, we meet Justin, by day an accountant, by Friday night part of this awesome death metal tribe. Justin tells us; 
"This is the best kind of music- my mum and dad gave me freedom to find out what I like, what spoke to me. This is real belonging; a sub-culture that I most identify with- it's my tribe." 
Left to Die begin their ferociously fierce set with chimes signalling the start, followed by a blood-curdling scream as the drumming and strumming are so fast it sounds like rapid gunfire. Unbelievably, this band are even louder than the previous two. Metallic riffs, angry roared vocals and crunchy beats characterise this deathcore sound. Left to Die start with Leprosy, with its frenetic, synchronised guitars which is followed by Born Dead and Forgotten Past. Their sounds is ultimately professional; tight, together and super slick.
"Left to Die are absolutely what they purport to be; pure death metal"
Roared, raw vocals, frightening speeds and raging drums are evident in Mutilation and Baptized in Blood as the fans are fully invested now, their head-banging ever more insistent and cult-like.  
Possessed by the music, the release and relief is palpable. Interconnection is evident as the band rage along through Open Casket, Primitive Ways and Choke on it, the unrelenting audio bodily harm continuing to dominate and enthral us.
Continuing with ultimate brutality, Left to Die perform Denial of Life, Left to Die and Zombie Ways before the encores finish this savage, excoriated evening of death metal. The pure intensity experienced leaves us feeling as if we have been bathed in a scalding oil, had a layer of skin scrubbed off; a cathartic cleansing; in opposition to death, a rebirth; peace trumping war. 
Left to Die played The Garage, Islington Friday 03rd March 2023
Support from Corpsing and Damim
Words and live photography Copyright of 1st 3 Magazine
Not to be reproduced without prior permission. Social media use only for persons depicted, event organisers and venue. Not to be cropped or altered in any way.